Politics of Caste - The Big Question
Mangalore Today News Network
By Sumith S. Rao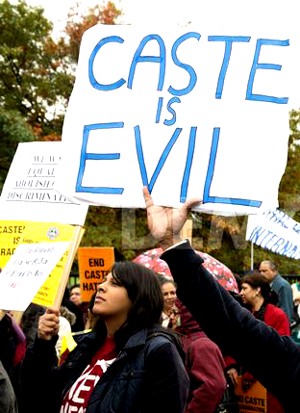 I come from a middle class family wherein my father was a son of a schoolteacher from Kundapur and my mother is a daughter of a police officer from Mangalore. We were schooled in the ideology of life at a very young age. I still remember the words that my teacher used to say "All the other children in your class are your brothers and sisters".

Our home was witness to guests from all communities. The common denominator amongst our guests was that all of them belonged to a community of people who could converse with each other in a free and fair manner, even on conflicting issues and maintain a viewpoint which could sometimes not be agreed upon but not with discontent but with all genuine respect to the others. Caste and creed never entered our minds and we used to play with Ramesh or Abdul or Paul because we liked them as friends and not because they belonged to any particular community. We were taught to live in harmony with people of all faiths.

It is so disconcerting to note that the children of today are being taught the nuances of communal hatred by their teachers and parents, by political parties, and by the general public. What has happened to our nation which is supposed to be a nation where all religions are treated as equal and our Constitution guarantees us the right to practice the religion of our choice? Where has the tolerance to people of other religions gone? Why do we have to stress on the fact that we belong to a particular religion?

I, for one, am a firm believer of the liberty of a person to practice his choice of faith. As long as we do not speak ill of another's faith or try to make someone else believe that your choice of faith is a better one, I think we are at liberty to practice one's own faith.

The argument of religion, caste or creed for me is a no brainer. We should first realize that all of us are human beings and that being humane is the biggest religion. We should respect and agree to allow each person to follow the religion of his choice without state interference and without attaching too much stigma to the fact that you belong to this religion or that.

I would go one step further and delete the column of religion, sub-caste etc., in school admission forms, job application forms, and any other application form. I would place emphasis on skills needed for the job, previous education needed to apply for the next level of education, etc. Reservation based on caste has proved to be a menace rather than a boon to the people. Today, it is a sin to be born a poor Brahmin as he has no reservation in any field of education or employment. I would be more than happy, if there is a reservation based only on economic grounds for which valuable data is available today through a host of records including the Aadhar card or the NPR.

What does it matter whether I am a Hindu, Christian, Muslim, Sikh, Buddhist, Parsi or a Jew as long as I am a good human being? Nothing, my dear fellow Indians. It is whether I am a true human being, whether I practice the faith of being honest, kind or helpful to other human beings that matters most to people. Let's once and for all abolish the thought of caste, creed and religion from our minds. You would be surprised as to the overall change in the way we lead our lives in the future.
---
Sumith S. Rao is a well known city based businessman and a former President of the District Small Scale Industries Association.
---