P. Chidambaram wants Modi to become a magician and cut petrol price by Rs 25
Mangalore Today News Network
By Bhamy V. Shenoy

Mysore, May 29, 2018: Under UPA, when crude oil prices averaged $132 per barrel in July 2008 (it was during that month Brent reached a historic high of $147/b) petrol price was just Rs. 50.62 per liter. Today when oil price is around $80/b, petrol price has reached a high of Rs. 76.57 per liter in Delhi. On the surface it looks like Modi has been citizen unfriendly.
A natural question to be raised is when international prices have fallen (by $52/b, 2008 versus 2018), petrol prices in India should also fall. Instead it has not. It is this comparison which must have inspired former finance minister to tweet that Modi can easily cut petrol price by Rs. 25. However when we analyze the factors behind the petrol price movement, one will be shocked and wonder how a responsible leader can mislead the country.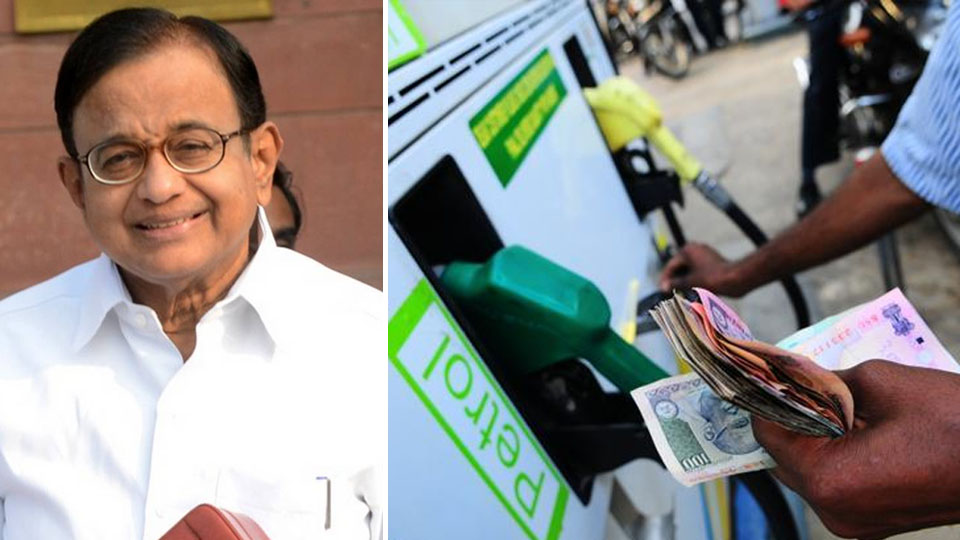 NDA was lucky that soon after it came to power oil prices fell. It wisely decided not to pass on all the benefits to consumers. It increased excise taxes on petrol in small doses from Rs. 9.48 per liter to current rate of Rs. 19.48 per liter and for diesel it was from Rs. 3.56 per liter to 15.33 per liter.

Mr. Chidambaram must be familiar that because of UPA pricing policy the public sector oil companies (Indian Oil, Bharat Petroleum and Hindustan Petroleum) were bleeding. It also forced oil producing companies, ONGC and OIL India to sell crude oil below international market to help the marketing companies. Unfortunately now NDA is also planning to adapt such a wrong policy depriving ONGC and OIL of much needed capital and affecting future oil exploration.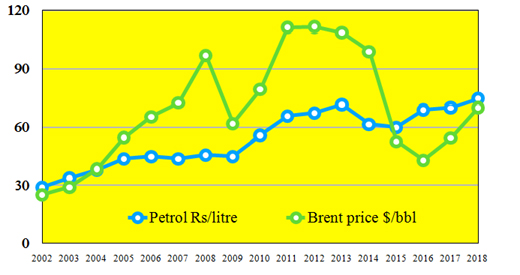 Petrol price versus international Crude oil price.

Chidambaram must also be knowing that UPA's irrational pricing policies forced private sector oil companies like Reliance, Essar, and Shell to close down their thousands of stations. Their stations were far more efficient than the ones operated by the public sector giants. In addition the so called "under recoveries" (in simple term losses) by the public sector companies were reaching stratosphere. In 2012-13 under recoveries of public sector oil companies was mind boggling Rs. 1.6 trillion.

One more comparison should convince how NDA's policy was far more progressive than the populist policy of UPA. While NDA succeeded in collecting additional revenues of Rs. 4.4 trillions during its four year rule, UPA incurred a loss of Rs. 4.3 trillion by selling petrol and diesel below cost between 2005/06 to 2014/15. Who are the real beneficiaries of different policies of NDA and UPA?

UPA's munificence (selling fuels below cost) mostly helped the middle class and the rich. It also increased fiscal deficit resulting in higher inflation which harmed the poor. NDA's policy of not passing the benefits of lower crude oil price (by imposing additional excise taxes) helped them to finance various welfare measures, reduce fiscal deficit and check the inflation. One such initiative (Ujjwala Yojana) was to give free LPG connections to families below poverty line and 3.2 crore families have benefited.

In September 2013 when crude oil price was $112/b, petrol price was 76.06/b. The current petrol price of Rs. 76.57 per liter is only few cents above. If one takes into consideration inflation during these five years, today's price is significantly lower than the high price reached during UPA rule. However "opposition dharma" is forcing the opposition parties to protest just like BJP did during UPA rule. Should fuel pricing policy be influenced to win victory for a party or to develop the country?

I am sure former finance minister must be fully aware of these facts. As suggested by Mr. Chidambaram, NDA can reduce excise taxes by Rs 10 and revert back to the level of UPA. What will then happen to fiscal deficit? Where will Modi find the additional Rs. 15 to cut?. Is he expecting Modi to force oil companies to lose or ask states to reduce their VAT or act as a magician?

---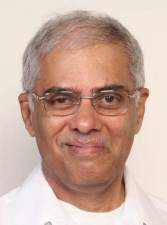 Dr. Bhamy V. Shenoy, an IITM graduate has over 50 years of experience in international oil industry having worked for Conoco in US, and Europe. He was on the board of Georgian National Oil company, advisor to Former Soviet Union Countries of Kazakhstan, Uzbekistan, Turkmenistan and Georgia and also advised Ghanian government, Pemex in Mexico, Pertamina in Indonesia, etc. In India he served as a member of Advisory Committee to Chairman of ONGC. He was senior advisor to Center for Energy Economics at University of Texas.