One University One Luminary
Mangalore Today News Network
By Dr. G. Shreekumar Menon

Mangaluru, May 1, 2021: India has the maximum number of universities worldwide. As on July 2020, there were an estimated 4,381 universities in India. TheUnited States had the second most universities counting 3,254, followed by China with 2,595 universities. However, no Indian University could secure a position among the top 100 universities of the world, as reckoned by QS World University Rankings. In the 2021 edition of the QS World University Rankings, 27 top universities are in the United States, 18 in U.K. Even Mexico, Hong Kong and New Zealand have universities in the top 100, but none of our 4,381 could make it to the top league. But, Times Higher Education (THE) Impact Rankings 2021, in its just released rankings in April 2021, has rankedAmrita Vishwa Vidyapeetham, at 81st rank in the overall ranking. This is the first time that any Indian university is figuring in the top 100 of world universities.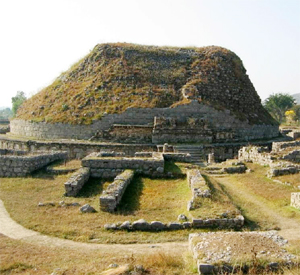 Once upon a time, India's educational excellence was renowned. The famous Takshashila which was the world's first and oldest Center of learning is now reckoned as a university. Takshashila traces its origin to the Ramayana period, andwas a state of the Gandhara kingdom, which was ruled by Lord Rama's brother Bharat. This city was named after Bharat's son Taksha, who founded this city. Presently it is in Pakistan. It is extensively mentioned in the Mahabharata, and accounts of Chinese travellers Fa Hien and Hiuen Tsang. 60 different courses were on offer, and students travelled from Babylonia, Greece, Arabia and China to study here. Takshashila was specialized in the study of medicine. The university was extensively damaged during the Hephthalite invasions during the 7th century, and due to this abandoned by its inhabitants. It was only in 1913 that the world came to know from excavations, about this great seat of learning and how it nurtured the best of Indian minds.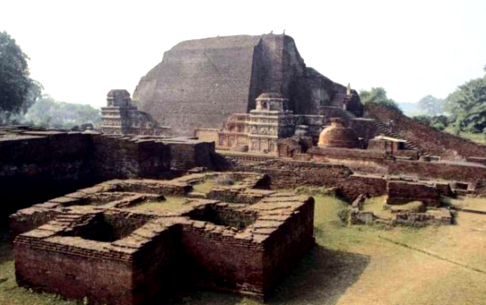 King Kumaragupta 1 founded Nalanda as a great seat of learning, and attracted students from Tibet, China, Korea, and Central Asia.

Other great centers of learning in ancient India were Vikramashila, Valabhi, Somapura, Jagaddala, Odantapuri and Pushpagiri, Mithila, Telhara, Sharada Peeth, Bikrampur, Morena, Kanthalloor Sala, Nadia, and Nagarjuna. These great centers of learning produced distinguished scholars, eminent mathematicians and engineers. The amazing Temples around us are ample testimony of the deep knowledge in engineering, architecture, geography, mathematics, physics and astronomy, that Indians once had.
These centers of learning produced a galaxy of eminent scientists and mathematicians, famous being Baudhayan, Aryabhatta, Brahmgupta, Bhaskaracharya, Mahaviracharya, Varahamihira, Kanad, Nagarjuna, Charak, and Patanjali. A few centers of learning have bequeathed to humanity innumerable giants in every sphere of knowledge.

Speaking of recent times, our education system has gifted eminent personalities like Sir Jagadish Chandra Bose, Prafulla Chandra Ray, Srinivasa Ramanujan, Sir Chandrasekhara Venkata Raman, Meghnad Saha, Satyendra Nath Bose, Shanti Swarup Bhatnagar, Homi Jehangir Bhabha, Subramaniam Chandrasekhar, Vikram Sarabhai, C. R. Rao, K. Chandrasekharan, Har Gobind Khorana, G. N. Ramachandran, Harish Chandra, and M. K. Vainu Bappu.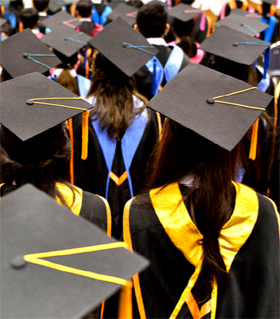 Today, India has around 4,381 Universities, and we should be producing a huge proliferation of geniuses, which however is not happening. On the contrary, we are producing only very hard working students, who can boast of a brilliant academic record, and whose only goal is to join any Western University, and ultimately settle down there itself.Western universities are full of Indians, Chinese and Korean students, hardly any local citizens enrol in their universities, due to prohibitive cost of education. In order to attract students from India, China and Korea, an intelligent marketing and advertising tool, are the University Rankings, being devised, organized, and conducted by different Western outfits. Students get beguiled by these rankings, avail huge bank loans in order to get a Western college education. In fact, our banks are funding the very existence of several Western universities. If the Indian banks were to discontinue the student loans for foreign education, it will be curtains down for many Western institutions. Be that as it may, what should be of concern to us is how to elevate our 4381 universities, into mini Takshashilas and Nalandas, and produce outstanding geniuses like Swami Vivekananda, Dr. S. Radhakrishnan, A.P.J. Abdul Kalam, Ayn Rand, Bertrand Russell, J. Krishnamurti, and many more?

This writer proposes a scheme of 'One University One Luminary' that will impact the nation and the world. Presently, Chancellors and Vice Chancellors are preoccupied with mundane matters and they are unable to devote time for visionary action.This needs to be changed and the Chancellor and Vice Chancellor of every university should be entrusted only with the specific task of identifying a prospective genius/prodigy, adopt that student and groom him/her into an outstanding personality. In whatever field of knowledge, the student displays outstanding talent, only that should be nurtured and the student motivated to achieve outstanding excellence. This way, India would be producing 4381 geniuses in various disciplines. These scholars would ultimately be the icons of the respective universities that groomed and shaped them.The Central Government can finance this project, as it will involve an expenditure for just 4381 students. As this expenditure will be recurring, CSR funding can also be considered.

This project should actually be initiated at the school level itself. Students exhibiting exemplary talent in certain disciplines should be identified and selected for specialized grooming. This would make it easier for universities to pick up budding geniuses.

Many U.S. Universities have schemes like Study of Mathematically Precocious Youth (SMPY), which would transform gifted children, who are identified to be supported by the US education system. As the longest-running current longitudinal survey of intellectually talented children, SMPY has for over 45 years tracked the careers and accomplishments of some 5,000 individuals, many of whom have gone on to become high-achieving scientists. The study's ever-growing data set has generated more than 400 papers and several books, and provide key insights into how to spot and develop talent in science, technology, engineering, mathematics (STEM) and beyond.

Johns Hopkins University's Center for Talented Youth identifies innovators who can advance science, technology and culture, because of their unique abilities and support them through various enrichment programmes.The scheme emphasizes the importance of nurturing precocious children.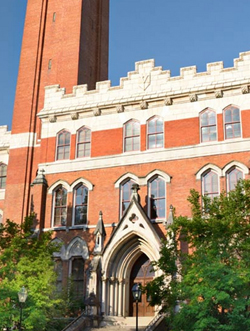 Vanderbilt University has its own Vanderbilt Programs for Talented Youth. These schemes enabled the USA to achieve continuous growth and prosperity, develop a huge resource pool of highly trained specialists, and thereby stay ahead of every other nation on this planet. The brightest of the foreign candidates are lured with attractive jobs, citizenship offers, visa for spouses and family. The US thus retains its numero uno status among the comity of nations.

Similar projects were adopted in South Korea, Hong Kong and Singapore where they screen children for giftedness and steer high performers into innovative programmes. In 2010, China launched a ten-year National Talent Development Plan to support and guide top students into science, technology and other high-demand fields.They started the Special Class for the Gifted Young of the University of Science and Technology of China (USTC). The USTC school enrols only 50 freshmen each year, but the university sends a lot of faculty members to investigate and assess students in their local schools, and the best teachers are then allocated to teach them all at government expense.

Singapore has a 'Gifted Education Programme' to identify and nurture geniuses. Germany has The Munich Longitudinal Study of Giftedness, which started tracking 26,000 gifted students in the mid-1980s.Experts use the term "gifted" for children who demonstrate three characteristics. First, gifted children begin to master a particular discipline – a language, maths or chess – much younger than most. They do so rapidly and easily, so they also progress much faster than their peers. Second, this mastery is achieved largely on their own, rather than as a result of parental prodding. A third characteristic of gifted children is that their interests are near-obsessive. They have what is called "a rage to master".

If 4312 Indian Universities can embark on a scheme of 'One University One Luminary' project, it can open a new dimension to recruit prodigies to imagine, envision and predict what has not been realized, becauselong-term innovation and, technology vision, are needed, if India has to be among the forefront of nations. University and academic research areas have to deeply focus on digital technologies, that are going to alter how we live, work, and socialize. For this we need geniuses at the helm, not only in Science and technology but also in politics, bureaucracy and judiciarywho are capable of looking beyond current circumstances and realities and envision transformational change.

While grooming the budding geniuses we should not forget to teach them the Gandhian concept of "Simple living and high thinking', which was also Swami Paramhansa Yogananda's prescription "Simplicity of living plus high thinking lead to the greatest happiness."

The 4381 universities of India need to be transformed into Visionary Universities that will groom luminaries. The magic mantra should be - Ancient India inspires, Modern India aspires, Future India achieves.For this, we need a paradigmatic change in our educational philosophy, concept of university, educational environment, educational resources, and transforming universities into precincts for reflection, metacognition and learning dialogues. The New Education Policy of the government of India is a correct step in this direction. However, visionaries need to be at the helm of affairs in universities, as the world is undergoing tumultuous changes in terms of technology, society and structures. All these changes revolve around one essential element—knowledge. Decay of knowledge is happening every day, due to new innovations and path breaking research. Technology is bringing about dramatic changes in the workplace. This implies that university education will also undergo changes to comply with the changing workplace requirements. Presently, students enrol in a university, study to acquire a degree, then seek employment to utilise that knowledge. But this norm is undergoing a rapid transformation.Future learning will depend on networks, connectivity, access, critical thinking and problem solving. Knowledge will not be disseminated in classrooms and lecture halls. It is going to be contextual, pragmatic and result oriented. New modes of delivery are making their impact, for example, online education, which is making institution-based education irrelevant. Online education will become a global phenomenon, and knowledge resources will become freely available. Universities of the future will offer learning in real time, from any location. It will be a flexible learning experience, which will be available on demand, and will be tailored to individual specifications and requirements. Thus, sweeping changes will be witnessed by universities across the world. It will be a challenging and testing time for the 4381 universities of India, that is why visionaries will be needed at the helm of affairs. Every university will need to forge path-breaking research, groom and develop luminaries. The Bill and Melinda Gates Foundation led the way in popularising a funding model called the 'grand challenge' model which identifies an ambitious target - the eradication of malaria, for example - and funds large teams to meet that challenge. Similar model can be adopted by our universities, to identify a potential genius, groom and guide him/her, and help them achieve celebrity status as luminaries in their field of study. These luminaries would be the best brand ambassadors for the university and the nation.

---

Dr. G. Shreekumar Menon IRS (Rtd) Ph.D: Former Director General of National Academy of Customs Indirect Taxes and Narcotics & Multi-Disciplinary School Of Economic Intelligence India; Fellow, James Martin Centre For Non Proliferation Studies, USA; Fellow, Centre for International Trade & Security, University of Georgia, USA; Public Administration, Maxwell School of Public Administration, Syracuse University, U.S.A.; AOTS Scholar, Japan. He can be contacted at shreemenon48@gmail.com