Nun who lived in Mangaluru -1870-72, to be Canonized
Mangalore Today News Network
By I J Saldanha-Shet
Mangaluru: Through many centuries in and around Mangaluru, the historic mosaic of cultures, languages and beliefs have been in harmonious step with human lives. The traditions point to a strong educational base and simple living and high thinking. In general terms, India since ancient times has been saturated with sages and saints; Kanara has a prime place share too. Faiths and religions have moved hand in hand in high secular principles of this holy land, Christianity is prominent among these. Recently, on January 14, 2015 we saw a son of Goa, who served in and around Mangaluru 1681-87 and thereafter left to serve in Ceylon (now Sri Lanka), was canonized a saint by Pope Francis in Colombo Sri Lanka (see 'Mangaluru Today' Feb.2015). A miracle on March 9, 2015, it was announced by the Vatican and also relayed by the Cloistered convent nuns at Kankanady cloister that one of their pioneers, who also lived in Mangaluru (1870 to 1872), Mariam Baouardy whose religious name was "Sr Mary of Jesus Crucified", is to be canonized in Rome on May 17, 2015. There is indeed much to ponder that Mangaluru has this good fortune to see two of it's former religious residents to be declared saints in a span of just a few months. Indeed it is a singularly joyous event.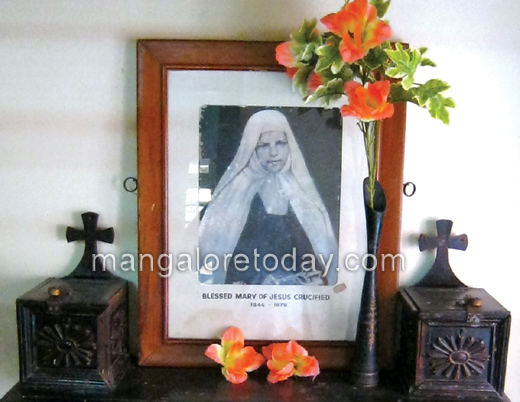 Several saintly people who have lived in Mangaluru are little known, they are from several communities. Among the Catholics, few now in the race for sainthood in the church who have been in Mangaluru apart from St.Pope John Paul II, who visited Mangaluru in 1986 and canonized; is Mother Teresa of Kolkota. Then Mangaluru's very own son, Msgr.Raymond F C Mascarenhas (1875 - 1960) from a well known local family, a diocesan priest, who was the first parish priest of Bendur, a great educationist, social activist and founder of the Bethany nuns of Bendur who now serve not only all over India but also over seas, has been a candidate (Servant of God) since 2008, 'Mangaluru Today' has significantly covered these episodes and from other back grounds too for it's readers.

A few people would be aware of a unique and enigmatic French Arab Nun who attained the 'Blessed' church title, the final of the steps to full sainthood. She lived in Mangaluru for two years 1870-72, a French citizen of Lebanese origin. She is "Mariam Baouardy" her religious name "Sr Mary of Jesus Crucified". In 1870 she came from France with a band of Pioneer 'Carmelites' and lived in the present Carmel Convent, St. Ann's, between 'State Bank' the centre of the city and Rosario Cathedral the oldest church of the region. It is indeed a thrilling story at this point in time, with her canonization in sight.

LIFE HISTORY:
This holy mystic Mariam Baouardy, of Lebanese origin by birth was born on January 5,1846 in upper Galilee. It is said she was born after her parents made a pilgrimage to the birth place of Christ - Bethlehem. She was orphaned even before she was three and was adopted by relatives. She gladly embraced many sufferings in the orphaned life and developed a special love for religion and holiness. The Carmelite nuns out of love and concern and admiration gave her work and shelter and whatever education that was possible. Her pious nature compelled the prioress of the convent to admit her as a novice nun and she was sent to Pau in France as part of the initiation in May 1867. The following year the then Bishop of Mangaluru - Marie Ephrem OCD of France (Who died in 1873, and is buried in Rosario Cathedral Mangaluru), on his visit there expressed his desire to have a group of nuns come over and start work on the West Coast of India. Obtaining permission from Vatican, the Carmelites mustered a pioneer group for the task. Strangely the fervent novice Mariam Baouardy was the youngest chosen for this mission. Destiny thus directed her to India and Mangaluru.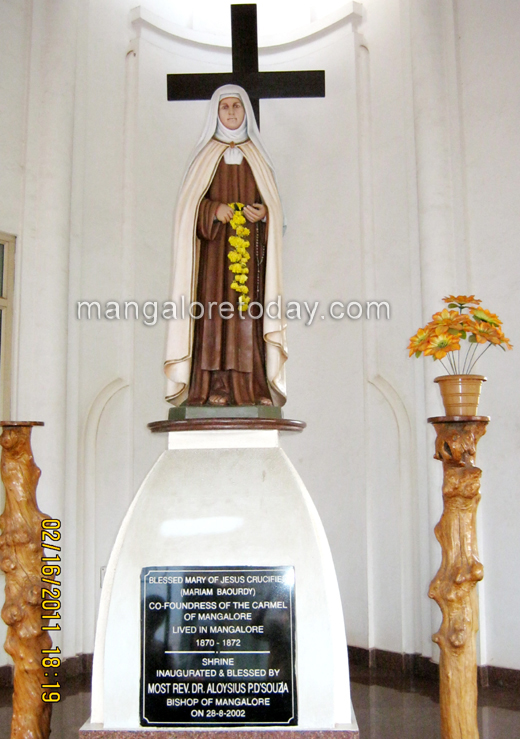 On November 19,1870 the courageous group after a grueling journey of near 100 days landed at Mangaluru port, via Madras (Chennai) and Calicut (Kozikode). The rough voyage sadly took the lives of four of the group which was not too unusual in those times. Commencing their mission of prayer, penance and work to call down God's blessing on this region they took up temporary shelter with the newly established "Apostolic Carmel" convent still flourishing not far from old port or 'Bunder' in Mangaluru city center. St. Ann's convent as it is still called, near Rosario Cathedral, was formerly the barracks of the British military and later, even when the convent opened the first Post Office of Mangaluru was housed here. The tiny room or cell where the holy nun lived and prayed and the old oratory/chapel where on November 21, 1871 she took her first vows are treated as sacred and preserved even today here. A memorial pillar is preserved beside the small plant that the saintly nun was often seen meditating outside her cell.

Mariam took the name of "Sr Mary of Jesus Crucified" and was often referred to as the 'Little Arab' among her community. On the day that she was accorded the habit and the 'white veil' at Pau in France, Sr.Mary of Jesus Crucified, foretold her sojourn in India, "I received the holy habit here, But it is in India that I shall pronounce my vows'. In the founding of the Mangaluru Carmel a mystical story is recorded in the documentation of Sr.Mariam; it is seen she had role in finding the 'Founder' – revealed as Belgian Count George de Nedonchel. He was a generous Catholic, who had mysteriously lost his 24 year old daughter a pious girl- Matilda. Mariam it is said had strange revelations of Matilda to approach her father 'Count George' , and it came to pass that a letter sent to the Count by the prioress on the instance of Sr. Mariam bore fruit and the Count became the 'founder' of the Mangaluru Carmel contributing to all expense of the voyages and later in 1880 the cloister at Kankanady

Comparing the holy nun's life with that of St (Sr) Alphonsa of Kerala; many similarities can be drawn. In keeping with her vows, she was called upon to return to France and left Mangaluru on September 23, 1972. After her return to Pau from Mangaluru in 1872. She was instrumental in resolving the constitutional uncertainty that a new order 'Betharram Farthers' were facng and thus she is reputed to be a pioneer of this order of priests who now have an institution at Bondel in Mangaluru too. After an exemplary holy life in Pau,France; she was sent to her mother land where she laboured hard to establish a large convent in Bethlehem, the place of Christ's birth. She died at the young age of 33 on August 26, 1879. The important convent she founded in Bethlehem, reflects her greatness today. Soon after her death at the Bethlehem cloister her heart was removed and certified by many priests and nuns present are witness to it. It is preserved in the cradle of the Carmel order at Pau in France till today. Many miracles are cited. She was declared "Blessed" , a the final step before sainthood, on November 13,1983 at the Vatican. Her life is often seen near in many ways to a recent saint of Kerala origin, St (Sr) Alphonsa. It is indeed a miracle that this holy Bl Mariam, has succeeded in the strict process of sainthood and the Vatican has announced her 'Canonization' in the church to be raised to the alters on May 17, 2015.

THE PRESENT:
Time changes traditions and perspectives and a lot more. The devout of Mangaluru, particularly the young student groups appear to have reason to seek the intercession of Bl Mariam Baouardy. Since, 1882 the Cloistered Carmel Convent and Sacred Heart Chapel at the Kankanady Circle has been a veritable land mark with Fr.Muller's opposite. The majestic cloister a 'power house' of prayer and meditation has become a solace to the region. A grotto like shrine, with a few spartan belongings used by Bl.Mariam, was opened here on August 28, 2002. For some years it has been the practice that Eucharist and novena is conducted every Wednesday at 5.30 pm, for the devotees - many youth/students from Fr.Muller's are regulars.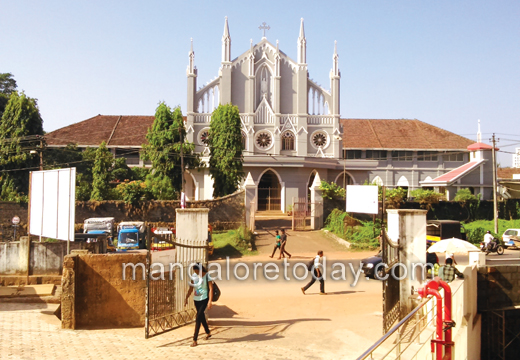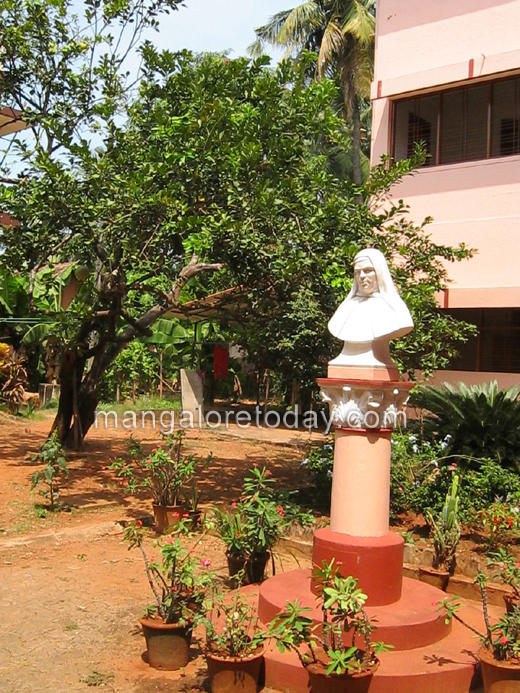 It is a credit to Mangaluru that holiness of this caliber whatever the roots or creed, inspires people for upliftment to the great heights. Even in these modern times, the prayerful contemplative nuns of Clisterd Carmel are shut out from the world voluntarily to Glorify God. Presently there are 13 nuns at the Cloistered Convent in bustling Kankanady. In India there are 34 convents of this order of nuns whose life shuts out the world. They are preparing with hopeful support for the big even - the canonization of their pioneer Bl. Mariam. They hope to publish an updated life of the new saint and distribute relics, plans will follow the generosity from all quarters, they are wished well in their endevours. The meaningful hymn that is sung here in honour of this mystic saint plainly called Mariam Baouardy, a part translated from Konkani reads:

"Sister Mary of Jesus Crucified - your name is beloved,
Who once among us in Mangaluru lived - Becoming for us a treasure"