My 'LAIKA' Moment!
Mangalore Today News Network
By Mahesh Nayak
Mangaluru, Feb 22, 2020: Laika' was a loveable Russian space dog and the first living creature in history to orbit the Earth. It was a female stray mongrel plucked from the streets of Moscow. The name supposedly means 'Barker'. Soviet scientists chose to use Moscow strays as they thought they could endure extreme cold and hunger. They also preferred a female because they were smaller and more docile. They packed less food than was required for its survival to reduce the spacecraft payload. In reality, in comparison with the weight of the spacecraft, the less 'payload' was negligible. Laika was launched into outer space on board the Sputnik 2 on November 3, 1957.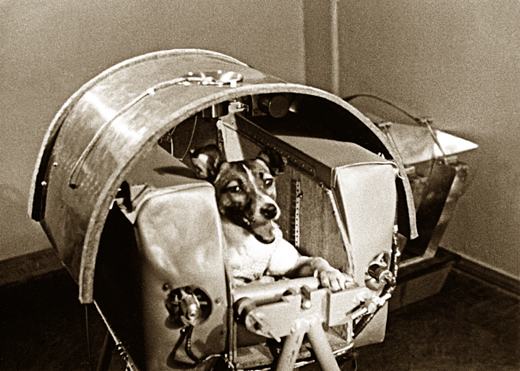 I have loved this dog since my school days. The picture of the cute dog with the perky ears peeking through the open end of its space capsule is forever in my mind. I had assumed that the dog had safely returned to earth, but was shocked to read recently that Laika died within hours of take off from Earth. She literally fried from overheating of the experimental spacecraft. Some five months later, after 2,570 orbits, the Sputnik 2 disintegrated with Laika's remains during re-entry on 14 April 1958. The true cause of Laika's death was never made public until 2002.

The really sad epilogue to this forced canine suicide is that the Soviet scientists were pressured to throw caution to the winds and fast track the mission only to fulfill a government deadline to launch a spectacular space probe on the 40th anniversary of the October Revolution. Its holy objective was just to impress half the world.

ROLLER RIDE
My have a friend who makes freezers and ice cream machines for a living. In 1998 when a boom began in setting up new medical colleges, he started to get enquiries for making mortuary cabinets. These are essential equipment in medical college hospitals for storing dead bodies. Mortuary cabinets were not on my friend's regular products menu. Yet, foreseeing a huge new market, he took up the challenge and designed these machines from scratch. Then he needed a live model to test the size, weight bearing capacity etc. Who else, but yours truly!

When the machine was ready, he gave me a call. I rushed to his factory to find him waiting for me with an open door (of the mortuary cabinet, I mean). I put myself on to the stainless steel stretcher, maintaining a cadaveric posture. Two strong factory hands lifted the stretcher. They placed it into the mortuary cabinet and closed the door. The experiment was a success. It proved that the stretcher was strong enough to bear my weight. The rollers inside the cabinet were sliding smoothly and the stretcher did go in effortlessly.

Inside the closed chamber the temperature was cool. Unlike poor Laika, who was getting warmed up in the spacecraft, here I was in cool comfort (Of course, few more minutes and I would have frozen!). Then my deep seated claustrophobia + paranoia + schizophrenia kicked in. There was no hell of a chance of a ghost living inside the chamber as the mortuary had never carried a real dead body before. But what if my scheming friend had better plans in mind and wouldn't open the door? I frantically knocked on the door. Thankfully my friend opened it as promised. Then, remembering my astronaut heroes, I insisted that a photo be taken of me peeking through the open door. Unfortunately that photo is now lost.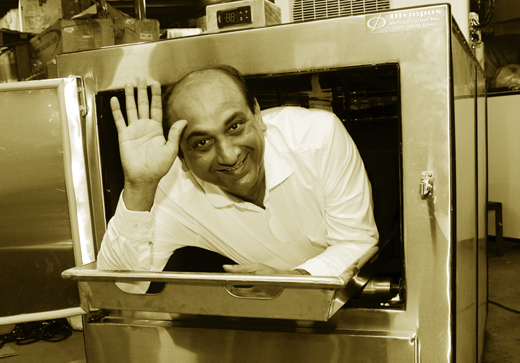 My friend went on to build an almost monopoly market for mortuary cabinets in the state. Two years back he once again said he needed my services for testing a new machine. I fell to the occasion and the photo of me (and I don't mean the dog) that you see here wastaken at that time. My only payoff from the millions that he must have made from the business was a couple of beers. And also a commission to design a brochure for the new product, which I did with great relish using proper words which were, well, professional, yet not unpleasant.

CHICKEN LEG PIECE
Death is a topic which society in general is uncomfortable with. In earlier days, in the crematorium, the undertakers were notorious for their morbid humour. For example, on one occasion the firewood landed on the body with a slight thud. The undertaker, who had possibly staged this on purpose, promptly said to the dead lady (in front of her son): "Sorry madam, but did that hurt you?" Once while stoking the fire, the undertaker had coolly asked the dead lady's husband: "Do you like chicken leg piece?" It would take all of their strength for the grief stricken men to hold themselves from punching the fellow.

Somehow the undertakers had a knack for pushing the envelope. I wonder if the situation persists as I rarely attend funerals these days. I do not know if this had anything to do with the undertaker's low social standing. His is a job which no one wants. Those who take to it are often social outcasts. Maybe it was their way of speaking truth to power by openly mocking the dead before their grieving relatives. Or perhaps it was their innate graveyard wisdom that made them prod the mourner from taking things too seriously. Their method sucks, but in pop psychology I think it's called 'existential confrontation'.

FRENCH FRIES
As a youth, I remember I had a relish for dark humour. Some years back a friend died and we had gone to pay last respects. One among us looked like the dead man's identical twin. We were in queue to view the body, which was lying before us in suit-booted glory and church regalia. I didn't miss the opportunity to whisper into my copycat friend's ears: "Our man seems fatigued. Why don't you take his place for a while and give him a break."

There are lots of people who view death differently, and with a dash of humour. I remember reading one of Art Buchwald's last columns in The Hindu. After being told to count his days, he had checked into a hospice. He wrote about what a good time he was having there and concluded: "I didn't know dying was this much fun or I would have done it much earlier."

I loved it when Osho's disciples celebrated his death with laughter, as per his wish. James French was a death row convict. A reporter was interviewing him a few days before he was to adorn the electric chair. Suddenly the convict asked the reporter if he could suggest the headline for his own obituary. The reporter asked James French whether he had something special in mind. "Yes. Write 'French Fries'," he said.

END GAME
I decided quite early in life that death is the ultimate full stop. It's the real WYSIWYG - 'What You See Is What You Get'. There's nothing more to it than that. There is no soul which survives us, no spirit that escapes our body to be reborn elsewhere, no piece of us that merges with the spirits of our forefathers or disperses into the eternal cosmos. Nor find bliss in heaven or rot in hell or get to cuddle numerous virgins. And certainly too there would be no bit of unfinished business hanging around old haunts to spook others. When you die, it's the end of the story. It's not a threshold beyond which promises can be kept, either made by you or to you. Your body simply stops functioning and disintegrates into its natural elements. As a lawyer friend of mine put it: "Death is the same as going to sleep. The only difference is you won't wake up again."

If there's any convincing evidence to the contrary I'm willing to believe it, but I'm yet to come across any. If there's a way to get back my father, my brother or the numerous people I miss in life, I'm all for it. My mom who is running 78 is quite unfazed about the advancing years. As she says, "Death is a natural process, what's there to fear in it?" The only thing that moves me a bit is untimely death. When it strikes people who are too young to go, I find it unbearable. I grieve deeply though I never show it. For some strange reason, I've trained myself to keep a straight face in the grimmest situations. I've heard many friends complain that they can hardly read any emotion in my face on occasions that really demand it. So much so they get second thoughts about who I really am.

But I digress. Or do I?

Having started out with Laika the space dog, here I am describing the inscrutable me. But that's exactly the point I'm trying to make. Laika had to die because its life was cheap. It's also a cultural icon today for the very same deed. Instead of celebrating life, we revere death. One life is all you get. One chance, that's all. Value it. Get your priorities right and make the most of it. Harm no one. Love who you can. As for the others, keep trying. You won't get another chance.