Midbrain activation demonstration flops miserably
Mangalore Today News Network
Photos: Somu Rao, Goa
By Prof. Narendra Nayak, President, FIRA

Kozhikode, April 19, 2015: A meeting open to public was held at Kozhikode on Sunday, 19th April 2015. It was actually held at the instance one Vinoj Surendran who had challenged us saying that the children belonging to his enterprise called Ingenium India could perform quite a few blind folded feats like reading playingcards, currency notes, literature and the rest. This was a response to a challenge which I had posted in 2010 in nirmukta.com. The challenge was accepted by us and an amount of Rs.5lakhs was fixed as the grant to him if his students could perform these with the blind fold put by us. He was asked to deposit 10% of the amount as a security deposit which would be returned if he could perform what he had claimed. In case he could not or if he did not turn up on the said date, this amount would be forfeited. In case he was successful the amount would be returned with the grant of 5 lakhs. As days passed by he developed cold feet and asked for relaxation from the caution deposit. We told him that the grant would be made only if he would pay the deposit. Later on he requested us as to whether the demonstration could go on without any financial implications and we agreed to that too. But two days before the event he chickened out and said that he would not turn up. But, we went ahead with the meeting as planned and titled it as the exposure of the fraud of Midbrain activation.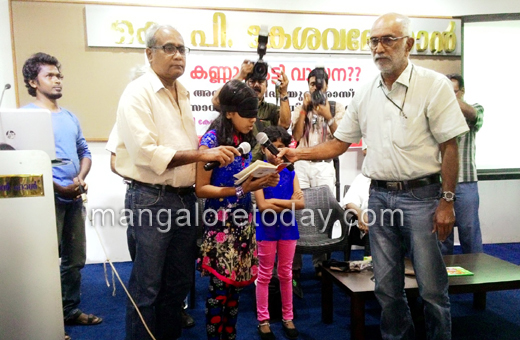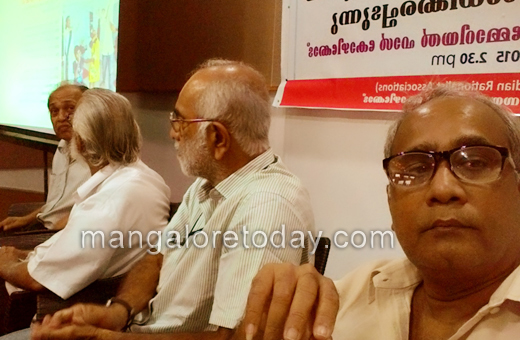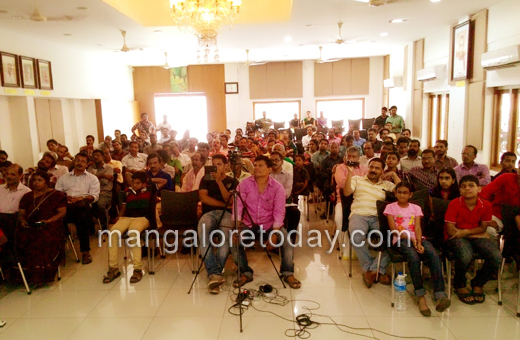 The meeting started with Dr.C.Vishwanathan explaining the modus operandi of the smart operators who are running these rackets and he dissected their claims point by point. Then we used children of our members whose Midbrains we had claimed that we had activated, to demonstrate the show piece experiments of the Midbrain activators- that is blind fold reading of colors, printed matter, playing cards etc. In fact two blind folded children wandered all over the stage and shook hands with each other and the audience was in raptures! They had been shown the videos of the performances of the 'Midbrain activated' children performing their blind folded stunts and here were our children doing them live! After explaining how it was done we went on with the methodology of testing such claims. Like putting a pair of tight fitting swimming goggles over the blind fold to prevent peeking, using of patches to obstruct all light etc. At that juncture some parents who had already sent their children for Midbrain activation got up agitated and challenged me to test them. The mother of one girl who she brought on the stage told me to test her on the spot. When I put the swimming goggles over her blind fold, started complaining that they were too tight- the classic excuse of these 'blind folded' seers! She loosened it and managed to read one playing card. The audience was in raptures over this display of real blind folded reading. But, I refused to be convinced. I told them that there was one more test to be done and that would be to apply the adhesive eye patch which would occlude all light. The confident mother agreed to it and I put patches over both her eyes. When the child realised that it could not see anything as there were no gaps to peek through started weeping complaining of pain, she tried to loosen the patch but could not as the adhesive was quite strong!

At this the mother of one more child got excited, she said her boy would do readings through the patch. When the patch was put he started weeping saying that it wastight, thereby trying to gain the sympathy of the audience. But, I told them that the patch was a medical approved one designed for comfortable application. The boy was still going on whining about the patch and I sensed that it was not because of the discomfort of the thing, but out of frustration that he couldn't see through it! So, the second attempt too was a flop. The Midbrain lobby was still reluctant to give up. One of them proposed that he would bring his son to the same premises on the next Sunday for a repeat of the same but he would apply the patch. When I refused he said what difference would it make if I applied it or he. For which I replied that it would and I was not willing to trust him. We strongly attacked all the enterprises making a big show of Midbrain activation calling them as cheats and compared them to beggars who use children as props.

We also told those who wanted to show the powers of Midbrain activation that if they were interested in showing the same, they could keep a deposit of 50,000 rupees and would get 5 lakhs as a grant if they could read through the blind folds that we would put. U.Kalanathan, a renowned rationalist and the Patron of Federation of Indian Rationalist Associations condemned all such attempts to cheat people in the name of making geniuses of children in two days etc.

The program was jointly organized by the Federation of Indian Rationalists Associations (FIRA), Science Trust and Yuktiyugam magazine of Kozhikode.
Watch Video: