Mangaluruís Capuchin Powerhouse and new millennium
Mangalore Today News Network
By I J Saldanha Shet
Mangaluru, March 5, 2016: Going back half a century, in a tiny part of old Mangalore, on Jail road to be precise is amazing. Many of our readers will have experienced making a beeline for Mangalore, Kodial or Kudla and grandparents' home, to spend the summer, Dusserah or Christmas holidays. The nostalgia is ever green and the influence and impact those episodes are deep, divine and indelible. Just recap the old fun spots.....Lighthouse hill, Kadri temple's seven tanks, Car street and Venkataramana devasthana, Ullal beach or any such center of activity. One little known spots was St.Anne's Capuchin Friary on jail road, opp Subrahmanya Sadana then a simple community centre, next to the Veterinary hospital, jail and Canara College. Today this Capuchin Friary is an ultra modern center of spiritual reinvention and action in the fast growing wonder of Mangalore city. Just celebrating a year on February 17, when its new classic modern chapel opened on the spot that a crumbling historic tiled 75 plus year old St. Anne's chapel stood. 'The Portiuncula' (the humble little place), it's inspiring back drop above the main alter a painting depicting the vision of St. Francis Assisi (see box). The present mega complex houses apart from the modern spacious chapel - Assisi house, a home for old priests, a students hostel for men, a perpetual adoration centre, Divine retreat center, Pio Mall, Assisi Press and is a sprawling campus with divine multi pronged activity. It is said, "Unless the LORD builds the house, those who build it labor in vain".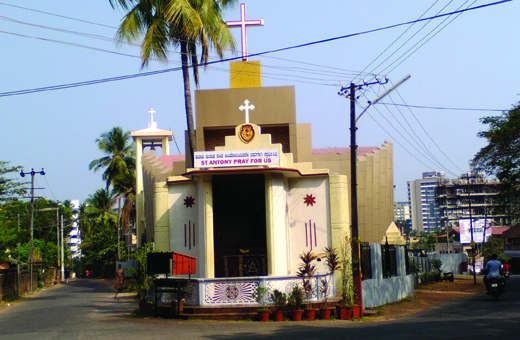 In the early times way back in the 1950s and 60s, this Capuchin Friary was in its humble simple format and the world of Mangalore was a different place. Homes rarely had electricity and the oil lamps, on the rough stone roads were the norm, occasions saw 'hired petromax' (kerosene vapour) lights, an odd old gramophone or rare radio was the novelty. Konkani bands, songs and plays were at school or parish gatherings or weddings and roce. The youth avoided being seen the cinema in fear of being corrupted for eternity. Young boys and girls never dared turn their sights at each other, meeting and talking was unheard of. The 'good and advised' activity were religious rituals .....and those were a simple kind suited to the times when no fans/AC's, TVs, mobiles, internet, fast cars and bikes and many modern things as seen now, were unknown. Capuchins wore a trademark simple hand made two strap fascinating slipper, as it looked like the same one often seen in pictures of ancient times. Now it is not just inevitable but a compelling need that the present churches and church activities are on a different plane and platform.......and so we see that the Capuchins as all others in the religious arena of all hues, putting their best foot forward with the grace of God, uplifting their profiles and their services and institutions to the standards of the new 21st Millennium!

Historicity of St.Anne's Friary:
The new chapel opened (February 17, 2015) presents an imposing hyper modern concept and a rare cascading accordion look outside and a very prayerful neat environment inside. The interior is a vast cave with a balcony like gallery to accommodate a huge gathering. The aesthetic interior is designed to uplift the human heart and mind. The sanctuary is a vision of soothing glory, the focus is the tabernacle and the cross of St.Damian, a unique Franciscan cross above it; the whole atmosphere is of unmatched adoration. Yet, the old is missed. A grotto and mini hall match the modern chapel. The entire project is generously financed by donors of good will - GOD's labourers never work in vain.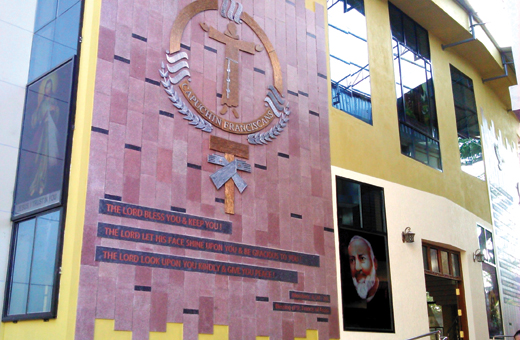 Very briefly, the history of this holy divine spot. The original property was near 50 cents known as "Lawn View", owned by local retired legendary Jailor, philanthropist George Lobo. In 1936 he gifted it to the Capuchin Friars of Farangipete who used to frequent the spot to conduct Franciscan devotions and action. It was declared a 'Friary' a wing of St.Fedelis Friary of Farangipete and named "St. Anne's Friary", honouring George Lobo's wife, 'Anne'. In 1941 it had acquired reputation for spiritual actions. A shrine to St.Anthony was later raised in front, at the junction of two roads, it still stands. George Lobo was a widower and he chose to live in a room of St.Anne's Friary with the monks till his death around 1950. A new residence was built for the Friars later. Their life in those times was one of prayer and penance, wearing coarse brown habits with hoods and cord round the waist to signify celibacy, they lived an ascetic simple life, their Spartan needs were in accordance with the rule of St,Francis. Bicycles were generally the norm then, Capuchins could be seen usually on ladies cycles, as the cassocks compelled. Apart from prayer and meditations, they cooked, cleaned, did gardening and took care of all their needs inhouse; it was their practice to rise at 2 am every night for spell of prayer. Their room was a 'cell' and had no facilities other than the most basic, not even a mattress. Things have changed a lot since then in keeping with the times, yet their goodness, unselfishness and prayerful approach to GOD has remained paramount.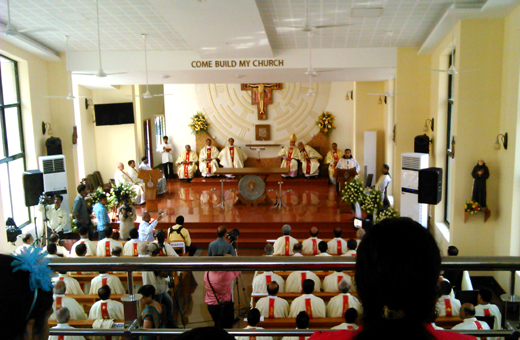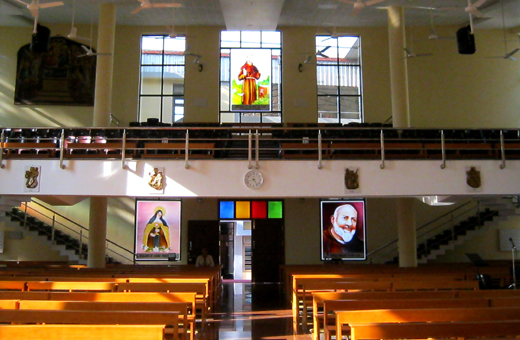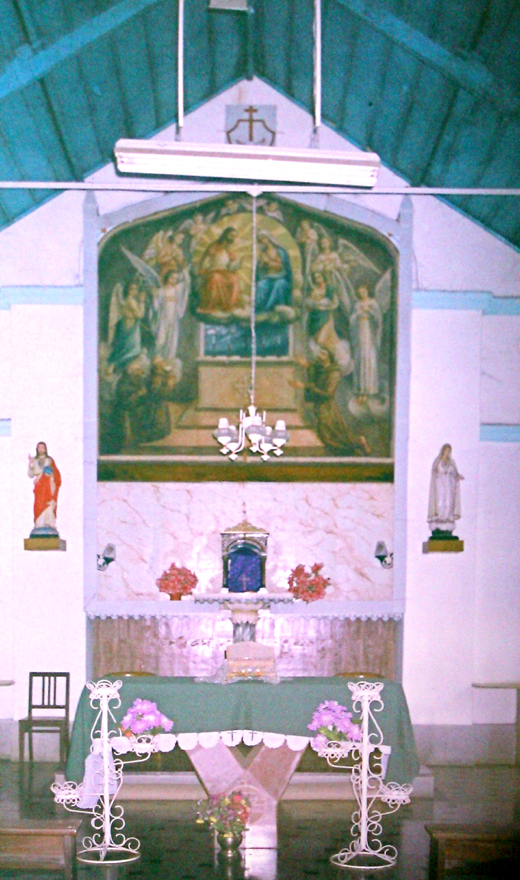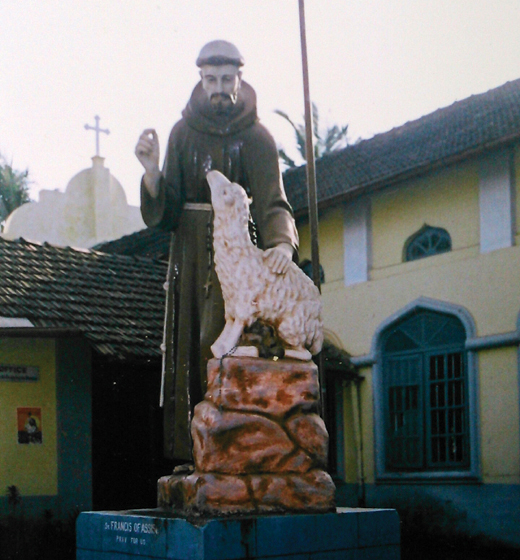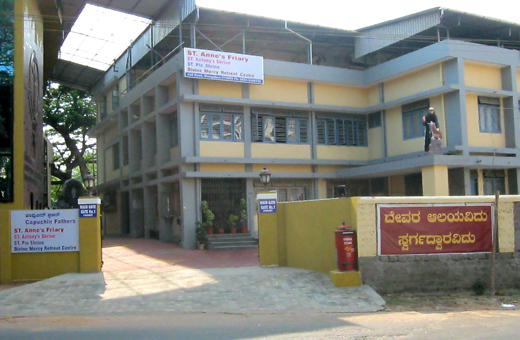 After 1977 the Friary was transformed by adding acquired land. Divine Mercy Retreat Centre came up, the Pio Mall, devotions also grew to the new Capuchin Saint – St.Padre Pio, great fervor developed in the present centre and growth was the Lord's gift as seen today. The leaders of this Capuchin initiative have contributed genuinely to the social, educational and Christian values of Mangalore. Some great Capuchins that are randomly named are: Fr. Cyril Andrade was a pioneer with SFO- Secular Franciscan Order or 'Third order'. 'Konkani Natak Sabha' (KNS) – an active contribution to the Konkani Stage (whose famous motto in Konkani, "Natak dwareen Dharmik Saadan") started by a Jesuit Fr.Albuquerque Pai SJ, was handed over to the Capuchins with Fr.Philip Neri leading it for a long spell. Don Bosco Hall was put up by this KNS in Hampankatta and was then a prestigious Hall, where local Konkani culture has been nurtured and still stands today. Bro. Odorick (known as the snake swami) who later became a priest and Bro. Otho along with several great monks have contributed to the progress over time; names mentioned are of those who are known, there are many others too. Fr. Vincent Lobo took the initiative of establishing "Sevak" a Konkani Magazine in 1959 and in 1970 started the Assisi Press which is a leading press here today with a branch in Udupi too. Several new services spiritual and temporal are now conducted in this place and the new chapel now will expand these faster. Several senior elderly priests are housed here too making available a wide range of advisory/counselling action. One of the old priests to talk with and marvel at the clarity of mind and substance is Fr.Theophil Pereira (of Dayalbagh estate fame) past his 90th birthday. There are many venerable aged Friars who make the place blessed. Fr. Peter Cyprian D'Souza is the present guardian of this Capuchin House, he and his friars show initiative and work most laudable. These Capuchin friars all of whom are 'sons-of-the-soil' go about their mission to benefit all of Kanara in their own beautiful way with deepest concerns for their neighbours and fellowmen.