Mangalore Realty - Set to Soar Higher
Mangalore Today News Network
Mangalore, May 7, 2013: Is it the right time to buy? There are many who believe that it is time to buy. A lot of people who want to settle down in their home town have been contemplating to buy apartments and houses - hoping that the prices would come down. Real estate analysts believe that the prices have stabilised. Artificial price rise was only a short term phenomena. Over the past few months, the scenario has changed and realistic pricing has emerged. Today, the real estate market is pretty upbeat and showing positive sign of growth. Responding to the growing demand for residential properties, some of the major developers of the country have launched mega projects in Mangalore. Godrej Properties, Prestige Builders, Brigade Group, Raheja Group, SPAS Infrastructures and Puravankara Group are among them.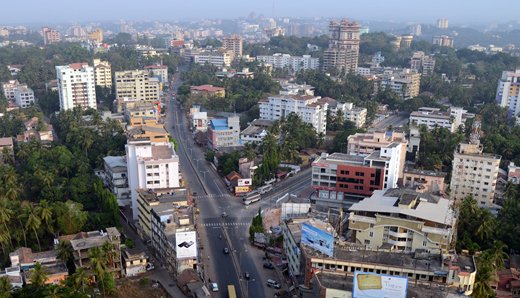 If the size and scale of projects are anything to go by, they certainly expect to be well and thriving way beyond anybody's guess. Take for instance, K. C. Naik of the city based Mahabaleshwara Builders. He has promoted a comprehensive township in Shaktinagar. Over the years Mr. Naik has nurtured and developed Shakthinagar, a least preferred location a decade ago. Today he has half a dozen of apartment projects as well as luxury villas in and around Shaktinagar. Dheeraj Amin of J V builders and NorthernSky Properties has come up with the largest and the first of its kind 'Green Building' concept in his latest super luxury apartment complex at Pumpwell, Mangalore. Real estate giant, Ramesh Kumar's Janata Construction Company has recently launched his colossal five Star Hotel and opulent Shopping cum Residential project at M G Road, Mangalore. Siraj Ahmed's dream project, Inland Windsors - a 25-storey high-rise structure situated at Airport Road, Maryhill is ready to occupy. Sanath Shetty's Planet SKS has the distinction of being one of the tallest premium residential towers in Karnataka.

Srinath Hebbar of Land Trades Developers too is in an upbeat mood. His latest project 'Atlantis' boasts of both the world. Atlantis is custom designed as per the individual interests providing freedom and privacy of an independent bungalow along with the comforts, conveniences and security of an apartment. Each home comes with unparalleled features and facilities of international standards. He had launched a magnum opus luxury apartment complex - Mourishka Palace in Kadri-Kambla road . This 320-unit premium apartment complex behind C V Nayak Hall is almost half way through. He has five more apartment projects in different stages of completion.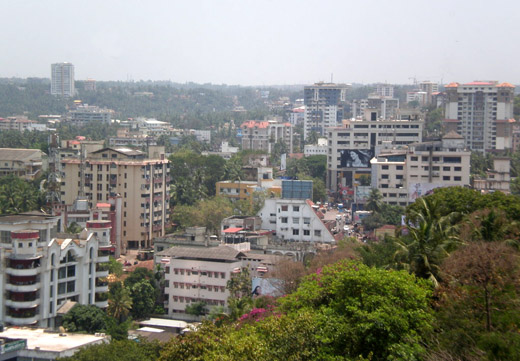 Rohan Monteiro of Rohan Corporation is yet another giant in Mangalore in the real estate arena. Rohan Corporation has an impressive portfolio which includes luxury and affordable residential projects in prime locations. P M A Razak's Plama Developers has completed several landmark projects in Mangalore and is currently developing number of projects across South India. Mohtisham Complexes, one of the pioneers in luxury apartments and complexes has six major projects in the city and plans for more projects. Former Minister, Krishna Palemar's Landlinks has more than half a dozen of projects in various stages of completion. Abhiman Constructions is yet another reputed builder with three ongoing and one upcoming project. Prashanth Sanil's Nidhi Land Infrastructure Developers has three class projects in the city and one more to be launched in a few months time.

Surathkal, Kulashekar, Padil, Ullal and Derlakatta are the new hot locations which have been seeing hectic real estate developments. Clavier Estate Developers has launched their first project in Ullal and the second is coming up in Suratkal. Plama and Mohtisham have two major projects in Derlakatta. Plama and Red Bricks have two projects each in Kulashekar.
Well, there are over fifty developers and builders who have launched residential villas and apartment projects within the city limits and suburbs in recent times.

These are but a few pointers signifying the boundless confidence of the real estate sector in its own future. When recession hit the global economy, the sector that took the maximum beating, especially in the United States, was housing. Hence it was expected that the downturn would drag the Indian economy too into the abyss and real estate would once again sink under its own weight. Many feared a dreaded 1998-style collapse when construction activity virtually came to a standstill. The mood turned pessimistic and transactions plummeted all of a sudden. Then just when everyone was expecting the worst, things began to look up and builders began announcing a spate of projects.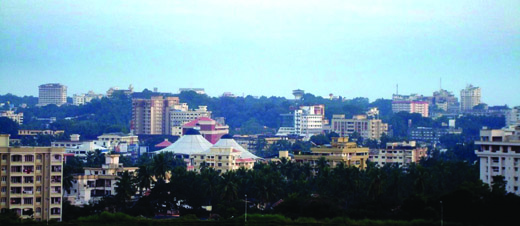 Today, real estate business is thriving in Mangalore and Udupi. The huge investment in the MRPL expansion has only given the much needed boost to the real estate business. The IT giant Infosys has already established two major facilities in the coastal city, while many more IT majors are making moves to set foot in the city. The Mangalore SEZ Ltd, which has acquired thousands of acres of land with plans to set up varied units, too is expected to give a great impetus to the realty sector here, taking the property prices to new heights.

Mangalore is now targeted by top investors and IT giants as their business centre leading to its fast paced growth. The up-gradation of the airport, railways and the roads of the city too has contributed its part to the growth of the realty industry. The city has also become a good choice for people wanting to invest in properties. The result is clear-several residential and commercial projects are lined up in the city to act as catalysts of development including three IT parks at Ganjimutt, Thumbe and Mudipu near Mangalore University. The development and concretization of several roads of Mangalore and also the infrastructural development in the city has been a driving spirit for the construction industry.

Hi-rise residential apartments, commercial complexes, malls and multiplexes, the city is witnessing a giant leap in the construction industry. Today we see only a handful of tiled roof structures, while most of the old buildings are being replaced by concrete structures, giving a whole new look to Mangalore.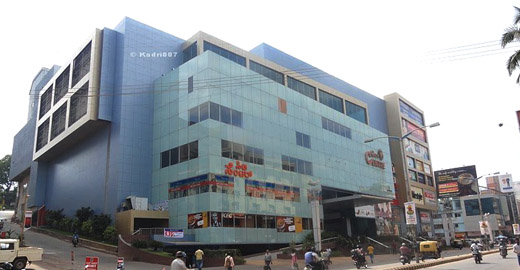 At present, Mangalore has around five lakh sq.ft of mall space and in the next three year period it could very well reach the 15 lakh sq.ft mark. While three malls have already begun operations in Mangalore, three more are in different stages of construction. The City Centre at KS Rao Road, promoted by Mohtisham Complexes boasts of being Mangalore's biggest Mall. Meanwhile, another biggest mall is in the making at Bikarnakatta and that is the Plama Mall promoted by Plama Developers Ltd with a built-up area of 15 lakh square feet. When completed, it is expected to be the largest mall in the region.

Given all the developments, what's the indication? Is this apparent soaring high for real? Will it last? What is the ground reality? These questions will no doubt tickle the cynics, but an analysis of hard facts reveals that we are truly better off than we fear.

Real estate emerged on its own in the city only in the early 90's. Prior to that a handful of enthusiasts, like the late JM Lobo Prabhu and Antony Cutinha had tried their hand at promoting a few apartment projects. The rest were an ensemble of brokers and commission agents. In the last decade of the century, for the first time, real estate companies like Janatha Construction Co, Mohtisham Complexes and Mahabaleshwara Builders came up with grandiose projects and this inspired many wannabes too to follow in their footsteps.

Real estate is among the chief barometers of economic health. It fulfills a basic need of the people for shelter, it harnesses land – one of the four factors of production, and it involves big money. Land, like gold, seems to bear eternal value and a thriving economy boosts real estate prices like nobody's business.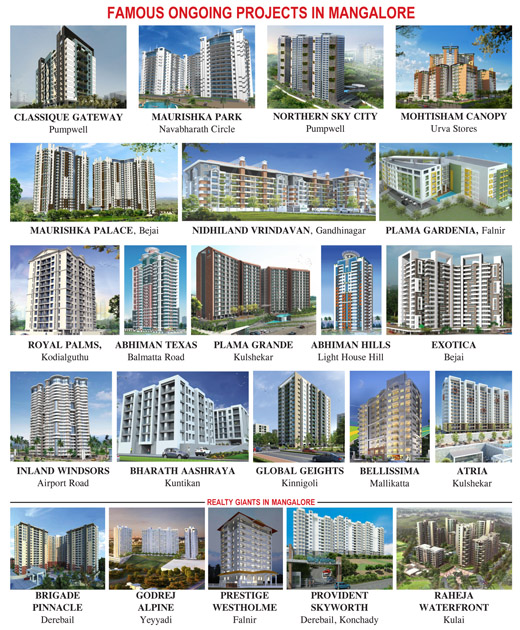 So it follows that good tidings in the real estate sector is linked in to the overall economic scenario. The single outstanding saving grace has been the absolute stability of the market. This happened due to many reasons. For one, Indian economy did not take the beating it might otherwise have, thanks to our sound fundamentals. For another, the ground reality at the local level had changed much since the last debacle in 1998. Over the last decade, the region has seen rapid economic development. Advent of industries like MRPL, Infosys and now the Mangalore Special Economic Zone has provided impetus to the economy. Moreover the liberalized economy had forced the lending institutions to adopt more positive attitude and come up with investor friendly policies. Today housing loans are available much more easily and more affordably too.

The local land holding pattern too is typical. For most people here, land is an inherited wealth and no one is desperate to sell. If land had been bought for speculative purposes, then the pressure to sell would be much more. In the absence of such pressure, the land owners will just hold on till the sunny day as they have nothing to lose. Though this kind of psychology has drastically reduced the actual number of transactions, the reduced activity has not had any impact on the price line leading to status quo and stability.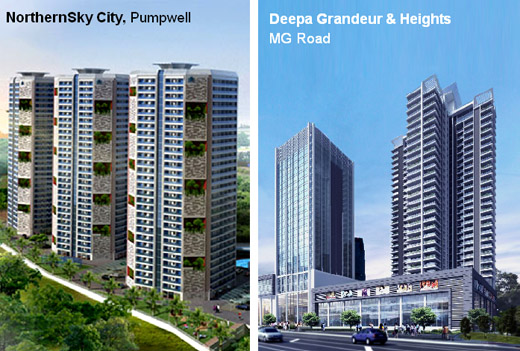 The local real estate market has also benefitted from the typical small town mentality of locals favouring the locals. Says a leading real estate consultant: "In a small town like Mangalore where everyone knows everyone else, the natural tendency is to buy from someone you know. Moreover, the local builders know the local climate, topography and consumer preferences and their projects become more appealing to the buyer. The local builders also stand by the customers by providing good after sales service."

It is also no wonder that builders who are doing well these days are those with a solid trade background. Land Links, Inland Developers and Land Trades were all real estate broking firms and ventured into the projects much after the Great Fall of '98. Their sound field knowledge and access to wide clientele gives them a firm footing to build on.

Watchful of the spurt in economic activity in the past few years, several big builders from outside have been eying Mangalore. Bangalore-based builders like Brigade and Prestige have launched their own projects in Mangalore. Big time corporates like Godrej and Raheja Group too have made to this market. But the local builders continue to enjoy the confidence of the market and the outside entities are having a tough time to set the ball rolling.

Another blessing in disguise has been the tighter regulations. Few years back when construction activity was rampant, builders openly flouted the rules and put up structures as they wished with neither any regard for the rules nor any respect for public interest. The culprits could indulge in such audacious actions mainly because they were confident that such illegal structures could be regularized later after greasing a few hands.

This led to public outrage and many civic activists took up the cause and launched protest movements against the builder lobby. As a result of this the Mangalore City Corporation was forced to clamp down on the builders and come up with fool proof regulations. The City Development Plan (CDP), which provides a blue print for the city's future was revamped and a new CDP was prepared to address the present needs and concerns. Says one eminent builder- "The new CDP has cleared all earlier ambiguity in rules and regulations governing large buildings and created a good professional climate from which both builders and buyers can benefit."


However despite the upbeat mood, the main buyers continue to be affluent people like NRIs, business community and software engineers. Apart from a few notable exceptions, like Red Bricks properties, marketed by Property Deal Marketing and Management Co, T3 Urban developers, affordable housing for the masses continues to be a pipe dream. With even the cheapest apartment costing upward of Rs. 30 lakh, the common man cannot hope to have a house of his own in the city in the near future. The builders too cannot be blamed considering the increase in Land cost, taxation and the spiraling costs of construction materials etc. Commercial projects too continue to be risky ventures and takers are few for expensive office space.

Seen in proper perspective, the last decade has been a period of maturing for the real estate industry of Mangalore and it seems to have emerged wiser after the last debacle. This can only mean good news for the consumers and it can only be hoped that all this will translate into practical long term solutions to the housing problems concerning the common man.