M. Chandra Sekhar - A Cop with a Conscience
Mangalore Today News Network
By Mahesh Nayak
Mangaluru, August 6, 2016: Late one evening in the second week of January, a delegation of Citizens Forum for Mangalore Development led by social activist Vidya Dinker visited the city police commissionerate. Their objective: to appraise the newly appointed police Commissioner M. Chandra Sekhar on the menace of 'moral police'. Despite its high sounding feel, 'moral police' has nothing to do with the law. It is a derogatory term coined by the media and it refers to right wing goons who had virtually hijacked the city and made it their personal fiefdom. Through various strong arm tactics like beating up lovers, raiding pubs, disco-theques and perfectly legitimate parties where young boys and girls come to dance, imposing 'ban' on Valentine's Day and picking on a bevy of communally sensitive issues, these thugs had ensured that it was their writ that ran large on the city.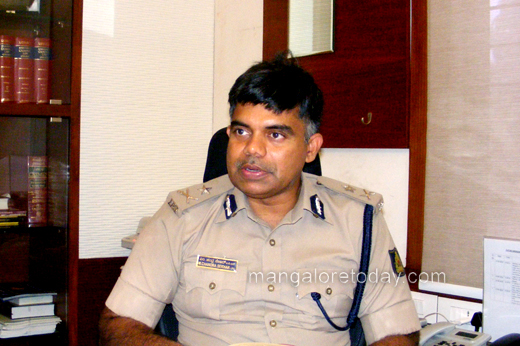 The regular police, in the meanwhile, had steadily degenerated into a laughing stock. They would typically arrive on the scene conveniently after the damage is done and pretend to go through the motions. Or worse still, just remain in the sidelines as disinterested spectators to an unfolding crime. Open threats, outright intimidation and brutal, often humiliating, violence had become the order of the day. And it was the common citizen who was at the receiving end. Lofty ideals and citizens' rights enshrined in the Constitution seemed to have lost all meaning. Criminally inclined youth belonging to radical Hindu outfits like Vishwa Hindu Parishad, Bajrang Dal, Sri Rama Sene, Hindu Jagarana Vedike, Hindu Mahasabha and occasionally the Muslim outfits like Popular Front of India (PFI) would decide what we should wear, what we should eat, whom we should romance.


Just two weeks before the new commissioner took charge, Bajrang Dal had held a press meet to announce a 'ban' on the Hindi film 'Dilwale'. Apparently the movie's star Shah Rukh Khan had earned their wrath for allegedly making some comment on the contentious political issue of 'intolerance'. They had then enforced their dictat by attacking cinemas which dared to screen the movie. The police kept mum. It was only after Vidya Dinker and her associates lodged a formal complaint with the then police commissioner S. Murugan that he put his act together and arrested some of the attackers. Even then it took a two week long struggle to finally screen the movie. And for this little act of bravery, Vidya earned a heap of online abuse. But this marked the first time in over a decade that citizens had succeeded in reversing a fatwa issued by radical elements.

It was in follow up of this incident that Vidya Dinker and her friends had called on the new commissioner. Their mission of 'Moral Police Mukth Mangaluru' could not be left undone. A memorandum was submitted to the new police chief with a request that he devise long term strategies to eliminate the scourge altogether. Chandra Sekhar listened patiently to the passionate pleas of the activists. Finally, when the meeting ended, he had only this to say: "I understand what you are trying to say. If you expect me to give lengthy quotes from Universal Declaration of Human Rights or the Constitution of India, I must plead helpless in the matter. All I can say is that as a human being, I know what is right and what is wrong. And I will act accordingly."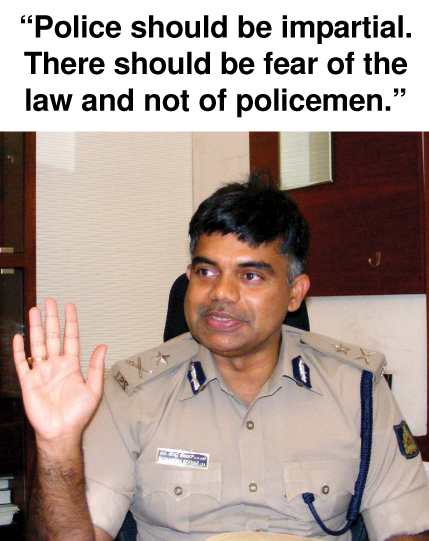 In retrospect, these very words summed up the man. A man of conscience. Since then, he has been as good as his word. According to statistics available, on an average 45-50 incidences of moral policing were being reported annually in entire Dakshina Kannada district in the last few years. After Commissioner M. Chandra Sekhar took over, the term 'moral police' is hardly heard in the public domain. Only twice did it threaten to loom during the intervening period within Mangalore City Commissionerate. And on both occasions, it was nipped in the bud. The first was on 12th February, when a Bajrang 'District Convener' called Bhujang Kulal issued a press note. It was actually a veiled threat to all those who dared to celebrate Valentine's Day. He was audacious enough to even warn the Deputy Commissioner of the district with 'consequences'.

Kulal, the would-be moral vigilante, was tracked down the very next morning and made to cough out a disclaimer. He lost all enthusiasm for foiling Valentine's Day celebration after that. The second incident took place on April 5th. A Muslim boy was spotted talking to a Hindu girl at Fiza Mall in the city. A few Bajrang Dal goons confronted the boy and beat him up. The moment police got wind of it, hard action followed and five of the assailants were rounded up. A likely third incident occurred last week when a 'couple' suspected to be belonging to different faiths was attacked at a lodge at Derlakatte. It turned out that they were cousins who were merely calling on each other and the matter fizzled off. But Chandra Sekhar ordered an inquiry nonetheless.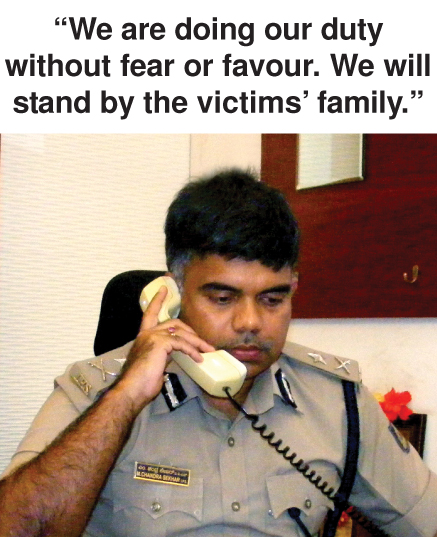 On another level notorious hate mongers like the Islamic 'preacher' and televangelist Zakir Naik, the VHP International Working President Praveen Togadia and Sri Rama Sene chief Pramod Muthalik of 'Mangalore Pub Attack' infamy were banished from the city. They had little choice but to tuck in their tails and swallow the venom they would otherwise have spewed on the masses.

A violent episode at Ullal which threatened to turn into a communal issue was diffused in the nick of time. Radical outfits are today conspicuous by their silence. Social media, where they earlier unleashed havoc, is today as calm as the Pacific Ocean when Magellan first found it. Peace has indeed finally returned to the city. And we have Muvva Chandra Sekhar to thank for it.

Motivational speakers are all too fond of reminding us that it takes only one man to change the world. This dictum rings true when one takes up case studies of outstanding individuals who have walked alone and succeeded in their chosen mission. Even in a small city like Mangalore, it took a lone visionary like Ullal Srinivas Mallya, the city's first Member of Parliament to give the city its present identity on the national map. After him, occasionally a civil servant or two has come who changed the status quo and redefined the cityscape.

Notable among such individuals is Bharath Lal Meena, who served as the Deputy Commissioner of the district in the mid 90's. He took on the vested interests that ruled the city and initiated major changes. A thin and unassuming man, one couldn't imagine this man was made of steel. But then he proved it. More recently we had Ponnu Raj, another Deputy Commissioner, but for whom road widening would never have taken place. Though the streets were clogged with burgeoning traffic, citizens were blissfully resisting giving space for the much needed and long awaited project. He personally called on each and every naysayer and 'convinced' him that he was doing good for the city.

From what we have come to see of him so far, M. Chandra Sekhar seems to fall in the league of such humble, yet, extraordinary gentlemen. A native of Nellore in Andhra Pradesh, the 42 year old IPS officer is an illustrious graduate of IIT Kharagpur, where he studied aerospace engineering. After a brief stint of working as a software developer at Infosys, he appeared for the civil services exams to fulfil his dream to be a cop. Joining the 1998 Batch of the Indian Police Service, he was originally allotted Himachal Pradesh cadre. He was absorbed into Karnataka cadre in 2013.


Having served as ASP, Shimla, and aide-de-camp to the Governor of Himachal Pradesh, his initial independent postings were as SP in Bilaspur and Mandi districts. After coming on deputation to Karnataka in 2009, he served as SP (Internal Security Division) for three months, then as DCP (East division), Bengaluru City Police from 2009 to 2012. On promotion as Deputy IGP, he was posted to Karnataka Fire & Emergency Services from 2012 to 2014.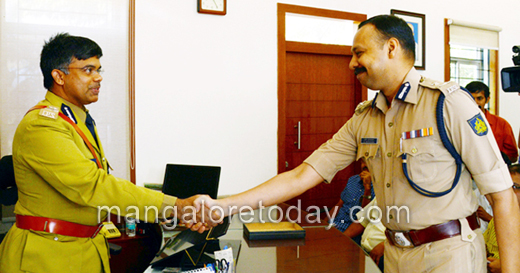 On 1st January 2016, M. Chandra Sekhar became the sixth IPS officer to serve as the city police chief. He was decorated with the President's Medal in the same month.

The first thing that strikes you about M. Chandra Sekhar is that he is a good listener. And extremely so. This perhaps comes from a humble nature and gentle disposition. The close cropped grey 'police cut' topped with a jet black mop of ruffled hair lend him a subtle boyish charm. He invariably first greets visitors with a no-nonsense stare. Then as he warms up to you, a total transformation takes place. He gradually lowers his guard to indulge in light hearted banter amidst earnest, well considered words spoken at a relaxed pace. His humility shines through at every attempt to praise him for a good deed. He bounces off even well meaning words of appreciation with a mild look of amusement and an elaborate denial.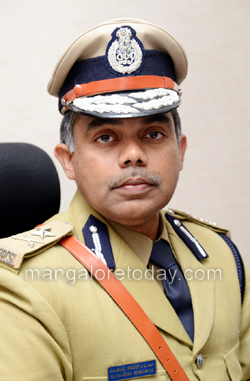 In a department that is extremely suspect in the eyes of the public, he enjoys a sterling reputation as an upright and honest officer. This might seem preposterous for an organization that is supposed to be honest in the first place. But then any mention of him among those who know him closely promptly invites the assertion that M. Chandra Sekhar is not a man who can be bought. So when he landed in Mangalore with this baggage of absolute honesty, department watchers were keen to see how he would tackle the inevitable isolation that would follow. Surely, wouldn't the corrupt who rule the roost find devious ways to keep the show running without a Mahatma's unwelcome intrusion?

Herein lies his masterstroke. Aware that he would be living in an ivory tower, he is said to have cleverly overtaken the mid-level police hierarchy and established a direct connect with the rank and file. It is common knowledge that the low level foot soldiers of the department – the beat cops, the constables and head constables – are the real underlings. It is they who sweat it out in the hot sun working long hours. And theirs is a thankless job. The salary is meagre and the abuse of higher ups plentiful. The big bucks never reach their pockets; that's the privilege of those at the top. M. Chandra Sekhar seems to have genuine sympathy for those at the grassroots. Even in casual conversation, his constant refrain is about how police should be relevant to the common man.

In an effort to reach out to them, he has taken a personal interest in policemen's welfare. He makes it a point to personally felicitate individual cops whenever they do something appreciable. Recently when a constable Bopanna was seen completely drenched and directing traffic amidst torrential rain at Bunts Hostel Circle, the Commissioner called him to his office and felicitated him. On another occasion, a rough neck called 'Japan Manga' had tried to assault another thug Shubash Padil on the district court premises. The timely intervention of three cops who were present on the scene prevented a full scale gang war. Chandra Sekhar promptly congratulated the three dutiful policemen. He also rewards diligent cops liberally. With little gestures like these, M. Chandra Sekhar is boosting morale at the bottom of the pyramid.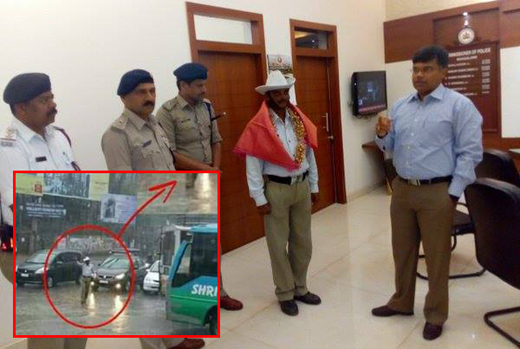 As a result the loyalty that he enjoys among the grassroots cops is amazing. A clear indication of this came few weeks back, when the proposed state wide mass leave campaign by police personnel evoked zero response from the local police. In fact in Mangalore city limits, not a single policeman had applied for leave in order to participate in the strike. "If the policeman acts according to the best of his ability, and in a neutral manner, if you don't have vested interests, then 99% of the problem is solved," he says, "We should act in such a manner. We have to earn the confidence of law abiding people, who form the majority. Criminals are a small percentage of society."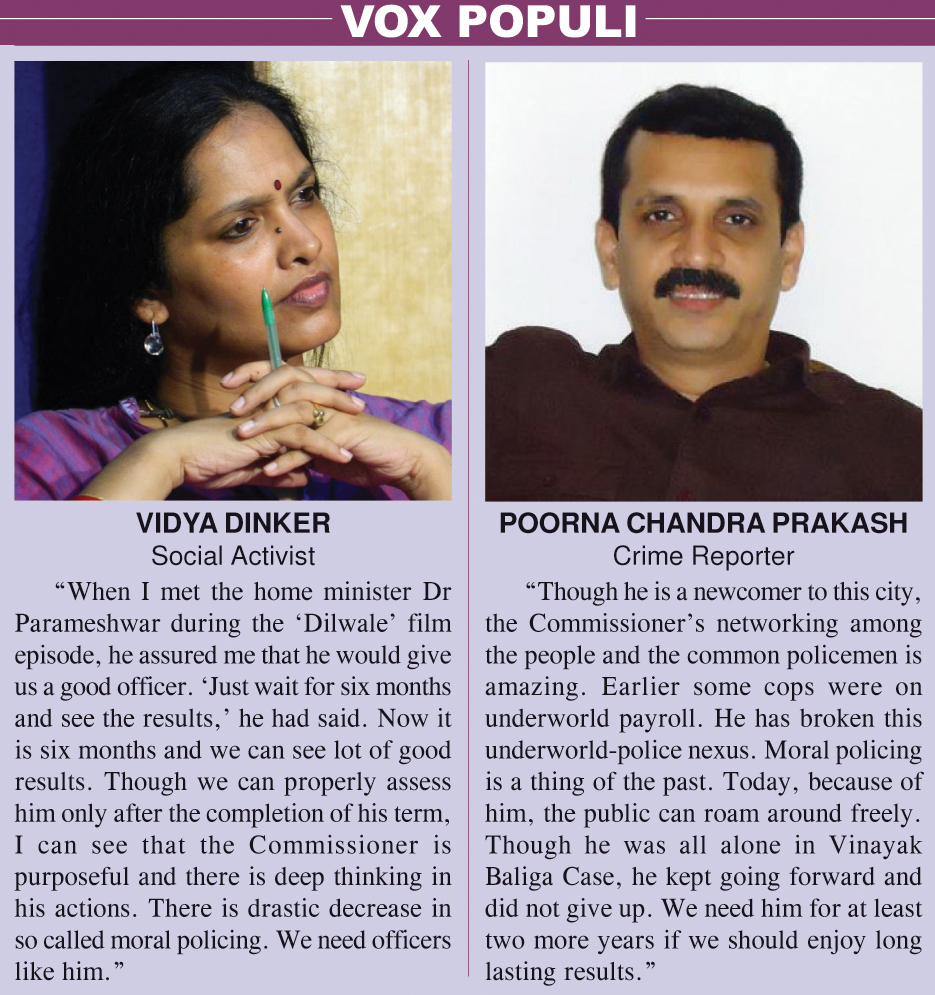 Apart from reining in the moral police goons, he has also led a crack down on the underworld, on gambling dens, game parlours and massage parlours which double up as prostitution joints. The overall crime scenario has been brought under control through employing various tactics like tightening the legal mechanism, digging up old cases and slapping up new ones against repeat offenders, thereby keeping a tight leash on the criminal classes. Communal tensions too have largely been contained.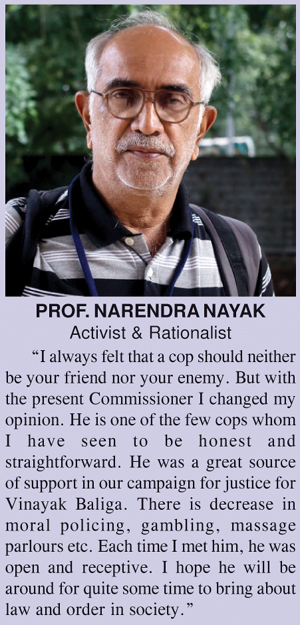 It was the tough stand that he took in the Vinayak Baliga Murder Case that first threw him into the spotlight. When it was discovered that a powerful Sangh Parivar supremo like Naresh Shenoy could be behind the crime, he took an instant decision to personally lead the investigation. The culprits have been systematically pursued and there is confidence that the case will reach its logical conclusion. There were fears that he might succumb to political pressure. Or that he might be transferred and taken off the job. But he has stood firm and proved sceptics wrong. "In this post one year of stability is assured," he says nonchalantly, "So I will be around."

Though slow, the investigation has been making steady progress and it is likely that all the suspects will end up in the lock up soon. Initially the case is said to have caused cracks within the department and many officers who knew Naresh Shenoy were sympathetic to him. Hence the Commissioner was being manipulated and kept in the dark. When he discovered that a cover up was being attempted, an enraged Chandra Sekhar is said to have turned the tables on the schemers. Virtually isolated and not knowing whom to trust among his own men, he had trudged on alone and seen to it that the case was not derailed in any manner. With him at the helm, the city is at last feeling safe and peaceful. There is a growing demand that he should serve for a full term of three years and clean up the city for good. He is widely seen as a 'one man army'. Perhaps it's more apt to say 'the power of one'.