Look Down Please
Mangalore Today News Network
By Dr. G. Shreekumar Menon

Mangaluru, November 1, 2023: Innumerable motivators have sought to inspire many generations to aim for the stars, for their ambitions to soar. Scaling dizzy heights of success, to be perched on the top echelons of government, politics, industry, and films, be a trailblazer person, and thereby be the cynosure of all eyes, is a clarion call taught in schools and colleges. But, they never told them that stars in the firmament are lonely entities. Astronomers who have observed stars closely say that they are hot and dense, not the twinkling entities, that enchant us. The night sky, the spectacular sunrise and sunset, all are false. Perhaps as our ancient Rishis and Rishikas, correctly observed, it is all "Maya" or as Advaita Vedanta states "Brahma satyam jagat mithya"- the world appearance is illusory. Will it not be more rewarding to 'look down' to appreciate some lessons in cooperation and discipline?

Many Temples in Kerala have a unique offering called "Meen ootu", meaning feeding the fishes. Temple ponds have lots of fishes as also Temples situated on river banks.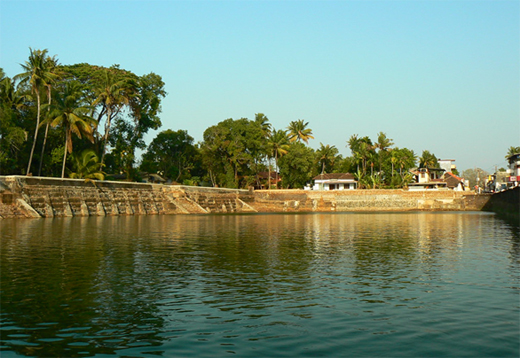 A simple offering given to these fishes is raw rice. They throng the steps of the Temple tank, a shoal of fishes, of varied sizes, eager to gulp a few grains of rice, offered by the devotees. There is no unhealthy competition to grab more, no fighting, for they know nobody is first or last. A great lesson for humans, who are always in competition mode for anything and everything. The satisfaction of feeding these fishes is immense, there is joy, happiness and fulfilment as they swallow with great relish just the grains of rice.

Vedic astrology prescribes feeding fishes as it is believed that fishes have the power to absorb negativities and make the donor lucky. This is also the reason why many people keep fish tank at home which apart from being decorative, attracts positive and lucky energy. In Lal Kitab school of astrology, feeding of fishes with almonds for 12 continuous Saturdays, is prescribed for those afflicted by Planet Saturn. Equally important is the instruction not to catch or eat fishes.

Fishes live in another medium, quite different from ours, but what about the tiny ants, that share the earth's crust with us? Hinduism has a rich tradition of safeguarding the interests of not only humans, but also of the varied flora and fauna, which is unparalleled in any other belief system. Even the tiny ant community is revered with affectionate devotion, as evidenced by a Temple dedicated to ants in Kerala. The Temple is known as 'Urumbachan Kottam', and located at Kuttikkakom, on the Thottada – Kizhunnapara Road in Kannur district. Hindus not only pray to the ants but even feed them. 'Urumbootal' or feeding the ants, is a rich custom observed in many Hindu households, in Kerala. It is believed that by feeding the ants, relief can be ensured from the malefic influence of Rahu, in one's horoscope. One should feed sugar, sesame, and flour balls to the ants regularly. Furthermore, by feeding ants, anybody can seek fulfilment of their wishes and desires, as such pious deeds help in easing out Karmic blockages that are responsible for hurdles & obstacles in life. Even the tiniest ant exudes strange powers, that can rein in unseen Karmic forces. But more important for human beings to emulate is their military discipline, all movements everywhere is in single file. When a small grain of food is spotted, the message is relayed to the fellow ants, who come together either to share the food or transport it to their community nest. American poet Robert Frost in his famous poem about ants, called "Departmental", writes about their professionalism:
"No one stands round to stare.
It is nobody else's affair
It couldn't be called ungentle
But how thoroughly departmental"

When we 'look down', fail not to see the cute rat! Rats are exalted in Hinduism and by clairvoyants who do 'dream interpretation' due to the complicated symbolic nature of rats. While they represent disease, difficulties, destruction, and death, they also symbolize wisdom, adaptability, and overcoming challenges. Lord Ganesh who symbolizes the power that can overcome obstacles in life, has the rat as his chosen trademark! There are beliefs that rat worshipping benefits the birth, death and rebirth lifecycle of a human being.

In Chinese astrology and Feng Shui the Rat represents wisdom, wealth and prosperity. It is said to be the first animal that arrived when the Jade Emperor called the animals to appoint the zodiac signs, and the Rat starts the 12-year cycle. They symbolize wealth and abundance. Being highly reproductive, they are worshipped in certain regions by those couples who are trying to beget children.

The world famous Temple of Goddess Karni Mata, in Rajasthan is home to over 20,000 rats that make the temple their home! Sighting of white rats in the Temple and touching them is said to ensure lifelong blessing to the fortunate worshipper. What makes the temple unique, are the hundreds of rats living happily and unharmed within the Temple. Worshipers walk barefoot throughout the temple, unfazed by the innumerable rats who scamper across their bare feet. The rats, are referred to as "Kabas Marwari", which translates to 'little children'. If a devotee were to accidentally kill one, he or she is responsible for its death and must replace the rat with one made of real gold!

All the above small and tiny creatures play an invisible role in alleviating human suffering, and removing Karmic blockages, that impediment progress and success. David Barreto in his outstanding work 'Karma and Reincarnation In The Animal World' presents an in-depth investigation into the spiritual evolution of the animal kingdom, from ants and cockroaches to cats, dogs, owls, pigeons, dolphins, and whales. He examines the spiritual anatomy of animals, including their aura, etheric fields, chakras, mental, and astral attributes. Detailing how reincarnation works among various species, Barreto explores their experiences between physical lives, how they accrue karma, and how the way that animals die can have different effects on their spiritual bodies in the astral realms. Drawing on both modern physics and metaphysics, he reveals, for example, how dogs can love unconditionally because of their large electromagnetic field, which influences the etheric bodies of those around them, and how cats can detect subtle energy shifts and disharmonies and conduct etheric filtration while they sleep.

Examining esoteric schools as well as ancient spiritual traditions around the world, Barreto explores how animals are viewed and worshipped in different religions and how animal adoration and animal-connected gods arose in ancient Egypt, India, and China. He looks at animal totems, animal archetypes, animals in alchemy, and the astral connections between animals and elementals. He also examines the repercussions of meat consumption and animal sacrifice, revealing the strange astral and etheric components of slaughterhouses.

As Gary Kowalski says "Animals, like us, are living souls. They are not things. They are not objects. Neither are they human. Yet they mourn. They love. They dance. They suffer. They know the peaks and chasms of being".

---

Dr. G. Shreekumar Menon, IRS (Rtd), Ph.D. (Narcotics)
Former Director General of National Academy of Customs Indirect Taxes and Narcotics & Multi-Disciplinary School Of Economic Intelligence India; Fellow, James Martin Centre For Non Proliferation Studies, USA; Fellow, Centre for International Trade & Security, University of Georgia, USA; Public Administration, Maxwell School of Public Administration, Syracuse University, U.S.A.; AOTS Scholar, Japan. He can be contacted at shreemenon48@gmail.com