Kids then and now - Mall addiction
Mangalore Today News Network
By Gauri Gautam Prabhu
Mangaluru, March 5, 2016: Just a few decades ago in now what we call Mangaluru, as kids we would leave home in the morning and play all day. Most of the time we would be back when the streetlights came on. Our parents had faith that the neighbours would watch out for all the kids. We went out, explored, made new friends of all age groups, we went to parks all alone, played hide and seek and games with sticks and stones. Getting hurt, cuts and bruises were common. We had fights but our parents never interfered. But now it's so different we are over-protective of our kids we have become 'worried, obsessed parents'.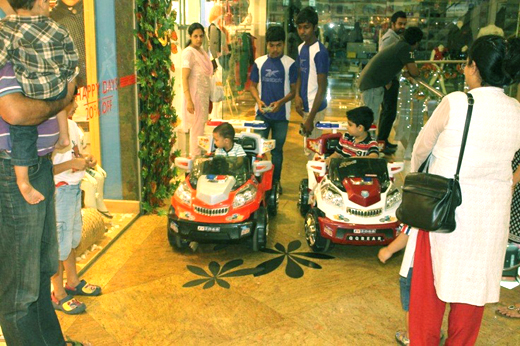 Often one feels that we are so overprotective that we are denying the kids a normal childhood. Today's parents neither send the kids to play outdoors nor have the energy to play with them; so it seems malls have become an escape route as they have Fun Zone areas, video games, toy trains and cars. It's like putting a child inside a five star prison, of course the colours, the sounds and the stimulation is high end.

A mall would distract the child and all the rest too from interacting with each other. So, where is the fun? Malls have become our hangouts, places of choice. There's no denying that most of us end up in malls for one reason or other, particularly in Mangaluru where the population is around 5 to 10 lakhs.

Presently, you have around four malls to hangout and more will come up. Must kids be kept out of these malls? It's not that none of us must set foot in the malls, it's impossible to keep out of the malls. They have a lot to offer which we cannot resist. Similarly it is with the kids too- they want everything from expensive cars to video-games. They munch on the junk foods; satisfy their thirsts from concentrated drinks and ice creams. the list is endless. It is hard for them to know the value of money.

Though it is easy to dump the kids in play zone area it is not at all a healthy matter. Kids a few years ago accompanied grandmas to vegetable markets, learnt a lot about bargaining and in the process learnt that every single rupee made so much difference. They used to repeat the same at home. It was so much fun. Now that interaction is missing. Our kids learn that the only way to have fun is walk around the malls and buy one toy on every visit. Kids just sit and stare at video games and are learning nothing but moving their fingers faster. Many kids can no longer stand heat or dust and are used to shop or play in an air conditioned environment. Malls are the place where parents take their kids for a game and end up buying things they don't need.

Go down the memory lane a bit. Wasn't there much fun in going to a park, watching the birds, the flowers and the fountains which de-stress us? The fresh air and walking keeps us healthy. It's fun for the kids and as well as the adults .We can build memories too. The kids get entertained in many ways especially in Mangalore where we have Tannirbavi beach, or Kadri Park or Pilikula. We can take them for a long walk. We have Sultan Bathery where we can have a boat ride. We have so many temples too like Sri Venkataramana Temple, Kadri Temple,Mangaladevi Temple, Kudroli Gokarnanatha Temple, Pandava caves and many more. The kids will love to know the history of such religious places as well as the mythological stories associated with them. Children must be made to watch Yakshaganas and ballets and must be encouraged to take part in humanitarian activities. Kids must go to libraries and read good books.

It just takes a little thought to ensure that given our hectic lifestyle the kids are kept entertained without falling prey to mall culture only. Give a thought to follow a better life style for a greater future.