Karanths of Kota
Mangalore Today News Network
By Prof. Narendra Nayak

Mangaluru: This is not a biographical account of a family or a clan but about two famous Karanth brothers of Kota, near Kundapura. The better known one is Dr.Shivaram Karanth, the Jnanpeeth award winner artist, sculptor, painter, dancer, dramatist, author of a number of novels, text books. His novels have been well known and have changed the thinking of a whole generation of young people in this area and in other parts of Karnataka too. His Chomana Dudi won the prize for the best film of the year in 1975 and gave the insight into the travails faced by a dalit of Dakshina Kannada. It also got the best actor award for Vasudeva Rao who played the title role. It was a masterpiece which deserved every bit of the acclaim that it got. His Mookajjiya Kanasugalu was also very well acclaimed. His Marali Mannige according to many deserves a Nobel prize. I had been to Kundapur and decided to see the museum built in his memory at Saligrama and asked for directions from a young boy who appeared to be student- his reply was Karanth's hall? You have come to the wrong place go back to Kundapur and its there! Then a local shopkeeper appeared and he gave me the proper directions. I was surprised that a school boy in the place where he spent his last days does not remember this great personality and a versatile genius that he was. According to many he was next to Rabindranath Tagore in his artistic abilities. Any way I would like to say more about his lesser known elder brother Kota Lakshminarayan Karanth who was more of a rationalist, a science teacher and an educationist.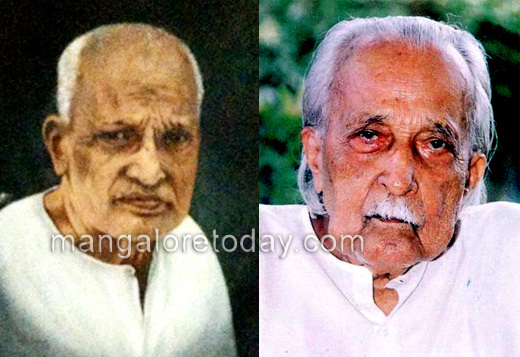 K. L. Karanth and Dr.Shivaram Karanth


My first meeting with him was in the 1980s when Premanand had come down to Mangalore to conduct his interactions on rational thinking through what was called as the miracle exposure program. He took me along to Kundapura where I again met this gentleman who had organized his program there. That was the first time we met face to face. I had been told many times that the better known Karanth, Shivaram Karanth had an elder brother who was more committed to the rationalist movement than him and wanted to meet him. It turned out that he was a committed rationalist who had been a science teacher, had founded schools and brought science teaching to the level of doing and learning. He had also started training children in useful things like swimming, cycling, horticulture and also – rational thinking. He was an expert in grafting and had started farms growing a number of fruits for the first time in this area. He had taken pains to travel extensively despite of his ill health to collect plants from many corners of the country for his horticultural activities.

He had taken a very active part in founding schools where the students were taught to think for themselves. He was a science teacher in govt. service and later on resigned the job to work full time for a school in Kota, Kundapura which is now well known as the Viveka group of educational institutions. The school is sort of a model one for that area. With spacious play grounds, gardens where children can have practical lessons in gardening, well equipped laboratories and more than that question boxes! There are separate boxes kept in the school into which the students can drop queries in science, social studies and such subjects. This school has been organizing our interactions in rational thinking since years. First it used to be one such every year for the members of the science club and later on for others too. Subsequently, they started organizing interactions for all the classes for two days and after the last batch passes out, invited again! This has been happening now for the past several years and my visit to this school is for two days once in three years or so. Every time I visit this school I feel proud to be there. I also recount the incident, which led to the parting of ways between K.L.Karanth and the school management which at times was packed with orthodox reactionaries.

Complaints had gone to management that K.L.Karanth was preaching atheism in the class in the guise of science! He recalled an incident in which a student was tutored to ask him whether there was a god. He was taken aback because he never expected such a question from a young student, but suspected that there was some one behind it. So, he said that he did not know the answer to this profound question. Later on, he found out that there was a member of the board of trustees who had been hiding behind a door to get an idea of what his answer would be! Despite the non committal answer he had given, he was served a charge sheet and had to leave the school. In those days it was considered as an unpardonable crime for one to say there was no god. So, in every one of my interactions there when this question comes up for the student, I make it a point to say that I am an atheist and do not believe in any such entity.

Later on in his life K.L.Karanth declared his atheism firmly and unequivocally. I used to meet him on every trip to Kundapur side and he used to speak lying down on his bed as he could not sit up due to his back problems. But, he was firm in his commitment to rationalism and would ask me to recommend any poor student who would need help. He was also very critical of the happenings at religious places and acclaimed our campaign against the kidnap and murder of a girl at a very famous place near Mangalore. He said such things were happening in many such famous places and gave specific examples too.

While Shivaram Karanth was a multifaceted genius and has been called as Tagore of the south, K.L.Karanth was more firm in his commitment to rational thinking and spreading scientific temper in the rural areas. It is due to such dedicated selfless activists that there are many students who think rationally and are committed to the spread of scientific temper in that area. His biography written by Vaidehi - Nenapinangaladalli Mussanje Hottu gave a very good insight into his life, but sadly is now out of print.
---
Prof. Narendra Nayak is a consumer activist and a rationalist. This is a regular column and we invite readers' response. The writer can be reached at: narenyen@gmail.com
---