Jayant Kaikini: Tete-a-Tete with the Poet, Author and Lyricist
Mangalore Today News Network
By Mahesh Nayak

Mangaluru, August 15, 2016: Jayant Kaikini is an annoyed man these days. "I was brought up in an atmosphere where human ideals were cherished. But today what you see everywhere is difference between man and man," he says. "Why is all the world turning out this way?" This is the existential question that bothers him no end. But like all poets and artists, he is ever the dreamer and never fails to see the silver lining in the clouds, however dark they may be. "It is the young who are our future and I have a way of speaking to them. These days I avoid the adult crowds, but grab every opportunity to address the students and to use my privileged position as a song writer to infuse them with ideals."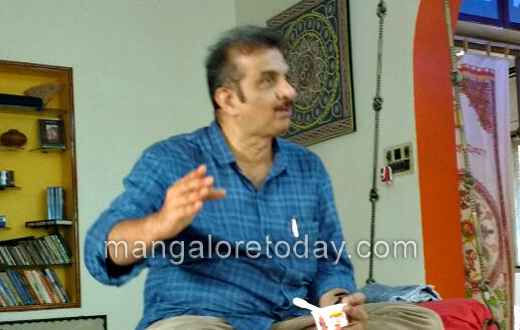 That is Jayant Kaikini, the ultimate movie romantic, who has helped an entire generation to discover love. The love beats that he wrote for the super duper hit movie 'Mungaru Male' (2006) are immortal and still give you the goose pimples. Then on began his series of back to back hits, making him an instant icon of movie romance. In fact he is credited with single handedly lifting Kannada movie industry out of the ditch, where it had been wallowing for years. Considering its grandiose self styled pseudonym, you might say it was he who actually gave 'Sandalwood' its fragrance.

But Jayant Kaikini is more than just a dream seller. Born in Gokarna in 1955 to Gourish Kaikini, a school teacher, and an acclaimed Kannada litterateur and Shanta, a social worker, young Jayant was literally born into the world that he now inhabits and which he has often redefined. That he was destined for the life of a genius became evident when he won the Karnataka Sahitya Academy award for his very first poetry collection at the age of nineteen in 1974. Well, he must have been just warming up, because he went on to repeat the feat an unprecedented three times - in 1982, 1989 and 1996 for his short story collections.

But when it came to his studies and career, for a man of letters, Kaikini uncharacteristically chose the physical sciences. After earning a Masters in Biochemistry from Karnatak University, Dharwad, he moved to Mumbai where he worked as a biochemist for Proctor & Gamble for 25 years. Though he continued to write prolifically even in those days, he was almost unknown outside the literary world, until the movies found him.

Today Kaikini is regarded as one of the most significant of the younger writers in Kannada. His artistic career spans short stories, film scripts and poetry. He has hosted a few immensely popular TV shows too. His poetry is described as being 'characterised by subtle imagism, a minute documentation of the seemingly commonplace, a colloquial idiom and a refusal to engage in any poeticising'. His works include six anthologies of short stories, four books of poetry, three plays and a collection of essays.

Jayant Kaikini lives in Bangalore with his wife Smita and two children. His daughter Srajana is an Odissi dancer and son Ritwik is a researcher and curator.

On a personal level the balladeer is as enthusiastic and energizing as some of his famous songs. When comfortable, he speaks glibly and the words conveying important meanings just flow out effortlessly. He entertaining, animated and very seriously concerned about the direction society is taking, but his overall demeanour is jolly and uplifting. He also thankfully detests theorizing or overintellectualising – a flaw most thinkers are prone to. Instead he engages you with his simple down-to-earth straight talk, bereft of all frills.

The following are snippets of our conversation during a chance encounter with him when he was on a private visit to the city recently.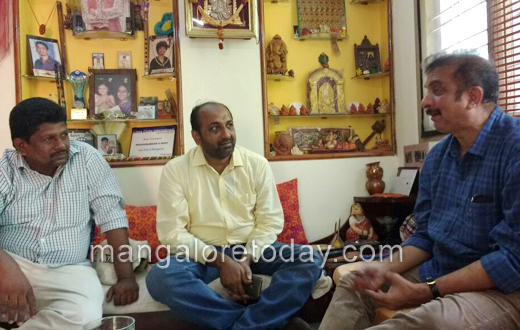 On how he came to settle in Bangalore:
For 25 years I had been working in Mumbai as a biochemist for Proctor & Gamble. Then I got an offer of a job from Enadu. They wanted to start a Kannada channel. I hail from Gokarna. So I decided to shift my base to Bangalore because I could be close to my parents. Once ETV Kannada was launched, I began to host a programme called "Rasa Rushige Namaskara" which was a 30 episode biography of Kuvempu. I enjoyed preparing for the show. The interviews were a humbling experience. This was followed by few other programmes like "Kadala Theerada Bharghava".

On his success as a movie lyricist:
Chigurida Kanasu was my first film work. T. S. Nagabharana was planning to work on the Karanth novel. I was already familiar with his work and hence was glad for the opportunity to work with him. But it was Mungaru Male which became a huge hit. I was in Mumbai for 25 years. So I had no touch with Karnataka for a long time. I had complete blackout. This proved to be an advantage as I was fresh on the scene with no baggage whatsoever. On the other hand, if the song has to help the movie, the film should be reasonably good. Films can't run on a few songs alone. If the film is good the song will get life. In the Kannada environment, we are making an attempt which any social scientist cannot understand.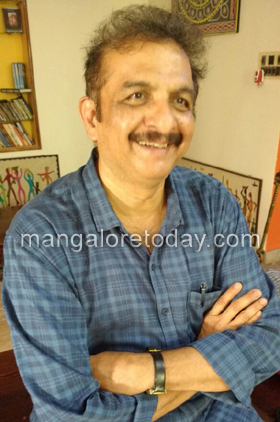 On his views on Mangalore:
Dakshina Kannada was the best place for education for over 50 years. I'm from Uttara Kannada and our teachers used to say look at Mangalore and get inspired by their standard of education. But today in Dakshina Kannada, you see maximum of superstition, caste mentality and love of money. So what happened to all the educated and wise people? This is the land of Shivaram Karanth, Karnad. Suddenly education, law and justice have become commoditised. I'm worried why it's happened.

On what ails our society:
Earlier there were neighbourhood schools and all rich and poor kids went to the same school. But now there are residential schools. Hence there are differences between people as there is segregation right from young age. Society is like the game of snakes and ladders. Culture and evolution has taken ages. A lot of philosophers, thinkers, artists and sages have taken mankind forward. Great personalities like Basavanna, Gandhi and even Charlie Chaplin opened our minds and provoked us towards greatness. The big snake at the top represents negative aspects like caste, creed, community. If you fall in its mouth, you land back right to square one.

On the way out:
Nowadays no one wants to take up arts. Everybody wants to go to IT. There is a big vacuum in arts. This is a very dangerous trend. Interest in arts, sports etc liberates you. Art unshackles you from you biodata, visiting card and the rubber stamp. By metaphor school is bigger than temple. Or rather school is temple. Education is dharma. Literature is like medical science. Just like the doctor bothers about what is wrong with our physical health, so also literature tries to understand what ails mankind and suggests remedies for it. The similarity between the two is great.

On his interactions with the young:
When I go to visit schools and colleges, I find myself in a special position. I am the guy who writes songs which have helped these boys to fall in love. So they see me as one of them, someone on the same page as them. So they have accepted me already. I use this platform to instil love for arts and humanity as a whole.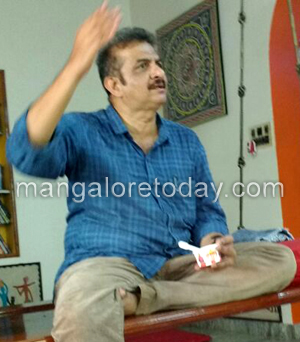 On his experience as a Mumbaikar:
Nothing can be compared to Mumbai. It is the only city in India which has transcended barriers of caste, creed and religion. In my 25 years in Mumbai, I faced no questions about my background. In Bangalore every day you get those questions. Mumbai is the most cosmopolitan place, where life is defined only by work. Truly it's Kaiyakave Kailasa (work is worship). Even an auto fellow returns Rs. 2/- He values your work. Shiva Sena is only a political voice and does not affect our day to day interactions as human beings.

On present day political and social scenario:
In earlier times, there was value for what thinkers said. But today party politics has gone to dogs. Media is bought by the parties. There was this thing about being anti national. But merely being anti government does not make you anti national. This concept of patriotism is very dangerous. We have also shouted slogans at Karnatak Univerfsity and nobody arrested us. Earlier to be a journalist, there were no courses. Only love for writing would have been enough. Now you have these courses like MCA and MCJ, yet the output is substandard.

On the influence of social media on youth:
Today there is faster communication. But the problem is you are living in a virtual world. It is taking you away from reality. We see so many apparent causes being promoted on Facebook and all you have to do is click 'Share' to solve it. It gives one a pseudo sense of participation. Even important relationships are born in cyber world. Yet we see many love marriages fall apart. This is because their relationship is virtual. When they actually meet, they cannot get along.

On his political affiliations:
As a kid I was exposed to socialism and the lingering spirit of the freedom movement. We were exposed to the ideals of equality and social justice. But no sensible thinker or writer will belong to any political party. I'm a humanist. I'm worried about the plight of man today. We breathe common air. Despite all the turmoil and disparities, 90% of the population is not bothered. They are too poor to quarrel and are worried only about earning their next meal. So it's actually poverty that has kept humanity. Whereas it's the well-to-do people who think aloud and get into arguments about this or that issue. Our problem is that our two meals are guaranteed and we have lot of idle time to spare. But these days, no one listens to speeches.