Indian American author Veena Rao's 'Purple Lotus' award winning best seller
Mangalore Today News Network
Mangaluru, Jan 19, 2022: In the early times following Y2K, Mangalore publications presented a slew of articles and stories of travel by train to Mangalore from Chennai (Madras), Mumbai, Bangalore and so on saturated with nostalgia oozing all over. The captivating narratives focussing on the Trains and Nethravathi Rail Bridge (Ullal Bridge) that was opened in 1907 and brought the railway to Mangalore which caused a major revolution in the overall outlook in local development. 2007 was the centenary year of this landmark. Road bridges came to be decades later in the 1970s. 'Mangalore Today' readers enjoyed the treat of history and nostalgia of this loved aspect of Kudla.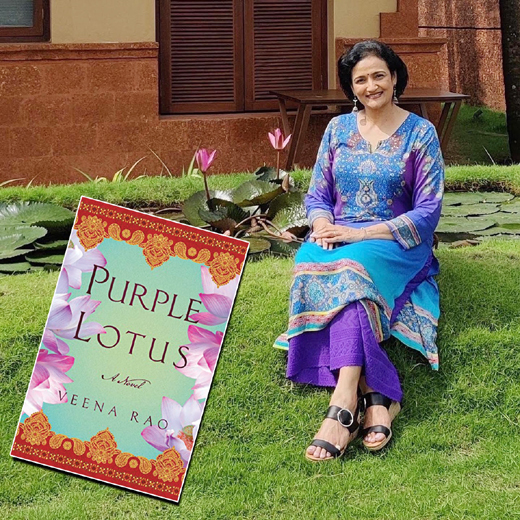 Recently, this Mangalore origin, Indian-American, Award winning Author; Ms.Veena Rao is admired and appreciated for this debut Novel - 'Purple Lotus' that has made Amazon swing into action delivering the book to eager happy readers here. I smiled quietly with a special joy, when I opened the amazing book during the weekend lockdown. Why? Chapter 1, of this classic Novel, started off with a Sleeper compartment train journey, Madras to Mangalore on the West Coast Express - on which I have dwelt on often; the tiny protagonist TARA and her 'Amma & Daddy' have captured the trip like many dreamers of those times would amazingly recall. The celebrated author has sketched a picture to capture attention toward the 300 pages with suspense, expectation and more. Hope with all the possible human elements rolled into it by the characters to launch the epic, glowingly created by the author.

The main characters' arrival at the Mangaluru Rail head, with fresh fish smell permeating was part of the welcome home they received from Paternal Grandfather, Grandmother and Uncle, it is practically from the leaves of reality. Little Tara and the family's life traumas day to day......news, agriculture and cattle, school, Jackfruits and Mangoes, amidst the fresh greenery and nature, every such reality of treasured life in Mangaluru, in those times that young and old never forget, the unmasked nostalgia and thrill of Kudla family culture. Moving on to inevitabe time bomb of 'Marriages made in heaven - made by matchmakers'. Like the marriage conundrum when a book has a good background in 'Namma Kudla' no one will miss it even in the far corners of the world!

Sooner than later, marriages encounter complications, seeking an Indian-American husband translates the 'American dream' to shapeless realities. Immigration complexities, Green cards relentlessly awaited, the Indian-American lives in a sterile void, the alchemy of which are very complicated. Now delve into the smooth uncomplicated language of this novel 'Purple Lotus' and it's mysteries. Author Veena Rao's mega adventure and entertainment unfolding is so exciting and shocking. So, get this book to enjoy and experience super adventures......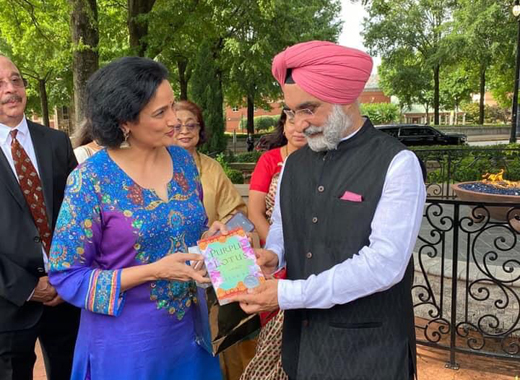 'Purple Lotus' presented to Indian Ambassador to the US Sri.Taranjit Sandhu.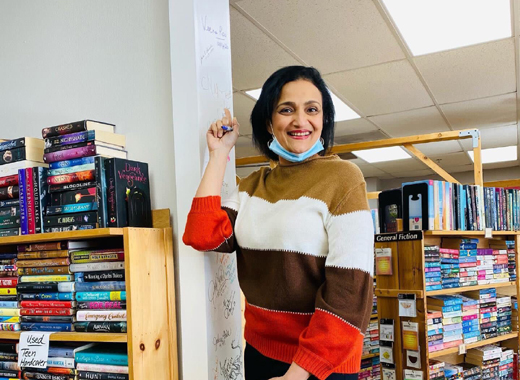 Author Signing the Author's wall at Atlanta.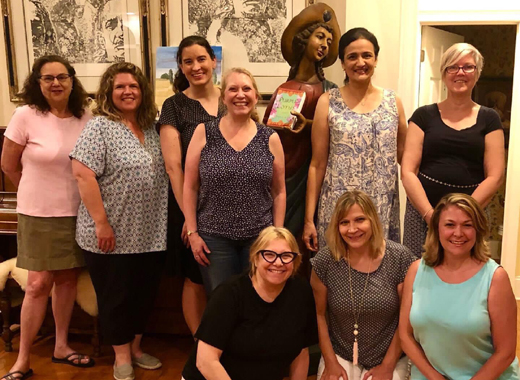 With members of an Atlanta Book Club.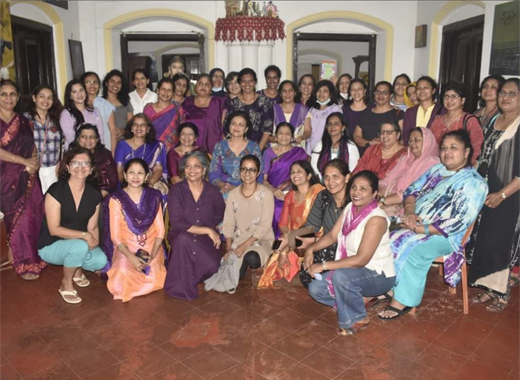 Group at Book discussions in Mangalore, hosted by city based Sabrina Hougaard/Soulo Conversations

In a recent interview Ms Veena Rao reiterated her US dream, adding she was equally proud and acknowledging of her Indian origins. Indeed it is a thrill for Mangaloreans, to see this introduction to a mass of readers world over; welcoming the unending achievements of Mangaloreans - here let us look at a wondrous literary achievement that is enviable and calls for emulation by our younger folk. May it inspire reading and writing in all languages to stand tall and auger well at all times everywhere.

US based celebrated author and personality is here to personally share her story, readers are very fortunate to enjoy the privilege. Ms.Veena Rao - an award-winning journalist and author of "Purple Lotus", her recently released debut novel, is a 2021 Georgia Author of the Year finalist, a 2021 American Fiction Award winner, and an award-winning finalist in the multicultural and women's fiction categories of the 2021 International Book Awards. She is the founder, publisher, and editor-in-chief of NRI Pulse, an Atlanta-based news publication, serving Indian American and other South Asian communities of the US, since 2006 primarily covering news from the South Asian lens from around the US. Having also a YouTube Channel and vibrant social media platforms. Veenaji has been recognized by The Limca Book of Records (the Indian version of the Guinness Book of Records) as the first Indian woman to edit and publish a newspaper outside India. When she is not writing or meeting press deadlines, you will find her meditating or photographing the flora and fauna on her wooded walk route.

The Mangalore ethos:
Hailing from Mangalore proper, Ms Rao's family speaks chaste Kannada. Her maternal grandfather B Somanath and grandmother B. Padmavati were from Jeppu, Mangalore. Her father Ramesh Rao worked at Mangalore Chemicals and Fertilizers (MCF) for a while. Mother Suguna Rao raised the three children, Veena's elder brother Rajesh and younger sister Reena; her mother now lives in mangalore. Veena Rao's son Aditya Rao is getting a PhD in international relations from Cornell University in New York US; yes she still visits Mangalore often.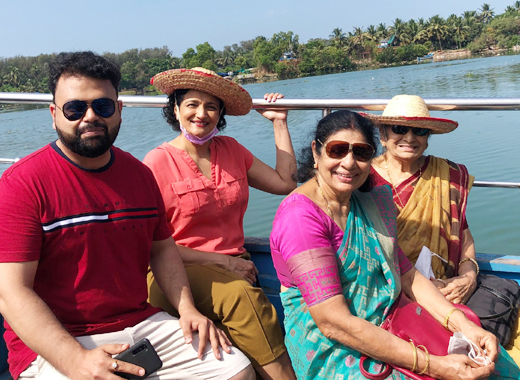 The book 'Purple Lotus' opens with the scene where protagonist Tara's family is moving back to Mangalore from somewhere in the Northeastern part of the country. That scene is a page out of her own life, who at six with her family moved to Mangalore from Cuttack, Orissa. They lived in Mangalore for ten years. Young Veena went to St. Gerosa (opp Jeppu Seminary) and then to St. Mary's High School (Falnir). She was the middle child, with an older brother and a younger sister. Her dad and brother were voracious readers and back then there were wonderful libraries. So, they read a lot and fell in love with the make-believe world of books very early in life. She is sure that for her, escaping into books was a way to cope with the big transition from Cuttack to Mangalore.

At age 12, she declared that she would become a famous writer one day and she truly is now, world famous too. Veena Rao, started writing detective novels with American detectives for Indian classmates to read during lunch break. It was the love of writing that landed her into journalism. Graduating with a postgraduate degree in Economics from the Fergusson College in Pune and subsequently, a post graduate degree in Journalism and Mass Communication from Symbiosis University following which she launched out into the deep as a journalist.

Nubile Veenaji was 17, when her family moved from Mangalore to Pune. But of course, Mangalore is always 'home' to her with roots deep and durable. Like many reading this, she used to visit grandparents during summer breaks. So, when writing her debut book 'Purple Lotus', it was only natural that she set it partly in Mangalore, very understandable. Most of the Mangalore parts of the book however are crafted purely from memory. Depicting the local foods and the culture—the bhuta kola, the Navaratri festival and the huli vesha… the beaches, temples and churches which provides a refreshing and captivating read for Mangaloreans wherever they are on this planet.

Thumbnail of 'Purple Lotus': 'Tara' the leading Character of the book, has a strong Mangalore base, even her name makes you feel at home. Tara moves to the American South three years after her arranged marriage to techie executive Sanjay. Ignored and lonely, Tara finds herself regressing back to childhood memories that have scarred her for life. When she was eight, her parents had left her behind with her aging grandparents and a schizophrenic uncle in Mangalore, while taking her baby brother with them to make a new life for the family in Dubai.

Protagonist Tara's memories of abandonment and isolation mirrored her life of loneliness and escalating abuse at the hands of her husband. She accepts the help of kind-hearted American strangers to fight Sanjay, only to be pressured by her patriarchal family to make peace with her circumstances. Then, in a moment of truth, she discovers the importance of self-worth—a revelation that gives her the courage to break free, gently rebuild her life, and even risk being shunned by her community when she marries her childhood love, Cyrus Saldanha. Life with Cyrus is beautiful, until old fears come knocking. Ultimately, Tara must face these fears to save her relationship with Cyrus—and to confront the victim-shaming society she was raised within. Intimate and deeply moving, Purple Lotus is the story of one woman's ascension from the dark depths of desolation toward the light of freedom. Author Veena Rao says, "The underlying message of the book is self-awakening and hope. You are your own hope -even if you feel vulnerable, fearful, afraid. It's never too late to take control over your life. I hope the international audience that reads this book will understand that some immigrant women have a harder time breaking free from an abusive relationship because of social factors, or legal dependence, or because of financial dependence on the abuser. And I also hope victims will feel encouraged to seek help. And even if they are not in a position to seek help, I hope my book will encourage them to believe in their own worth".

Dreams realized: The dormant dream to be a writer was ever active within Veena Rao, but materialized say 40 years later; she was busy as a journalist, had a son to raise, a business to run. Forget writing, no time even to read fiction. Finally, about 12 years ago, she got a copy of the 'Kite Runner' by an Afghan American writer called Khaled Hosseini. Then Hosseini's second book was called 'A Thousand Splendid Suns' and she fell so much in love with the two female characters that inspired her. So, she sat in front of a blank page, and the first words she typed were 'Purple Lotus'! The Purple Lotus is the symbol of self-awakening. The lotus blooms in murky, stagnant waters but grows unblemished and beautiful. And that's Tara's story. My book is about a woman from Mangalore who moves to the US after an arranged marriage, but is trapped between an abusive marriage on the one hand and a patriarchal family that wants her to make peace with her destiny and try harder to keep her husband happy. It's the story of how a lonely, isolated, vulnerable woman finds the courage to take control of her life and live a full happy life.

The Awards: In 2019 Veenaji entered a manuscript contest organized annually by publishers. To her shock and joy, 'Purple Lotus' won the contest and a book and publicity deal. It was one of the most important and joyful moments of her life. Since its release, Purple Lotus has resonated with readers across the world. When the book won the American Fiction Award, the Georgia Author of the Year award, and was a finalist in the International Book Awards in two categories, it felt like the years of hard work, persistence and patience had finally paid off and fame was on hand. A couple of quotes from prime sources : "Rao's resonant novel is an ode to the value of personal dignity and the importance of being true to oneself that carries on long after the final chapter." - Newsweek magazine. "A moving and polished novel that highlights Rao's literary promise..." - Kirkus Reviews. "A vivid and resplendent novel for our time." - Elaine Neil Orr.....'Purple Lotus' is available on Amazon India.

Author Veena Rao is currently advancing ahead on her second novel, about an immigrant woman from India who finds herself in a small rural town in Georgia (USA) and at the receiving end of casual racism, surely another award winning best seller in a lucky year for all.... 2022 !

Compiled by I J Saldanha-Shet