In Memorium - B Vinayaka baliga
Mangalore Today News Network
By K. P. Vasudeva Rao, Advocate

Mangaluru, April 1, 2016: It was the saddest day in the history of Mangalore city when on 21st March in the early hours a brave man was put to death in the most heinous way. That also in the guise of verifying address the assailants slit the victim from the back quite unawares.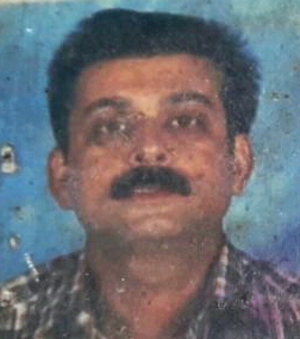 Thus came the gory end to the life of SRI B.VINAYAKA BALIGA. After all what is his wrong so as to silence him? He found the flouting of laws by a few to their advantage. He found the Corporation officials winking at these wrongs and often colluding with the authors of wrong. He found the accounts of the most influential community temple meddled and no explanations are forthcoming from the responsible. And what was his weapon? , Through the RIGHT TO INFORMATION ACT, a right given to every citizen of this country by the Constitution of India. He did not resort to any force.

He did not try any extra Constitutional method. He did not own a GANG. He was not loyal to religious demigods known for fossilized thinking. He did not blackmail anybody. He did not stray in the realms of Political party (who promise everything and do nothing). There are no incidents of EXTORTION. If Gandhiji were alive, he would have embraced him. Such a simple, small built man was snuffed off. Anyhow the dead man will never come again.
It is futile to think as Earnest Hemingway said in his Nobel Prize Winning novel, A MAN CAN BE DESTROYED BUT NOT DEFEATED. At least now will our City Corporation officials wake up to the reality? At least now will our theistic community members punish the guilty by taking up the cause for which Mr. Baliga relentlessly and selflessly fought? The silence of a good man leading to imbecility is more dangerous than the deeds of the culprits behind the screen.
Now is the time for Media to take up all these causes so as to expose the actors behind the screen.The most probable and the most recent crusade he took up a few months before his death is the cause of SRI VENKATARTAMANA TEMPLE. I openly supported him in two capacities. Firstly as a member of G.S. B community, Secondly as a contributor for the re-construction of the Temple.

While it is ancient thought, that a temple, as per Adi Shankaracharya, is a place for transcending culture, dissemination of knowledge and Hindu philosophy, Mr Baliga and I felt that these things hardly take place. The mounting expenses are never logically explained. If a question is posed immediately steps were taken to silence the inquirer. There have been incidents of force being practiced by using political and other methods of influence to diffuse the seriousness of the questions raised. It often went to the extremes of manhandling,

maligning and often branding such honest men as atheists. It is at this point, Mr Baliga a firm believer in the existence of God religiously, visited the temple regularly, still questioned so many aspects of re-construction, method of electing trustees, cleanliness problem in temple, and of all the waste of enormous quantity of food. The most recent episode is observance of religious functions connected with retrieved deity. These and many other aspects of religious gifts to Mutt were questioned by late Baliga. When Mr Baliga's simple question was, in which HINDU religious text this wasteful expenses are ordained.

That very question frowned the small influential coterie. They could not digest it. They found him to be a thorn in their neck. However it is too early to conclude that this coterie is the cause of his death. The main thrust of this memorial piece is that Mr Baliga suffered innumerable hardships, insults and abuses, even in the open court.

One unfortunate thing in every religion according to RICHARD DAWKINS is INSTEAD OF REPLYING AN HONEST QUESTION BY LOGIC AND REASON, THE POWERS THAT RULE, TRY TO PUT AN END TO THE VERY PROCESS OF THINKING.
In this particular field, the author of this piece has enough experience as his letters are not answered at all.

In the civilized world nobody has the right to murder a dissenter. There are very many methods known to law to meet a dissenter. But our political and religious culture is to insult, abuse and if possible to silence him forever. This may be true in all religions. Now the question is, he was going to the temple. He was waylaid and killed. Does the religion justify it. Does the religion inspire them to do wrong things even a murder. Do the persons frequently going to temple feel this event can be ignored. After all we cannot be accused of intellectual bankruptcy.

There is nothing new in this theory. MARCUS AURELIUS CICERO of Rome who was slit and crucified for dissenting voice, Mr Baliga was also slit and killed. The idea behind is same, but the method is different.
Now I come to moot point. What we common people can do. If it is the temple matter all people of this community should take forward his struggle. This is the right time to enquire into all money transactions, property deals of the temple, expenses of religious functions to be scrutinised a fresh. Then only the real guilty can be brought to justice .All the civil suits filed by late Baliga have to be continued to their logical end.

This the real spirit as ABRAHAM LICOLN , SAID, " THE PROBABILITY THAT WE MAY FAIL IN THIS STRUGGLE OUGHT NOT TO DETER US FROM THE SUPPORT OF A CAUSE WE BELIEVE TO BE JUST .

This is the message. Having known late B.Vinayaka Baliga for more than two decades, I find no homage to him, other than continuing his unfinished good work, especially in the matter of the S. V. Temple Mangaluru. I may be excused for quoting extensively, but these words of the great are apt for the occasion.

MAY HIS TIRELESS SOUL REST IN ETERNAL PEACE.