Impact of Artificial Intelligence and Robotics on Mangaluruís Educational Hub
Mangalore Today News Network
By Dr. G. Shreekumar Menon

Mangaluru, March 31, 2023: Mangaluru city is a unique student megapolis, due to the concentration of intellectual capital,that play the role of key nodes in the Indian economy, generating momentum for innovation, proposing disruptive ideas, thereby attracting seekers of knowledge from all over India.Over a span of several decades the city has developed into a special spatial system occupying a key place in the educational map of India. Thousands of students engaged in various spheres of study, their interaction, and transformative impact thereof on the functions, structure, organizational mechanisms, and institutions are propelling the transition of thismegapolis from a systemic spatial formation to a higher level of development.The presence of diverse institutions, top universities, and best academics, has made Mangaluru into one of the best educational hubs in India. Applying the six yardsticks: university rankings, student mix, desirability, employer activity, affordability, and student view, which form the basis forthe QS Best Student Cities ranking index, Mangaluru would be one of the top University Cities in India.It will also be among the top cities in India with the highest rated student experience, which measures students' ratings of their city in fields such as friendliness, ease of getting around, and affordability. Taking all these advantageous factors into consideration, the next step should be the establishment of Research-Intensive Universities.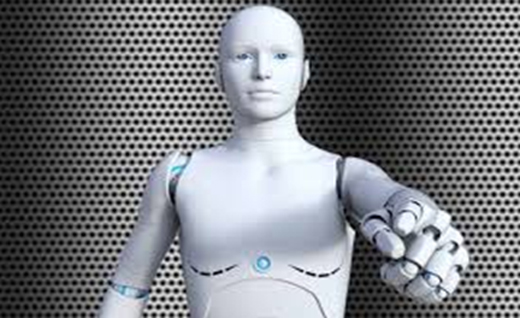 The most exciting developments in Artificial Intelligence (AI) are embedded in and around research-intensive universities, which are a prime source of talent, discovery and innovation. The future of AI will be shaped by a vast array of startups, academic researchers and students, and AI in turn willdramatically transform how universities also function.AI systems will decipher new pathways to make scientific discoveries: formulating hypotheses, designing and running experiments, analysing data, and deciding what kind of experiments that need to be conducted.It is alsogoing to pave the way for faster diagnosis of disease, improved understanding of human behaviour and psychology, and improved protection against cyber-attacks. AI systems will make new pathways to make scientific discoveries: formulating hypotheses, designing and running experiments, analysing data, and deciding what kind of experiments that are worth pursuing.

Universities and colleges abroad have started using AI for automating daily tasks, digitizing workflows, developing complex datasets, and creating dashboards to improve their analytics. Universities and colleges are starting to catch up with other industries like banking and telecommunication in using AI to impact key performance indicators.The use of AI technologies in colleges and universities will make higher education accessible to all irrespective of where they live. Location and time will also become irrelevant.Universities and colleges will become borderless. Any university or college or even a school in Mangaluru can be accessible even to a student in the remote far-east, or Jammu & Kashmir or Rajasthan. Interactive machine tutors can be matched to students for a more focused and personalized learning experience. Only a minority of universities in India, currently have an AI strategy, but it will soon become a compulsory norm in every aspect of education.Very soon it will become imperative that all students need to be taught specific technical skills which will allow them to program and interact with Artificial Intelligence. Even every industry is adapting and changing toward digital transformation, hence future employment will be only for those students who know how to handle AI. Presently, AI is based on machine learning. It hunts and detects hidden patterns in voluminous data, extricates correlations that would not be immediately intuitive or comprehensible to humans, and then using those patterns to make appropriate decisions. By utilising "predictive analytics," data scientists use past patterns to predict what is likely to happen, or how an individual will act, in the future.

Machine learning has been used to create Global Positioning Systems (GPS) systems, to make translation and voice recognition much more accurate, to create visual digital tools that have facial recognition abilities or filters that create unique effects on Snapchat or Instagram. Amazon makes use of artificial intelligence to recommend books, Spotify uses it to recommend songs, and schools use the same techniques to mould students' academic growth and trajectories.In January 2019, the Wall Street Journal carried an article "Colleges Mine Data on Their Applicants." The article explained how many colleges and universities have started using AI to infer prospective students' keenness in attending their institution. Complex analytic systems calculate the prospective student's' "demonstrated interest" by tracking their interactions with institutional websites, social media posts, and emails. For example, AI enabled systems can monitor how quickly prospective students check and open emails and whether they usually click on included links. A large software company, offers schools dashboards that "summarize thousands of data points on each student." Colleges and universities use these "enrolment analytics" in determining which students to reach out to, what aspects of campus life they should emphasize, and assessing admission applications.Many institutionsof higher education, increasingly rely on algorithms, for marketing, to prospective students, estimating class size, planning curricula, and allocating resources such as financial aid and facilities. The advent of humanoid robot teachers is on the anvil!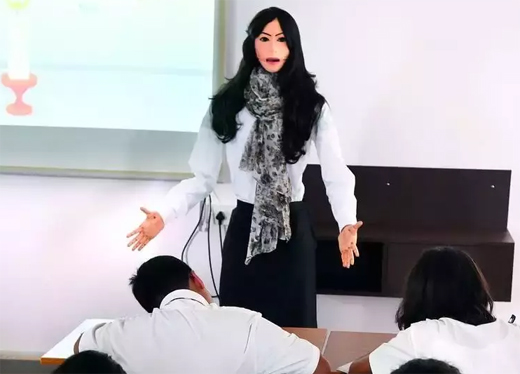 Robot teacher at Indus International School, Bengaluru


Robot teachers have already been introduced in Indus International School at Hyderabad, Bangalore and Pune. The Artificial Intelligence-enabled robots assists teachers in the classroom and also clear the doubts of students. The AI enabled Eagle 2.0 humanoid robot, dressed in formal female attireteaches lessons in Biology, Chemistry, Geography, History, and Physics to Classes V to XI. It is capable of taking queries from students, asking them questions, and reacting to the answers she receives. As many as 21 highly interactive Eagle Robots are being currently used. These robots can impart education in more than 30 different languages, clarify doubts by answering questions and also conduct an instant automated assessment at the end of the class! Even the most excellent of teachers will not be able to accomplish such feats.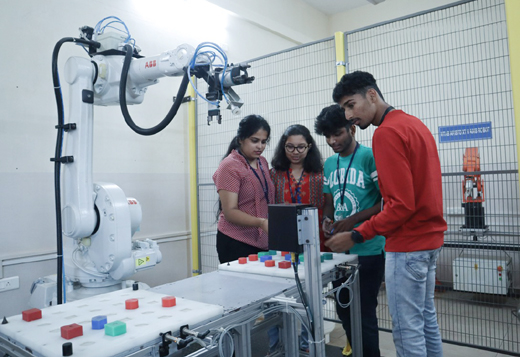 Active Learning Lab on Robotics at NMAMIT, Nitte


A big revolution is set to sweep across the country's educational sector, as well as the global education scenario, as more and more institutions take the assistance of humanoid robots. As they can work tirelessly and continuously, with clockwork precision, many institutions will start investing in these robots. This will also lead to complete eradication of tuition and coaching centres. Factory assembled humanoid robotic teachers will make a uniform standard of education across the country a reality. All NAAC assessments and NIRF ratings will soon become redundant. Learn anywhere, any institution, anytime, the standard will be uniform in excellence and delivery. Once laptop like teaching robots get manufactured, 'study from home' will become a reality, just like the present popular norm of 'work from home'.
Students taking educational loans and paying exorbitant fees for studying in USA, UK, Canada and other countries will become a thing of the past. No more rush for admissions, visas, hostels and scholarships. It is going to be an entirely different world of education.

Educational hubs like Mangaluru will have to constantly innovate as the classrooms of tomorrow will be using robots, artificial intelligence, and big data to enhance learning outcomes."Intelligent machines and robots are the workforce of the future," says Elon Musk, Silicon Valley futurist and Tesla CEO.
---

Dr. G. Shreekumar Menon, IRS (Rtd), Ph.D. (Narcotics)
Former Director General of National Academy of Customs Indirect Taxes and Narcotics & Multi-Disciplinary School Of Economic Intelligence India; Fellow, James Martin Centre For Non Proliferation Studies, USA; Fellow, Centre for International Trade & Security, University of Georgia, USA; Public Administration, Maxwell School of Public Administration, Syracuse University, U.S.A.; AOTS Scholar, Japan. He can be contacted at shreemenon48@gmail.com