How a Liberal man explains Emergency to his 12 years old son
Mangalore Today Network
40 years ago, Indira Gandhi declared Emergency in India, taking away all the civil rights and freedom of people. A 12-year-old boy, who somehow happened to read something about Emergency on Twitter, decided to ask his dad. The dad, who also happens to be an Adarsh Liberal, didn't disappoint:

Son: Papa what is this emergency everyone is talking about today?
Father: Son, emergency was the time when trains ran on time in India. Government officers came to office on time and did their work diligently.

Son: Oh so it was a good time?
Father: Well, yes and no. It was a good time for us. Not so good for anti-Indira… Oops, sorry, Not so good for anti-India forces.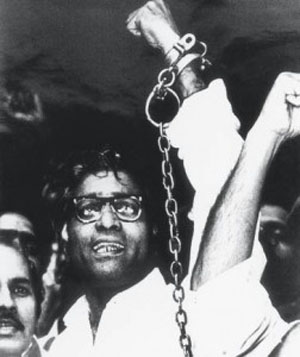 Son: But someone on TV was saying Indira was a dictator?
Father: That must be one of those Sanghi bigots. Indira was totally focused on working for the nation at the time. However, Sanjay Gandhi was the person who ran negative campaigns during emergency. He was the one to be blamed for everything wrong that happened during that time. Which party does his wife work for now?

Son: umm.. BJP?
Father: Correct, that is because BJP workers of the time backed the atrocities to tarnish Indira's good emergency rule. Sanjay's wife joined people with same ideology as Sanjay.

Son: Oh so there were many wrongs committed during emergency too?
Father: Not really wrong but they were spun as atrocities. For example, Government banned bad films, saving money for honest, hardworking people. Bad singers weren't allowed to sing. Population was controlled through decisive actions. The country was running smoothly like a BMW engine.

Son: Why did they lift emergency then when it was so good?
Father: Nothing good lasts forever son, like my influence with the government.

Son: Why can't they impose emergency today?
Father: But there is an emergency today! Only a different type of emergency. Now fascist forces control everything. Liberal voices are being suppressed, our funds are being blocked. We can't criticize the government.

Son: But you write 1 article daily criticizing the government?
Father: No, no that is different. Nobody is paying attention to our criticism in the government, That is the problem. We are reduced to engaging with twitter trolls to spend our day. Our liberal ideals are being run roughshod over by this government. That is the real emergency.

Son: So Modi is present day Indira?
Father: Oh no no. Indira was a tough but fair ruler. Modi is a fascist dictator. Press crawled before Indira only after she requested them to do so. Today, press crawls before Modi without him asking them to do so. Such is the fear among people!

Son: But I am confused. I saw every news channel demanding resignations of Modi's ministers today. Is that crawling?
Father: This is all a charade son. Behind the scenes, sab mile hue hain!

Son: This is all too confusing. Maybe I will go and watch something simpler, like a Christopher Nolan movie.

Courtesy:fakingnews.firstpost.com