Gauri Lankesh: A fierce tale of grit and determination
Mangalore Today News Network
By Preethi Nagaraj, National Herald
Bengaluru, Sep 6, 2017: Her commitment to a casteless society was unparalleled. She reduced religious institutions to rubble with her sharp and witty questions. Her ideologies were pro-people with great focus on the welfare of the minority communities. Her struggles had a long way to tread before they reached the finishing line. At 55, Gauri Lankesh is gone too soon. This cold blooded murder of journalist-activist Gauri in a city like Bengaluru, that was so far considered the 'safest', has left a lot of minds numb with shock and pain.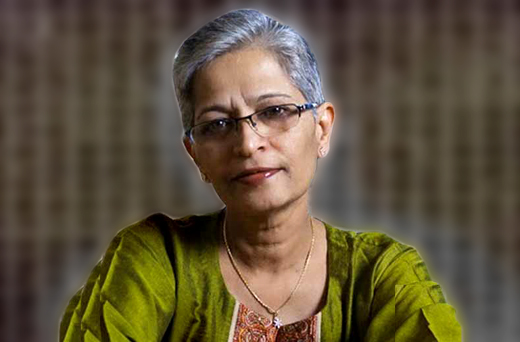 Gauri's death comes across as a case of premeditated murder, meticulously planned and executed to end a life of rationality, clarity and fearless association with pro-life ideologies. Her magazine, Gauri Lankesh Patrike, was always vocal about the dangers of rightwing politics and its debilitating effect on the very fabric of the country.

The left-leaning Gauri minced no words when it came to criticising the BJP's ideology and the RSS. Her association with JNU student leaders Shehla Rashid and Kanhaiya Kumar, and Dalit leader from Gujarat, Jignesh Mewani, were much discussed. Gauri made no bones about it and would often write on her social media page that they were her 'children'. Even to those that hated her, Gauri would say 'they're my children too…albeit misled by hate mongers'.

Her questions to institutions that surreptitiously supported casteism were scathing to say the least. She was a journalist with a difference who took her profession to the level of proactive participation, and thus worked as an agent for change that she envisaged in the society.

When she took over the editorship of her father's hugely popular Lankesh Patrike, named after himself (P Lankesh), the tabloid was not doing well as compared to its days of glory in the 1980s. The tabloid in its most popular days had touched a peak circulation figure of 4.5 lakh with absolutely no support from advertisers. The tabloid, much like the man Lankesh himself, stood for straightforwardness, unconventional yet pro-human and pro-people stance, questioning the system that forces compromises. It constantly exposed convenient bed-partners of politicians. These were the focal areas of Lankesh Patrike.

Somewhere along the line, Gauri had probably sensed the days that we live in, were not conducive enough to voice dissent. In one of the interviews in the past, she had even said her father and his contemporaries such as writer UR Anantha Murthy had extensively written against Indira Gandhi, Jawaharlal Nehru and Rajiv Gandhi but not even once they received death threats. In the same breath, she had added that the "Right regime would want me silenced," a statement which surely meant her death.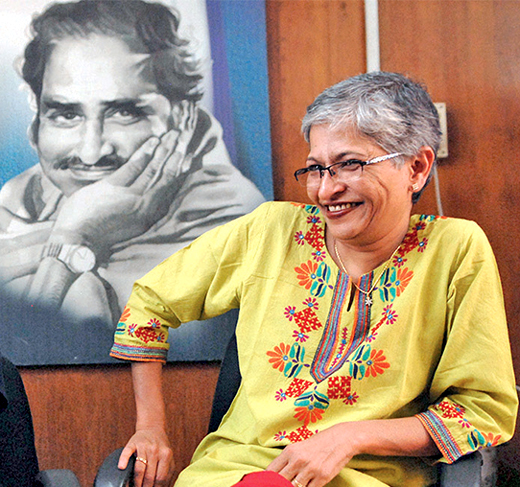 Gauri Lankesh under the portrait of her father P Lankesh


Gauri was an 'outsider' to Kannada journalism, the language in which Lankesh Patrike was published. Subsequent to her father's death in January 2000, Gauri and her family members decided to close down Lankesh Patrike. But the publisher of this hugely popular paper, Mani, encouraged the family members to reconsider their decision and ensured the name and paper lived on. Gauri, till then, used to be an English journalist. The metamorphosis she underwent from being a 'national' journalist to the most daring and pro-active Kannada journalist is a story worth emulating.

Due to personal differences with her brother Indrajit Lankesh, she had to let go of 'Lankesh Patrike' and started 'Gauri Lankesh Patrike' in the mid-2000s. Though commercially it didn't make much sense for her, she held on to her paper to endorse movements, to help efforts towards building a casteless and equal society, and discuss her ideological beliefs in great detail.

In more ways than one, Gauri was a woman who followed her own heart over logic. While a lot of her contemporaries made a shift to right-wing ideology, Gauri became even more fiercely left-leaning with every passing day. Her efforts towards changing perspectives towards the Maoist movement were nothing short of miraculous as she encouraged a lot of Maoist leaders to give up arms, negotiate with governments and join the mainstream. A lot of those rehabilitated Maoists influenced their comrades to give up arms and integrate with the society.

Owing to her 'no holds barred' approach towards social issues that governments often tend to soft-paddle, she had earned a good amount of 'enemies' too. Some hated her, but that hate possibly didn't consume her. Her death will probably continue to haunt a lot of secular minds for a long time to come.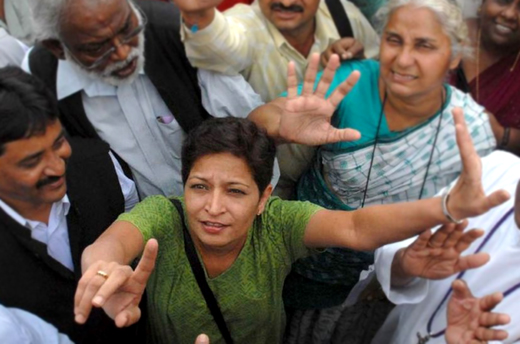 The BJP may well call it a 'murder that happened in a Congress-ruled state'. They use this strange logic in their bid to absolve the fanatic forces of their action. They said the same when rationalist thinker Professor MM Kalburgi was murdered in the quaint town of Dharwad. But, what is noteworthy in both cases, and in those of Govind Pansare and Narendra Dabholkar in neighbouring Maharashtra, is that all of them who were silenced with bullets were against the right-wing ideology.

There is already a much 'diluted' version of the motive behind her killing that has been floated by those who probably desired her silence. It is that of a 'property dispute' with one of her family members. Whether it has an ounce of truth or not is a point apart. But such rumours did the rounds when the other three were murdered as well. What matters is what each one of them stood for. And how they were silenced very systematically.

In her death, Gauri has possibly woken up a lot more minds than she did during her lifetime. There were people who would disagree with her and reject her approaches towards finding solutions to problems. Even those have tears in their eyes today, while they set out to put her to rest. She was a fighter, never the one who would sit on the fence to save herself. With her, Karnataka has lost a brave voice. Hope her killers are nabbed soon to reveal who and what led to her killing, and why this frail lady with a fierce voice was such a threat to someone, or something.