Forensic Testing of Narcotic Drugs VIII: íRohypnolí The Date-Rape Drug
Mangalore Today News Network
By Dr. G. Shreekumar Menon & Dr. Nirmal Krishnan

Mangaluru, July 2, 2022: Rohypnol, generic name Flunitrazepam is a Benzodiazepine used to treat severe insomnia and assist with anesthesia. It was first manufactured in 1975 by Hoffman-La Roche, as a treatment for sleep disorders and as an anesthesia for surgeries.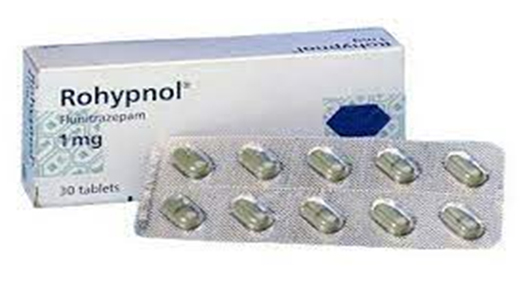 It is legally prescribed for medical use in more than 50 countries for the treatment of insomnia and as a pre-anesthetic. It works by dramatically slowing the function of the central nervous system, as it is approximately 10 times more potent than, Valium (Diazepam) and results in very deep sedation so asto render a person who takes it completely incapacitated. For this reason, it is best known as the "date rape drug" as it has been used to facilitate sexual assault. Rohypnol has received a lot of notoriety ever since it has been labelled as a 'date rape drug'.

It is odourless, tasteless and colourless and dissolves easily in liquids. It can be slipped into a victim's drink without their knowledge, quickly leaving them incapacitated and vulnerable to sexual assault. Within 10 minutes of ingesting Rohypnol, a person will begin to experience its initial effects - nausea, feeling too hot and too cold at the same time, dizziness, confusion, and disorientation. They may have trouble speaking and moving, become socially inhibited, and have visual disturbances, gastrointestinal problems, and urine retention. Their blood pressure will drop and they will become drowsy and eventually black-out (lose consciousness.) The drug enters the brain rapidly and works by binding to a specific type of protein receptor, which is widely distributed in the groups of nerve cells involved in anxiety, memory, sedation and coordination. Most people who take the drug have no memory of what happened while under its influence. Side effects of Rohypnol typically peak within two hours but can last for up to eight hours.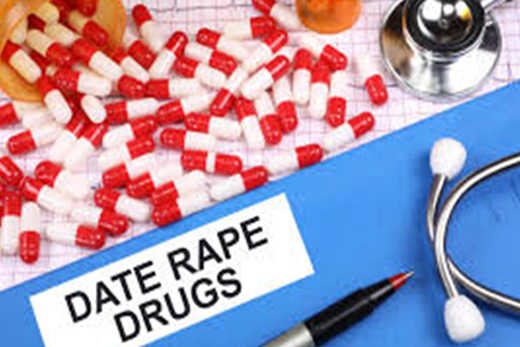 In the West many teen girls and women frequently report having been raped after having Rohypnol slipped into their drinks. The drug also causes "anterograde amnesia." This means it's hard to remember what happened while on the drug. Because of this, it can be hard to give important details if a woman wants to report a suspected rape or sexual assault. To overcome the colourless hurdle, as a countermeasure, Hoffman-La Roche updated the pill to have a blue dye in the core. Now, if the pill is dropped into a clear or light-colored liquid, it turns blue. However, the older, colorless pill is still available and in demand as spurious manufacturers are there in plenty.

While the use of Rohypnol has become synonymous with sexual assault, there are still many people who abuse the drug for recreation. Many users combine Rohypnol with alcohol resulting in slow breathing and heart rate. At higher doses, the body shuts down and breathing stops. Habitual use, even for just a few weeks, can lead to physical and psychological dependence. A 2-milligram pill of Rohypnol has the same potency as a 6-pack of beer. One of the most dangerous aspects of Rohypnol is that it causes the user to experience a state of intoxication where they do not care about their actions, or what is being done to them. Significant tolerance also develops. Being ten times stronger than valium, individuals who abuse Rohypnol develop an addiction quickly. Sudden withdrawal is dangerous because the central nervous system has adapted to the drug's effects.

Rohypnol has powerful effects that may last up to 12 hours. After the effects have worn off, the drug can remain in a person's system for up to five days.The amount of time Rohypnol remains in a person's system can vary depending on the dose taken and other factors.

Several urine, blood, and hair drug testing methods are available to detect Rohypnol in a person's system days after their last use. Typically a hair test for date rape is best for Rohypnol or date rape testing with a urine test. The comprehensive urine date rape drug test will include testing for: Barbiturates, Benzodiazepines, Muscle Relaxants, Opiates, Ketamine, GHB, Rohypnol, Ecstasy and more. If using urine as the specimen for the date rape drug test, the specimen collection must be as soon as possible after the incident but no longer than 3 days. The comprehensive hair date rape drug test will include testing for: Flunitrazepam (Rohypnol), Barbiturates, Ketamine, Gamma-Hydroxybutyric Acid (GHB), Sedatives, Hypnotics, Muscle Relaxants, Opioids, Ketamine, and Benzodiazepines.

As Flunitrazepam, is a drug belonging to the family of benzodiazepines, most of the tests which are used for testing benzodiazepines will give a positive result if tested for Flunitrazepam. Hence, the specificity of the test will be questioned in the court of law, especially if the victim is under treatment with any of the benzodiazepine group of drugs.

The standard tests which are used are color reactions for the benzodiazepine groups and more specific tests like Gas chromatography and High pressure liquid chromatography.

Due to the deep sedation and memory loss induced by Rohypnol to the victim, the drug testing gets often delayed by more than 12 hours, in most of the cases, which decreases the chances of detection of the drug in the system. Other factors like young age of the victims which leads to a faster metabolism and smaller dose used by the offenders hampers the possible detection chances for the drugs.

Most common testing sample is urine which will turn positive if tested within 24 hours of use, but can be detected even as late as 10 days in elderly and obese individuals. Blood stream usually clears off the drug in 24 hours by excreting in urine.

Hair is another sample which can be tested for longer duration of upto 30 days but the sensitivity of the testing method needs to be very high for detection. The hair needs to be pulled out including a fresh follicle which increases the chances of detection.

The doctored drinks can be tested using rapid color testing kits before consumption. Some researchers are even developing nail polishes and other women friendly items which can change colour if exposed to Rohypnol.

To enable law enforcement agencies to make an effective case, it is essential that the victim preserves as much physical evidence as possible. The victim should not shower, bathe or throw away the clothing that they were wearing during the incident.

Rohypnol is banned in India but it is available in the grey markets, as also on the Darknet, hence a big challenge for enforcement agencies.
Writers can be contacted at: shreemenon48@gmail.com and drnirmalknambiar@gmail.com