Forensic Testing Of Drugs-VI: MDMA or ECSTASY
Mangalore Today News Network
By Dr. G. Shreekumar Menon & Dr. Nirmal Krishnan

Mangaluru, April 30, 2022: Sex addicts frequently rely on the drug famously known as 'Ecstasy'. The most popular 'Party Drugs' around the world are Ecstasy 3,4-methylenedioxymetham-phetamine (MDMA),GHB (gamma-hydroxybutyrate), Rohypnol(flunitrazepam) and Ketamine (Ketalar). These drugs are popular because of their low cost and convenient distribution in the form of small pills, powders, and liquids.

Ecstasy is a popular club drug in the rave and electronic dance music circuits and in nightclubs. It is known under many nicknames, like "e" and "Molly". MDMA is often considered the drug of choice within the rave culture and is widely used at clubs, festivals, house parties and free parties.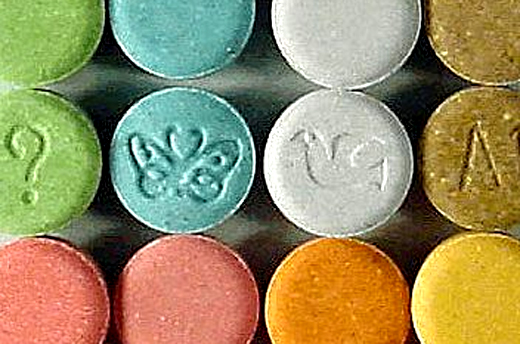 Ecstasy is a hallucinogenic, stimulant, and an entactogen. Users generally experience a rush of good feelings (a high) and makes feelings very intense, whether they're good or bad. Ecstasy works by boosting the activity of three neurotransmitters: dopamine, serotonin, and norepinephrine. These neurotransmitters are known to affect mood, energy levels, appetite, trust, sexual activity, emotions, and sleep.

Ecstasy was first synthesized by a German company in 1912, and became available as a street drug since the 1980s, and use escalated in the 1990s among college students and young adults. When a person takes Ecstasy, his or her body can dangerously overheat during dancing or other physical activities like sex and therebyenjoy a unique experience. People who use ecstasy typically feel the effects within 30 minutes of ingesting the drug. Ecstasy causes feelings of euphoria, warmth, openness, and clarity, as well as heightened sensations of touch, sound, and smell. These effects typically last for 3 to 6 hours.

But the negative effects are that Ecstasy increases heart rate and can cause dry mouth, clenched teeth, blurred vision, chills, sweating, and nausea. It can make some users feel anxious, confused, and paranoid, as if someone is trying to hurt them or is plotting and conspiring against them.

Frequent Ecstasy usewill damage brain cells that are involved in thinking and memory. It can also lead to muscle breakdown, kidney, liver, and heart damage and even death.
The ecstasy market is one of the most adulterated illicit drug markets, meaning it often is cut or mixed with other substances. The drug itself is challenging to study in the real world, as adulterated forms of Ecstasy are used under the umbrella term of 'ecstasy'.As it is illegal and therefore unregulated, anything sold as "molly" or "ecstasy" may be impure and adulterated.

Ecstasy can be detected in the body from one to 90 days. How long it is detectable depends on the type of test, the frequency of use, and a person's unique physical characteristics. Generally, it remains in:
Blood: Up to 2 days
Urine: Up to 4 days
Saliva: Up to 2 days
Hair: Up to 90 days

Ecstasy is not one of the five drugs tested for by the standard five-panel drug test used by most enforcement agencies, however, it does show up on the test.
Drug abuse is a common problem at many workplaces, schools, and sports organizations. Some employers, especially Multi-National Corporations (MNC's) regularly require testing when a person applies for a job.

When enforcement agencies detect suspected cases of 'ecstasy' usage, the collected evidence is sent to a forensic laboratory where a trained forensic drug chemist will perform several tests and complete an analysis report that can be used in court proceedings. In general, the analysis includes:
Weight test that determines the net weight of the material. Evidence submitted can range from residue on a surface to stains on fabric to several kilograms of seized material. Analysts use analytical balances to weigh the material and record the results for the analysis report. The weight test will also determine if the quantity of material is sufficient for further testing.

Presumptive testing or screening determines the general characteristics of the sample material and allows analysts to narrow down the field of confirmatory tests that will be used. Presumptive laboratory tests may include -Microscopic analysis, Microcrystalline test, Ultraviolet spectroscopy, Gas chromatography, Confirmatory testing, Capillary electrophoresis, or wet chemistry. Once the components are separated, instruments such as a mass spectrometer (MS) or infrared spectrometer (IR) are used to identify each component by comparing its chemical signature against reference materials.

Instruments most often used to identify compounds include- Mass spectrometry andInfrared spectroscopy.Another method to obtain a quick overview of the majority of active and excipient ingredients likely to be contained in seized tablets can be obtained through mixture analysis with the aid of nuclear magnetic resonance spectroscopy (NMR). More complex compositions or unknown active or excipient ingredients can be identified through supplemental NMR spectroscopy, mass spectroscopy (MS) and infrared spectroscopy (IR). Isotope ratio mass spectrometry (IRMS) performed on seized narcotic substances can contribute significantly to comparison analysis. Because every substance is subject to specific changes in its isotope ratios during the production process, the determination of isotope ratios by mass spectrometry can be used effectively.

There is no drug test that specifically identifies Molly, its purity, potency, or its additives. A blood or urine test can simply identify the amphetamine as Ecstasy is a synthesized substance derived from methamphetamine with properties and related risks similar to amphetamines and hallucinogens. Unknown to its users, the drug manufacturer or peddler may adulterate the product with fertilizers, detergents, and household chemicals. Each one of these substances not only amplifies the effects of Ecstasy, but also adds its own deadly risks. For the user who requires emergent medical intervention, the challenge lies in not only determining how to medically treat the symptoms, but also in identifying, if possible, the substance used, along with all of its drug or chemical additives.

Another problem with club drugs like Ecstasy is that they are being increasingly used in Drug Facilitated Crimes (DFC) and Drug Facilitated Sexual Assault (DFSA). The Central Nervous System (CNS) depressants that may be used in DFSA present many analytical challenges. Many are highly potent and hence are given in very low doses. The drugs that may be encountered are not limited to illicit drugs, but include prescription and over-the-counter medications that may be readily available. The low doses that may be used as well as the different physicochemical properties of many of these compounds often make it difficult for laboratories to detect their presence using routine analytical methodologies. Furthermore, physicians, health-care workers and laboratory personnel may not be aware of the range of drugs that may be used to facilitate crimes. This may result in the analysis focusing on a few suspected drugs and missing the main drug that was actually used. There are over 50 drugs known to have been used in DFSA, and each year new drugs are entering the market. The large number of compounds that may be encountered presents a serious challenge to the toxicology laboratory performing these tests. Additionally, since most drugs are metabolized and eliminated from the body at different rates, it should never be assumed that a negative toxicological finding is proof that an incapacitating drug was not present at the time of the alleged assault. Different analytical strategies may be required for different specimens (urine, blood, saliva, scene residues, vomit, stained clothing, and hair) submitted for analysis. Finally, the interpretation of the toxicological findings can be challenging. Identification of any drug or metabolite in a biological specimen is generally proof of exposure, but simply detecting a compound at best may substantiate other evidence as to possible incapacitation at the time of the alleged offense.

The biggest seizure of Ecstasy pills took place at Bangalore, where Customs officials detected and seized a consignment hidden inside an electric massager, in September 2020. The seizure was estimated at Rupees one crore.
In neighbouring Kerala, there is heavy demand for Ecstasy pills. Youths across the state prefer Ecstasy, Nitrazepam, Spasmo, Proxyvon Plus, Buprenorphine and Lorazepam tablets, instead of Heroin, Hashish,Charas, and Ganja.This is also the situation across India.

Let the youth listen to the words of Dr. T.P. Chia "The greatest mistake in life is to get addicted to drugs – becoming a prisoner of ecstasy and hallucination, and less of a man".
Writers can be contacted at: shreemenon48@gmail.com and drnirmalknambiar@gmail.com