Empowering Indian Women - Nursing Profession Can Be a Game-Changer
Mangalore Today News Network
By Dr G ShreeKumar Menon

Manipal, Dec 17, 2019: Is there any profession in India today that can satisfy all the following requirements-affordability, empowerment of self and family, ready employment, prospects in India as also abroad, enhancing quality of living, personal hygiene, community hygiene and completely untouched by any slowdown in the economy? The answer is the Nursing profession. At a time when the economy is staring at the prospect of stagflation, sluggishness in the economies across the globe, declining economic growth, rising unemployment amidst the ongoing deceleration due to stress in the financial sector, funding constraints and shortage of liquidity, which profession can resist all these ongoing crisis. The author is of the considered opinion that it is only the Nursing profession that can face the challenge of negotiating the present complex economic slowdown.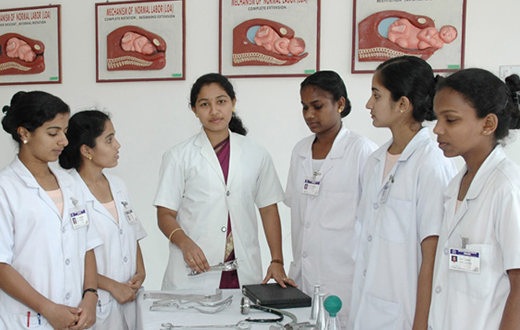 India has been facing multiple challenges for the past over 70 years by seeking to find solutions for illiteracy, poverty, cleanliness and hygiene, unemployment, female emancipation and quality of living. Governments at the Centre and States have expended a great deal of resources on a variety of schemes to tackle the above issues. However the unbridled population growth has negated whatever that has been achieved. Despite all odds the overall literacy rates have risen multifold and the country is on track to achieve universal youth literacy by the year 2030.However, female literacy is particularly wanting in the country as a significant proportion of them are still illiterate with major ramifications for the Indian economy. The lack of education among women prevents their participation in the economic workforce, thus hindering the country's development.

Though policies on women's empowerment exist at the national, state, and local (Panchayat) levels in many sectors, including health, education, economic opportunities, and political participation, there are significant gaps between policy advancements and actual practice at the community level. Women's empowerment is heavily dependent on several different variables that include geographical location (urban/rural), educational status, and social status (caste and class). Evidence shows that putting economic resources in women's hands is the best way to accelerate development and sustainably reduce poverty. There are multiple national and state level governmental and non-governmental mechanisms such as the Women's Commission to advance policies designedto ameliorate the conditions of women, and the implementation of these policies is decentralized to state and district-level authorities and organizations that include local non-governmental organizations for effective outreach.

Despite a plethora of schemes for women's development, progress is not in keeping with the expectations. What can the government do? There is a huge opportunity in healthcare sector as World Bank predicts a shortage of 80.2 million workers by 2030 globally and India will need 2 million doctors and 6 million nurses by that time.Healthcare sector is also by far the largest employer of women workforce in the world. In India there is a crippling shortage ofnurses. Currently, India has only 1.7 nurses available per thousand population against WHO recommendation of 2.5 nurses per thousand population. In other words the country is short of 2.5 million nurses. This is a phenomenal opportunity for both the Central and State governments to take advantage of, as in one stroke nursing education can resolve issues of female literacy, female emancipation, economic empowerment of women, elevation in family lifestyle in terms of health and hygiene and immediate gainful employment in India and abroad. The global nursing shortage is phenomenal, today there are nearly 3 million nurses employed in the US and 439,300 more positions are expected by 2024. Not only in the US but globally there is a massive shortage of trained nurses. Today 8 of the world's 12 largest economies have a serious nurse shortage. Russia has just half of the nurses it needs, Japan and the US have only about a third and the UKhas less than a fifth. Apart from regular hospitals and nursing homes, demand for nurses is on the rise in rehabilitation centres, retirement homes, and old-age homes. The spectre of unemployment can be overcome to a great extent by making nursing education attractive and rewarding.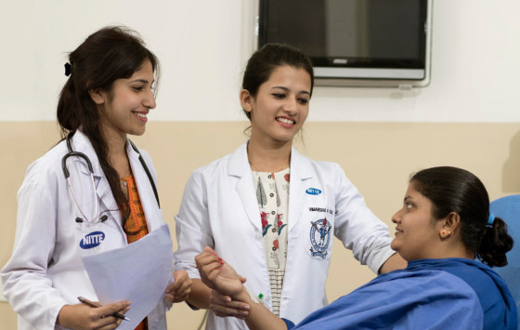 India has only about 850 nursing colleges which is totally inadequate for the country's needs. Many of these colleges are not up to the mark in terms of infrastructure, facilities, and quality of education. By just improving the standard of nursing education the government can drastically improve the quality of life of countless people–with nurses and midwives seen as some of the most cost effective medical practitioners to put on the ground.

Cost of medical education in India is beyond the reach of the common man. Medical seats in government colleges are not sufficient, hence private medical colleges supplement the requirement, though that also is hopelessly inadequate. But the high cost of medical education in private medical colleges cannot be afforded by the common man. The making of a MBBS doctor can range from one crore upwards. On the contrary in many institutions a nursing degree just costs Rs.1.15 lakhs for the entire course.

In India, nursing education is regulated by the Indian Nursing Council and various State Nursing Councils. These nursing councils are empowered to confer degrees, diplomas and registration for trained nurses. In the Nursing colleges there are educational programmes leading to BSc Nursing, Diploma in General Nursing and Midwifery (GNM), and there are postgraduate and doctorate programmes in nursing viz., MSc Nursing and Ph.D. By virtue of this kind of medical knowledge, nurses can also competently diagnose and prescribe medications, especially for routine infections, seasonal viral attacks and a host of other routine ailments. However this has not been legally permitted, thereby aggravating the 'lack of access to proper medical care' crisis.

Meanwhile, The Union Health Ministry has decided to discontinue the diploma degree in General Nursing and Midwifery in India. On December 2nd, 2018, meeting resolutions for discontinuing diploma nursing degree were approved in National Health Policy. By 2022 the Diploma in General Nursing and Midwifery (GNM) will be discontinued. The writer feels that this decision does not appear correct as it fails to take into account the ground realities. The GNM course is a 3½years diploma in paramedics,nursing and midwifery focussing on the provision of care to individuals, families, and communities.The course can be pursued after successful completion of the 10+2 level of education in the science stream from a recognized educational board with a minimum aggregate score of 50%. The fee structure ranges from a minimum of Rupees forty five thousand upwards per annum, and varies from college to college. Instead of discontinuing this course, the government should have streamlined and revamped the entire program so that the nursing shortage in the country could be overcome. The minimum marks for entry could have been relaxed to just a pass, and, the fee structure if subsidized could have made it affordable to a vast segment of the population. Banks could have been made to give educational loans instead of funding foreign education for courses like engineering and MBA that are already saturated. By proper advertisement and outreach, the government could have attained multiple targets with relative ease – literacy and vocation would have been possible, ready employment, health care across the country would have become a reality, women's emancipation and economic empowerment is easily attainable, and last but not least whole communities would have been uplifted from unhealthy living conditions. With a few years' experience these nurses would find suitable placements abroad thereby bringing economic prosperity not only to their families but also to the nation.

To achieve this the government does not even have to invest in infrastructure or create new colleges. There are several hundreds of engineering colleges that have shut down and many hundreds waiting to shut down as there are no demands for engineers. Simply by conceiving a rehabilitation package and some minor investment, all the closed engineering colleges can be converted into nursing colleges and India can become a major manpower exporter of nurses.

Simultaneously, the regular B.SC degree in Nursing can be qualitatively enhanced by substantial value additions. Further, the government should develop a few nursing institutions to Institutions of Eminence on the lines of IIT's and IIM's. A Central University for nursing can also be established.

The global requirement for nurses is continuously increasing, and new countries like Israel and Japan are seeking nurses not only in hospitals but also in old age homes, rehabilitation centres and as home nurses. If the GNM course could be enriched with an option to study a variety of foreign languages as an elective subject, it would be a great value addition. Our unemployment problem can be eased to a large extent. Health is a global priority and no economic slowdown or hyperinflation can affect this domain. Just by tweaking the GNM course the government can achieve rapid strides in the quickest possible time.The author feels that the government needs to rethink its decision about GNM course, as also revise the whole gamut of nursing education.
---

Dr G ShreeKumar Menon, IRS (Rtd) Ph.D (Narcotics) is Former Director General, National Academy of Customs Excise and Narcotics & Multi-Disciplinary School Of Economic Intelligence,India; Fellow, James Martin Center For Non Proliferation Studies, USA; Public Administration, Maxwell School of Public Administration, Syracuse University, U.S.A. and AOTS Scholar, Japan.
He can be contacted at: shreemenon48@gmail.com