DySP M.K. Ganapathy death case: It was not a suicide but a cold blooded murder, says FSL report
Mangalore Today News Network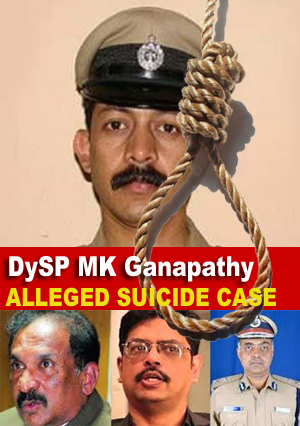 Mangaluru, August 25, 2017: More than a year after Mangaluru DySP MK Ganapathy killed himself after saying that Bengaluru Development Minister KJ George and two other senior officials were responsible for his death, the case has come back to haunt the ruling Congress.

Did the Criminal Investigation Department (CID) hush up details pertaining to Dy.SP M.K. Ganapathy death case and destroy vital evidence? It seems so as a Forensic Science Laboratory (FSL) has reportedly exposed the shoddy investigation into the case.

It is said that over 352 contacts had been deleted from Ganapathy's phone besides 2,500 photos, 145 PDF files, 100 e-mails and 52 SMSes. Call records pertaining to a prominent MLA and Minister too has been deleted, the forensic report reportedly says. However, the CID had filed a closure report in the case.

The Forensic Science Laboratory report is said to have brought the CID investigation under scanner as it has found deletion of over 145 PDF documents. Call records that were deleted include that of Legislator Vinay Kumar Sorake, Dy.SP Harish Chandra, MLA Munirathna and Union Minister D.V. Sadananda Gowda's son Karthik.

Ganapathy was found dead on July 7 in a private lodge in Madikeri. According to the Police, he had fired two rounds from his service gun and two empty cartridges were found at the scene of crime. Based on his father's complaint, the Police had registered a case of Unnatural Death Report (UDR) under Section 174 of Cr.PC. The Govt. had transferred the case to CID but later on the Court's direction, the Police registered a case of abetment against the accused, which was again transferred to the CID after the High Court on July 28 observed that the case should be monitored by a senior IPS officer and that the DGP was vested with the powers to direct any officer to carry out the investigation.

The CID which had taken up investigation in the abetment (Section 306 of the Indian Penal Code) of suicide did not find any evidence (of abetment of the late officer's suicide) against the three accused — former Minister and Congress leader K.J. George (A1), IGP Pronab Mohanty (A2) and ADGP A.M Prasad (A3) in the FIR 89/16.

Latest reports say that the forensic reports have given clear evidence that it was not a suicide but a cold blooded murder. Two eye-witnesses who were present during the investigation have given statement that they noticed bullet wounds on Ganapathy's body. They said that the CID made them sign blank papers and overlooked crucial evidence in the crime scene. Shockingly, all the e-mails, information in Ganapathy's laptop, mobile phones have been deleted by the investigating agency.