Demonetization - Will India win the war against Corruption?
Mangalore Today News Network
By Bhamy V. Shenoy

November 8, 2016 will go down in India's history as a red-letter day when the nation started the long awaited war against corruption by scrapping high denomination notes of Rs 500 and Rs 1000. This war can be compared to Mahabharat war. On the ethical side there are the modern age Pandavas mostly consisting of the general public led by Modi. Kauravas led by corrupt politicians are those business men who have amassed crores of black money, terrorists who have printed or have access to fake currency, and bureaucrats and politicians who have ill-gotten wealth by using their official power or high level connections.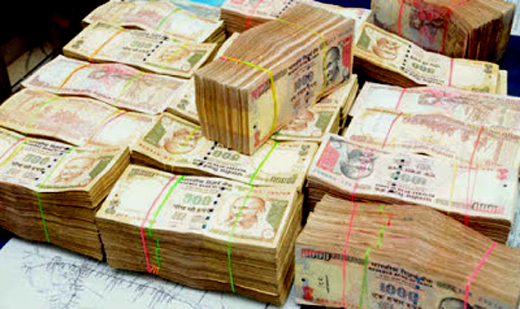 Kauravas are helped by a tiny minority of economists, political leaders and TV and print journalists who have managed to be critical of the way war is being fought. Arvind Kejriwal who came to power as Chief Minister of Delhi by promising to root out corruption has declared that supporting demonetization is an anti-national activity. What an irony!

It is not difficult to understand the reason for the political leaders belonging to opposition to have come together to fight against demonetization.They are likely to be the biggest losers. They will not have access to black money now to win elections. They have to start accumulating black money again with new currency notes and by that time they may lose power. But the most amazing fact is that despite facing inconveniences, general public has lent full support to PM Modi in his fight against corruption.

India has thousands of economists and hundreds of universities teaching economics. Still there are hardly any credible studies analyzing the short and long term impact of demonetization. Even what little analysis has been done is based on western economic thinking and models which is not relevant to India's cash driven economy. Also analysis is often influenced by whether one likes PM Modi or not. Even a leader like Arun Shouri who has always been objective in his analysis of India's developmental issues seem to have lost his objectivity.

This is India's third attempt to demonetize to fight corruption. During the first in 1946 Rs 1000, Rs 5000 and Rs 10000 notes were demonetized. The second one was in 1978 by the Janata government. Both failed to achieve the desired goals. Other countries like Zaire, Soviet Union, Myanmar, Ghana, Nigeria, etc have attempted to demonetize their currency to reduce black money. They have also failed. There are some countries like Turkey, Indonesia, and Mexico which have demonetized their currency because of the falling value of their currencies and not to reduce corruption like India.
So far no country seems to have succeeded in stopping black money generation by adapting the strategy of demonetization. More than likely India will also face a similar situation. This does not imply that what the government has done is wrong. India may not root out corruption totally, but it will lay out a strong foundation to reduce rampant corruption if it implements demonetization strategy followed by Modi's determination to improve governance.

Out of Rs. 17.5 lakh crore worth of notes in circulation currently, Rs. 14.5 lakh crore were (84%) high denomination notes which have been demonetized now. In ten days about Rs. five lakh crores have been deposited. More than likely before the expiry of depositing the old notes by December 31st, only about 50 to 60% of demonetized notes may get deposited in the banks. That will result in a wiping out significant amount of black money which will result in reducing price for assets like real estate and gold.

On the other hand if most of the high denomination notes get deposited and there is no proper follow up of those who have deposited, then demonetization will be a total failure. Even while follow up is taken up aggressively, and selective prosecution is implemented then also demonetization should be considered as a failure. After all IT department itself is not well known for honesty. In the changed currency regime, IT department officials could be lured with new notes by the corrupt to avoid paying the penalty of 200% taxes owed.

Government has also declared that they will also go after benami real estate who had monetized their ill-gotten wealth and if they succeed as they seem to be with demonetization, ill-gotten real estate will also be taken over by the government. This requires tremendous improvement in governance which is not likely even under the leadership of Modi.

Even those who are complimenting the government for the demonetization strategy are surprised by the replacement of Rs 1000 notes by a higher denomination note of Rs 2000. The latest development now is that there will be Rs 1000 note in addition to Rs 2000 note. Only if the government is able to implement the circulation of high denomination notes (Rs 500, Rs1000 and Rs 2000) to say less than 15% to 20% of total circulation (considerably less than current level of 84%) and promote cashless society then it makes some sense.

According to some published reports (one of them by BBC) India is overwhelmingly a cash economy with 90% of all transactions taking place that way. Since smaller denomination notes are used for transactions and bigger denomination notes for storing value, government could have easily stopped the printing of Rs 1000 and Rs 2000 notes.

By restricting circulation of high denomination notes, government will compel people to use payment system like PayTM (even taxi drivers and small business people have started to accept such payments), credit/debit cards, bank cheques, etc. Such a cashless society will result in less generation of black money. Government besides the implementation of the bold move of demonetization should encourage the process of moving towards cashless society. In developed economies money supply accounts for less than 4% whereas in India, it accounts for more than 14%.

During wars, one cannot escape a lot of inconvenience and people learn to manage with them. In fact if people had not rushed to the banks soon after the declaration of demonetization, there would have been no long lines. These lines started to disappear after few days. Also during wars, media does not publish stories to frighten people. Media has self censorship to instill optimism in the public to support the government.

Unfortunately in this war against corruption, media has done just the opposite. They have tried to sensationalize the stories of the impact of demonetization and overstated the inconvenience. It is a miracle that when such a large change like demonetization was implemented in a complex economy, people have put up with the inconvenience and there has been relatively very little unrest in the banks. Instead of highlighting such a miracle , media has concentrated on trivial conveniences like families suffering while celebrating weddings, tourists not able to buy luxury goods, etc because of lack of notes.

On the other hand the media has not put enough pressure on the political system on how Janardhan Reddy could spend crores on the wedding of his daughter. How did he manage to get required amount of notes to spend lavishly?. If Modi government does not move against Janardhan Reddy and also does not question the former CM, Yeddyurappa for attending the wedding, it would certainly lose credibility in launching the war against corruption.