Deepavali 2017: The Significance, celebrations and festive thoughts
Mangalore Today News Network
Mangaluru, Oct 14, 2017: The festival of lights is in the air these days. Deepavali 2017 has very much arrived. Considered the biggest Hindu festival in India, celebration signifies the ultimate victory of good over evil just like the light conquers over darkness. Keeping the position of the moon and the Hindu lunar calendar, Deepavali or Diwali will fall on October 19 this year with official holiday given for the day. In many parts of the country, it is commemorated as a five-day festival, beginning from Wednesday, October 18 and continue until Sunday, October 22, 2017. According to Hindu mythology, Diwali or Deepawali is celebrated in the honour of Lord Rama's return to Ayodhya and coronation after an exile of 14 years.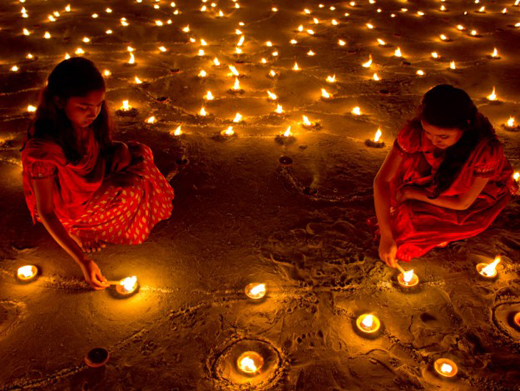 Deepawali derives its name from the words – Deepa (clay lamps) and Avali (the row). Diwali is a Sanskrit word meaning "series of lights". It is also called Dipotsavam translating to "festival of lights". The main festival night of Diwali falls on the darkest, new moon night of the Hindu Lunisolar month Kartika in Bikram Sambat calendar (the month of Aippasi in Tamil Calendar). It corresponds to October or November as per Gregorian calendar.

Deepavali 2017:
The five-day Hindu festival begins with Dhanteras, followed by Naraka Chaturdasi, main Deepavali night falling on the third day, Diwali Padva and Govardhan Puja are celebrated on the fourth day while the fifth and last day is celebrated as Bhai Dooj. There are variations from South to North.

Dhanteras 2017: October 17, 2017: It is the first day of Diwali, celebrated on the thirteenth lunar day of Krishna Paksha (dark fortnight) in the Vikram Samvat Hindu calendar month of Ashwin. Dhanteras is also known as "Dhanatrayodashi" or "Dhanvantari Trayodashi" and revers Dhanvantari who is considered to be the teacher of all physicians and the one who originated Ayurveda.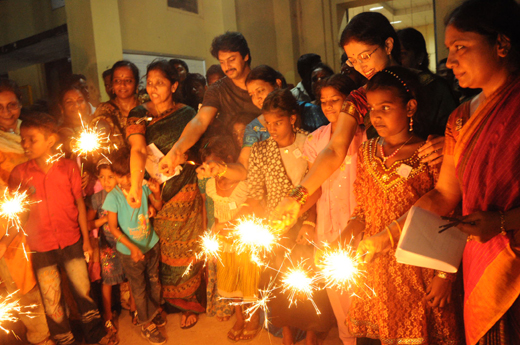 Choti Diwali or Naraka Chaturdashi 2017: October 18, 2017: It is the second day of the festival, which falls on Chaturdashi (14th day) of the Krishna Paksha in the Vikram Samvat Hindu calendar month of Kartik. According to legends, a powerful demon, asura named Narakasura was killed on this day by Krishna, Satyabhama and Kali. It is also known as Kali Chaudas, Roop Chaudas, Choti Diwali or Naraka Nivaran Chaturdashi.

Lakshmi Puja on Diwali 2017: October 19, 2017: The third is the main day when Diwali is celebrated. It falls on the new moon day, the dark night of Amavasya. Devotees worship Goddess Lakshmi, the Hindu deity of the wealth and prosperity. Lakshmi Pooja is an integral part of festivities on Diwali in North and West India. Five deities are worshipped on Lakshmi Puja: Lord Ganesha is worshiped as he is the God of Good Luck and Prosperity; Goddess Lakshmi is worshiped in her three forms – Mahalakshmi (the goddess of wealth and money), Mahasaraswati (the goddess of knowledge and learning), and Mahakali (the goddess of power) and Kuber (the treasurer of the gods).

Govardhan Puja 2017: October 20, the fourth day of Diwali is celebrated as Diwali Padva. It is also known as Varshapratipada or Pratipad Padwa and is dedicated to the husband-wife relationship. In many Hindu households, wives put red vermillion (tilak) on her husband's forehead and pray for his long life. The day after Diwali is also celebrated as Govardhan Puja after Lord Krishna defeated God Indra. It is also known as Annakut Puja with worshippers making food made of cereals like wheat, rice, curry made of gram flour and leafy vegetables and offered to Lord Krishna.

Bhai Dooj 2017: October 21, the fifth and final day of Diwali is observed as Bhai Dooj. It is also known as Bhaiya Dooj, Bhai Teeka, Bhai Phonta or Bhau Beej depending on the regions it is celebrated in. It is dedicated to the brother-sister relationship. Much like Raksha Bandhan, Bhai Dooj is celebrated with sisters wishing for their brothers' long life. Brothers visit homes of their married sisters who present them with gifts.

Diwali 2017 Significance
Diwali is called the Festival of Lights for a reason. Just like a flame of light ends the darkness, the presence of knowledge will bring an end to ignorance. In Hinduism, Diwali is widely celebrated as the homecoming of Lord Rama with his wife, Goddess Sita to Ayodhya. Much to the joy of his followers, he returned to the kingdom after completing his exile of fourteen years, which saw him kill devil king Ravana and establish Dharma in the world. Diwali is also celebrated as an occasion when Lord Rama was coronated. In Southern India, Diwali is celebrated to honour Lord Krishna who defeated the demon Narakasura. Diwali celebrations among non-Hindus are equally important. In Jainism, Diwali marks the nirvana or spiritual awakening of Lord Mahavira while in Sikhism the festival marks the day when Guru Hargobind Ji, the Sixth Sikh Guru was freed from imprisonment.

The legends and stories behind the celebration of Delhi might be different but the significance remains same – victory of light over darkness, good over evil and knowledge over ignorance. Diwali has long been a national holiday not only in India but also an official holiday for main Diwali day is declared in other countries such as Fiji, Guyana, Malaysia, Mauritius, Myanmar, Nepal, Singapore, Sri Lanka, Suriname, Trinidad and Tobago, and recently Sindh Province in Pakistan.

An idea of celebrations: Diwali celebrations may last for up to five days. Many people decorate their home and workplaces with tiny electric lights or small clay oil lamps. Bowls of water with candles and flowers floating on the surface are also popular decorations.Many people make a special effort to clean their homes and yards before Diwali. They may also wash themselves with water and fragrant oils, wear new clothes and give gifts of sweets to family members, close friends and business associates. Melas (fairs) are held in many towns and villages.People in different regions in India may celebrate Diwali on various dates. This is because traditional lunar calendars can be interpreted in different ways. For example, Deepavali in Tamil Nadu is celebrated in the Tamil month of Aipasi.Government offices, post offices and banks are closed in India on Diwali. Stores and other businesses and organizations may be closed or have reduced opening hours. Transport is usually unaffected as many locals travel for religious celebrations. However those wishing to use public transport on the day should check with the local transport authorities on public transit schedules.

Compiled by Ivan Saldanha Shet