D. Roopa - A Light In The Darkness
www.mangaloretoday.com
By Julio Ribeiro, Retired IPS Officer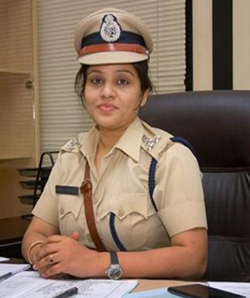 Bengaluru, August 2, 2017: D. Roopa, a young woman officer belonging to the elite Indian Police Service decided to confront the system! A Deputy Inspector General of Police in the service of the State of Karnataka, and second in the administration of the State's prisons, she objected to the grant of special treatment to the jailed AIADMK leader of Tamil Nadu, Sasikala.

Sasikala is a convict, sentenced for corruption by India's Supreme Court and lodged in the Bengaluru jail because the Special Court that conducted her initial trial was located in that city. Roopa found that the convict did not wear prison clothes as mandated by rules, and occupied five rooms and cells in the jail instead of just one or part of one. She did not eat the fare dished out by the prison's kitchen but was instead permitted to set up her own kitchen on the premises, and she interacted with several visitors outside official visiting hours in flagrant violation of prison rules.

Only influential and well-heeled convicts can enjoy such extraordinary and totally prohibited privileges. Prisons all over the country are known to indulge in this form of corruption to a smaller or larger extent; depending on the convict's capacity to pay, his social standing, or his political influence.

That Roopa decided to cross the barrier of self-preservation that most officers of the superior services are wary of crossing, is in itself highly commendable. Her "insubordination" has the potential of becoming a landmark in the fight against corruption. Not many IAS or IPS Officers I know will dare to put their careers on the line in the manner that Roopa has dared to do. She deserves our complete backing and support in our quest for good governance.

The government of the day did what all governments of the day in our country do when faced with such embarrassing situations. It shifted Roopa to a post in the city which, incidentally, is much sought after by corrupt officers. It sent her immediate boss on leave, probably hoping to rehabilitate him when public memory had faded! It transferred the subordinate staff, the jailor and his assistants to other jails, where they would be free to continue with similar practices which governments are aware of but do not frown upon.

Why do you think governments countenance such irregularities? The answer is not far to seek! Politicians often intervene on behalf of convicts seeking concessional treatment in jails. In Sashikala's case I would not be surprised if the requests had emanated from political heavyweights for political expediency or other considerations. That could explain the eagerness to get rid of a whistle blower who is not ready to be a part of the system.


Am I being too harsh on the political establishment? I am not! What explains the fact that the government of the day (in this case a Congress government) displayed only equanimity and not a trace of anger? If the shenanigans in the Bengaluru jail had upset the leaders they would have proceeded to suspend the head of the jail administration and the jail superintendent and some of the key subordinates. They would have praised Roopa for bringing the mischief to light instead of easing her out of her job. A thorough clean-up operation could have begun, instead of the usual farce that fools nobody.

This reaction of the Congress government in Karnataka is standard fare in all such scandalous disclosures. In reality, good governance demands that such disclosures should arouse the political leadership to eradicate the corrupt practices that sully the image of governments. The conclusion that a layman can draw from the reactions of our governments is that the political leadership is complicit in such irregular practices that breed corruption, and every government's promise to end corruption is only hogwash!

There is another — and more important — downside to this tacit support to corrupt practices that all State governments, irrespective of their political affiliations, indulge in. Good and honest officers get totally disillusioned and discouraged. Many of them put in their papers and resign or retire prematurely depriving the people of the service of committed officials. Recently, some such officers have silently revolted, like Roopa seems to have done. In the prevailing system she will be marked out as a maverick and effectively side-lined to non-consequential jobs which provide little scope for real service to society, as her oath of office demands.

Roopa appeared on television to state her case. She came through as a sincere and committed police officer. The government and her own seniors will frown on this act of hers on the grounds that it "over-steps government's service rules". That she decided to go against the grain shows that she has made up her mind to "take up arms against a sea of troubles and, by opposing, end them," an option that was being considered by the fictional Prince of Denmark. Even if she fails to end them, she has made a bold statement.

There are many young IPS Officers who have come to my notice lately who are of the disposition displayed by Roopa. A young IPS officer serving in Jammu & Kashmir, Basant Rath recently wrote two articles in the digital media that made me sit up and take notice! In the first article he categorically rejected the legacy of the late K. P. S. Gill as a role model to be emulated by young IPS officers. In the second, he bemoaned the fact that, post-Independence, not a single IPS officer had come to notice as having stood up to illegal instructions, mostly verbal, passed on to them by their political masters. Such unlawful instructions were invariably passed on to juniors, who then lost respect for their seniors.

Rath has stepped out openly in the arena. There are many other such young men and women officers who are disgusted with what is happening in practice and are ready to oppose the 'sea of troubles'. I wish them strength to their elbows.
---
The author, Julio Ribeiro, is a retired IPS Officer and former Indian Ambassador to Romania. He was the Commissioner of Mumbai Police, DGP Gujarat, and DGP Punjab.
---