Corruption Unlimited
Mangalore Today News Network
By Prof. Narendra Nayak

Mangaluru, May 19, 2022: While it was the former Prime minister, Indira Gandhi who said corruption is a universal phenomenon, the present dispensation which came to power with the slogan 'na khaoonga na khane doonga' aided by Rip Van Vinkle's desi avatar who wakes up once in a while goes on a fast unto death protesting corruption only to go back to sleep after getting 'assurances' to wake up later and the winking contortionist who philosophizes on everything from health to corruption till he gets the same through the government, has elevated it to a philosophy, of course, with a quantitative twist of a fixed percentage too.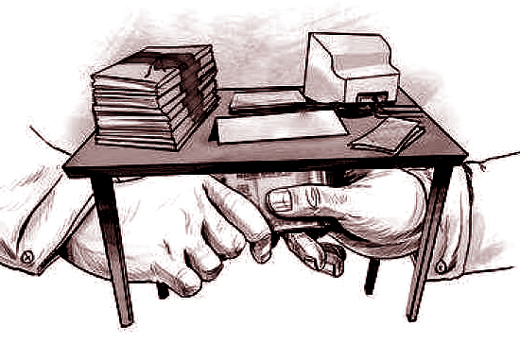 Well, how can they get away with such? Some excuses are the latest, while others are vintage. The latest one now is that when Hindus are in danger what is a little commission of 40%? It is a small sacrifice to make for saving the community! It does not matter that the same party is holding on to power from local bodies to the parliament and enjoys brute majority everywhere. No matter that 80% of the population is following the religion, the danger still seems to be lurking around the corner! To save it of course we need the government, however corrupt it may be.

With the latest understood let us go on with the older ones.
1. Part of our cultural ethos - it starts right from the childhood (when the son is told drink your milk and I will give you the chocolate) to adulthood to the grave - the last being preceded by heavy bribes to the nonexistent gods in terms of rituals to take the soul of the departed to heaven, where again, the good deeds will be rewarded by getting the chance to cavort with Rambha, Urvasi and the other apsaras with unlimited supplies of somras! This apart, those professing other faiths can have their share of virgins or float on clouds twanging harp etc!
2. Mamool or fixed routine - this is the usual payment over and above the official fee. Though this corruption has become totally acceptable, as part of business as usual.
3. Share of the ill gotten gains - in sales tax offices, registrar's office, building permits, illegal activities the huge profits made have to be 'shared' with the regulatory authorities for turning a blind eye or sanctioning them.
4. One time payment - say starting a highly profitable venture, be it real estate, factory, seat selling educational outfit or even a brothel for that matter - the local, regional and national regulatory bodies have to be 'taken care of'!
5. Philosophical justifications-
a) He/she has paid so much to get the job, so should that be not recovered?
b) After all everyone is corrupt.
c) He/she has a family to looks after.
d) He/she has to pay so much to higher ups.
May be to these you can add your own.

People like yours truly are looked upon like an aberration! I recall the time when my mother's remains were taken for cremation and the clerk there filled up the particulars and asked for Rs.50. I asked him for the receipt as per my usual habit. He said the receipt was for Rs.5 only. I said then it is only amount that I will pay. He was furious. I said I will complain and those who came with me said your mother is dead and here you are fighting for a few rupees. I said I am not fighting for a few rupees; I am sticking to my principles. One of my friends told me to get lost and look after the arrangements, don't stand here fighting. I do not know what happened later. My mother was too kind hearted for that. Once when I had come home for lunch (we were in an independent rented house then) she told me that the fuse on the pole had blown and she called the electricity board and a line man had come to replace it. She had given him a twenty rupee note which he threw back at her and demanded fifty which she had paid reluctantly. Outraged I shot off a furious letter to the executive engineer. After two days when I came home for lunch, she had a story. She said the concerned line man had come home apologized and gave back the fifty rupees with the remark that I do not want your money; I do not want your complaint. After some time she said the junior engineer had come to explain to her how though the concerned individual was corrupt, he was good at his work and he would lose his job and that he had a family which would be on the streets. My mother's grouse was who asked you to complain? If he loses his job, family will be on the streets! She also told me the issue was settled and I should mind my own business. When I asked her why she had complained to me about the corruption, her reply was she had not complained, just mentioned it!

I could write volumes about how I, as an individual, fought corruption, have not paid a paisa as a bribe etc. I am just giving the following which I had penned a decade back about my experiences at the sub registrar's office which is one of the top hot beds of corruption. Any number of stories could be told about how things have been manipulated. Here is my narrative of how I fought it.

At the registrar's office:
The office of the sub registrar who registers documents about properties, wills, trusts and partnership deeds etc is supposed to be one of the most corrupt of the govt. offices. It is said that even a paper will not flutter in the breeze there unless a bribe is paid. It is also dominated by some lawyers and so called 'document writers'. My first brush with the registrar was about 31 years back when I got married. The registrar was brought to my father-in-law's house for the registration of my marriage and various amounts were demanded. There were receipts for each payment except for some five rupees which they said was to be paid as transport allowance though they had been brought there by some one's car! No other payment was made. The registrar was probably free as it was during Rahu Kalam, a very inauspicious period and hence no registrations would take place during this time. There was no 'document writer' involved in the process!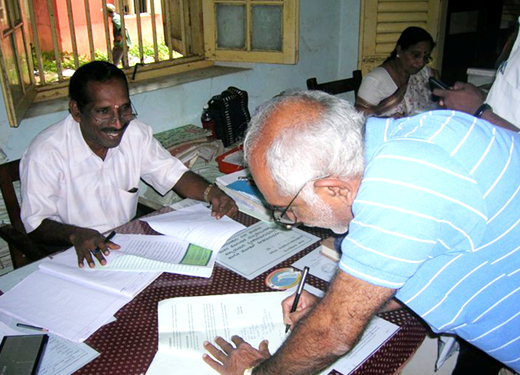 My next visit was to the place for registering the purchase deed for a shop which was done for all the purchasers at the same time and that time there was probably no occasion to pay a bribe or I do not know whether something was paid by the promoter, any way I did not pay anything extra. The next occasion came when I had to purchase a flat in 1998. When I went for registration with the promoter of the project the sub registrar was one Manjunath! When I saw him, a bell rang in my memory! He had been a sub registrar in the same place and had been transferred somewhere else. During his previous stint he had refused to register a marriage and we had complained about that to higher ups and an inquiry had been held and during that we had a heavy exchange of words! He had probably manipulated to come back to Mangalore because it was a very 'profitable' posting!

When he saw me he almost jumped out of his chair and glared at me! I put forward the documents and he said undervaluation - it was in fact undervaluation - a flat whose declared value according to the government was about 550,000 rupees was being sold to me for 250,000 rupees. There was no other payment involved because there had been a court decree to that effect. We had been tenants of a house at the plot where the flats were built and the promoter had promised us a three bed room flat for that amount so that we would vacate the premises immediately and that had been recorded by a court decree! I explained to him that, but he kept saying that it was beyond his powers. I told him to reject the document but state that in writing but I would not pay him a paisa. He replied that he had not asked me for that but since it was beyond his powers to register the document as it was, he was sending on the same to the district registrar who was the higher authority.

After some days I got a letter from the district registrar asking me to come and meet him. When I went at the appointed time he told me that he does not know the location of the property. I told him that the address was there and it was his headache. He told me that I had to take him to see the place and I replied that he better use the government car provided to him for such purposes. He was furious and said that he would decide without seeing the place. I told him to go ahead and do whatever he wanted. It was obvious that he wanted to be 'taken' to that place and 'convinced' - both things which I was not willing to do. So, after some days I got a notice to pay the additional amount of duty on the undervalued deed and I did that. When the process was over I asked the clerk whether I had to pay anything more. He said I could give him something if I wanted. I told him that I was paying him his salary every month and whether he was not happy with that. He was taken aback and said that he did not want anything! So, that was the end of the story.

We have registered some organisations. In 1984 we had to register a trust called as the Consumers Education Trust of Mangalore and one of our trustees who was a chartered accountant had drafted the deed. But, when we took it to the sub registrar for registration, he rejected it saying that it had no signature of the person who had drafted it. He said the rule was that such deeds could be drafted only by a document writer or a lawyer! We had decided to go back but there was a lawyer who was known to us and he put his signature as the person who drafted it and it was accepted. A few years back, I had decided to buy a plot of land at a place called Guruvayankere near Mangalore and the whole process went through without any bribe to the sub registrar as I had specified that when I purchased the land from a friend of mine.

The latest was on the 30th July when I had gone to register our Aid Without Religion Trust. The trust deed had been drafted by my cousin, a chartered accountant and I wanted to get the same registered on the particular day considered to be the most inauspicious in Mangalore side and at the most inappropriate time Rahu Kalam which is an all India phenomenon. When I went to the Mangalore city sub registrar's office at 9.45 am some of the people were already ensconced in their chairs, a wonder indeed for a government office but remember - this is no ordinary government office but that of the sub registrar supposed to be one of the most lucrative posts! There is something called a token system and I told the concerned person in charge that mine should be 'Number 1' as I was the first person coming in and he agreed. When I was showing him the papers, the lady sitting at the next table got irritated and told me that I should take a group photo when everything was over. I asked her whether she had objections to taking photos and that I would continue to take photos even if she objected because it was a government office, a public place and not her personal property. Then she asked me for the camera when I queried why, she said she wanted to take my photograph. I told her that I had no objection at all to taking mine but she should do that with her personal camera and not mine!

Then we waited for the sub registrar to turn up and she was late by 30 minutes. As soon as she came in the owners of document of 'Token Number 2' were at her table. I protested and told them what was the point in giving the token numbers? So, the papers of Token No 2 were removed and mine put on the table. Then I asked the sub registrar what were the office timings, she said at 10 and every day she was on time and apologized for the delay. Probably it must have been for the first time in the history of the office that someone was questioning their timing! So, the whole task of registering a trust went on without paying a paisa as bribe, without budging an inch and in time! By that time one of the TV channels had come to record this event and I went to the lady who had objected to my photography and told her that I was apologizing for taking only still photographs and the TV cameraman would set that right by taking video footage and I could sense the impotent rage in her looks!
So, it is possible to register documents without paying a paisa as bribe, taking the help of a 'document writer' or lawyer and also get our things done in time. In fact, the documents have to be returned to the registering person the same evening after completing the formalities! Since most of us are unfamiliar with the procedures we fall a prey to the machinations of the staff of the office who are hand in glove with the horde of brokers who are seen outside the premises and act as if they are the official agents of the government. Unless we are forthright, tough and aware of our rights we shall continue to be taken for a ride by these so called government servants who are actually the servants of the real estate lobby, a gang of lawyers and so called document writers.

Each time I have visited the sub registrar's office I can see the look of surprise on the faces of many people who cannot even imagine that one can talk like I do in that office! The sad state of affairs is that people do not know about their rights and the procedures. In fact one does not need any lawyer or document writer to 'draft' the document. We can do that ourselves and write on it as drafted by self. If we do not know the procedure one can inquire in the office itself! The registration has to be done according to token numbers and it should go on according to the serial order. No one should be allowed to jump the queue. If one's documents are rejected it should be stated in writing as to why that is being done. If one suspects that there is some hanky panky we can seek the records under the Right to Information act. We should understand that the employees of all government offices are public servants paid with the taxpayers money and they are not the masters. Only when we realise and stand up for our rights can these people be taken to task.