Can Mangaluru be a Smart City?
Mangalore Today News Network
Mangaluru, October 1, 2015: An educational hub that attracts students from across the nation, a tourists' paradise, a heaven on earth and a land of intelligent people- Dakshina Kannada in general and Mangaluru in particular is endowed with beautiful descriptions. But all these descriptions are marred by the vigilante groups who are unleashing terror through acts of rowdyism on young men and women, on flimsy grounds. Perhaps the only fault of the youngsters is that they belong to different communities.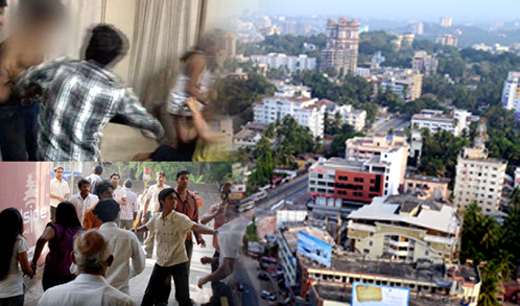 Recently, when a Muslim youth was hounded, stripped, tied to an electric pole and beaten up brutally in public glare by so called vigilantes at Attavar in Mangaluru, solely because he was hanging around with a female colleague who belonged to another community, there was anguish and nothing more than that in the city of enterprising and smart people. What was more disturbing in this case was that the rowdy elements had videographed the incident. A few days later, a college in Sullia suspended a male and a female student just because "they were friends, belonged to different communities and other students objected to their friendship."
More recently, a student of Kerala origin was also hounded and beaten up in a mall in the heart of the city for being in the company of a girl of a different community. These shameless acts based purely on religious lines have been denting the image of Mangaluru. Right since the infamous pub attack of 2009, the subsequent attack on Churches and then the Padil homestay attack case, Mangaluru has borne it all with tremendous amount of patience.

Oft repeated warnings from ministers of the district as well as senior police officials that such incidents would not be tolerated and would be dealt with an iron hand, have been a futile exercise."There is nothing called moral or immoral rowdyism. It is rowdyism and the law would firmly deal with such activities," State Home Minister KJ George who was in Mangalore recently had thundered. But its impact was nil as a vigilante attack took place just a few days after his statement. Hindu as well as Muslim vigilante groups continue with their acts of horror least bothered about the law as well as the consequences of their acts. No amount of warning has deterred them from their single minded vision of dividing the society on communal lines. It remains no secret that these Hindutva outfits are enjoying the patronage of their mentor organizations.

No government, be it the BJP or the Congress has been able to noose these organizations which have been raising their ugly heads now and then. Young men and women will continue to be attacked in beaches, roads, malls and other places unless and until the administration is genuinely interested in checking this unhealthy trend.

Data collected by the Karnataka Komu Sauharda Vedike points out that there have been at least 10 immoral policing incidents this year so far compared to 39 last year and 23 in 2012. Haven't these incidents marred the image of the peace loving city? When this question was raised, several replied in the affirmative. People from other states who otherwise felt Mangaluru was a safe and best place for higher education of their children, now have to think not twice but many times before they choose the city, thanks to the media reports on the vigilante attacks here.

Amid this disturbing trend, there is much discussion about the Centre's ambitious Smart City Project and whether Mangaluru would make it to the first list of 20 cities. Leave other things apart, is Mangaluru fit to be a Smart City? Even if it was chosen, can it be a Smart City? Today the city miserably lacks a good bus terminus and a new bus terminus proposal is still in the limbo. It has a few concretised roads to boast of, but many without footpaths. The underground drainage system is unsatisfactory, most roads in a miserable mess and above all the ordinary people here prefer to remain silent to almost everything, be it the roads, moral policing or any other disturbing incident. If public resist, if they oppose and declare that they can no longer tolerate acts of intolerance, then naturally the vigilante groups will develop a sense of fear of backlash. And this sense of fear is suffice for them to go in hiding. Yes, the best and wise thing for us Mangalureans is to be Smart in the true sense and make Mangaluru a better place to live for all people irrespective of caste, creed, faith and status rather than aspiring to be included in the Smart City Project.