Betrayal Of Thy Masses To Satiate Others' Water Needs
Mangalore Today News Network
By Srinivasan Nandagopal | Photos: Shashidhar Shetty

In politics it is necessary either to betray one's country or the electorate. I prefer to betray the electorate. - Charles de Gaulle
Mangaluru, Feb 1, 2017: The huge cast iron pipes, the restless movement of heavy machineries including tippers and earth movers, the clandestine felling of lush green trees in the eco sensitive Western Ghats, acquisition of acres of private lands and more, are a few glaring indicators of the beginning of the end. The water war has now entered our door step and the Government of the day is hell bent not to think an inch the other way as if it was an ego trip for the Chief Minister and a bunch of ministers.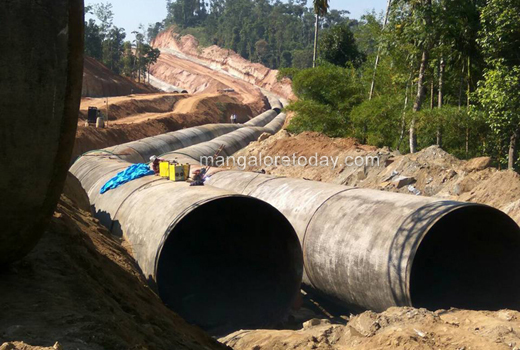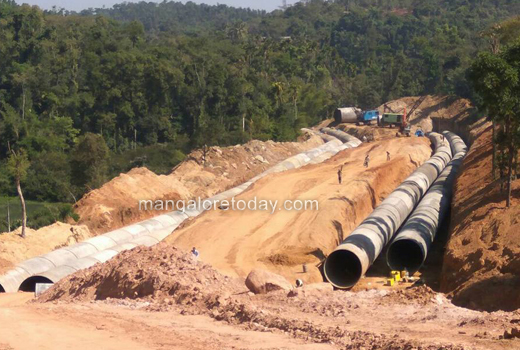 The recent stalemate during a discussion called by the chief minister, the arrogance of the Government in going ahead with the felling of trees despite the orders of the Green Tribunal, the expected visit of Court Commissioner for inspection and more actions are awaited but the damage has begun and the first axe on the pristine rain water forest has been hit without a doubt.

The progress and the urgency at which the initial phase of the project is being executed leaves many an eye brows raised which makes even a layman to figure out that a large scale financial irregularity has been brewed. Conservative estimates indicate that as many as 6000 trees have been felled in the past three months or so. Work on seven of the eight weirs (barriers across a river designed to alter the flow characteristics) and eight of the nine pump-houses is fast is underway. Pipes are ready for laying on 129.8 km rising main, and fabrication of pipeline required for 75 km has been completed. Pipes have been laid for a stretch of 23 km. This is the official figures stated by M.B. Patil, Minister of Water Resources in the recently concluded inconclusive meeting.

The insiders in the meeting have interesting yet sad tales of the behaviour of some Congress representatives from Dakshina Kannada including our district in-charge minister whose eagerness to give water to the starving people of Kolar, palpable.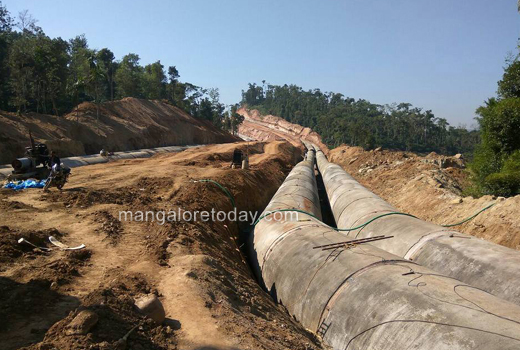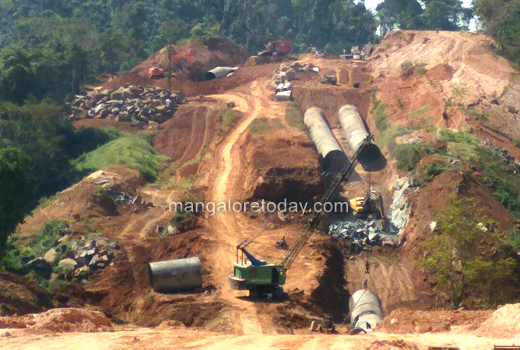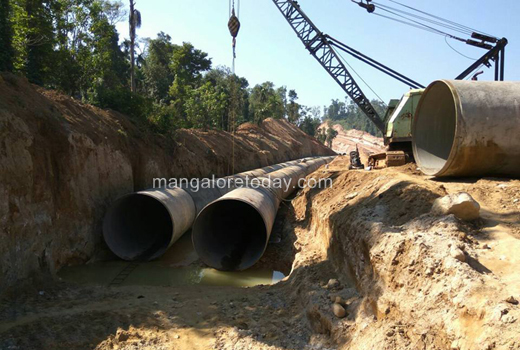 The project that was initially proposed to be completed at a cost of Rs. 13,000 crore is expected to easily cross the 20,000 mark. The work carried out till date is approximately Rs. 1,300 crore. Most of the tenders have been called for or in the process. At this juncture, the project can easily be seen as a long time milking cow for those with vested interests, least bothered if water really flows to the dry lands of Chikballapur or Kolar. It is pertinent to mention that it is almost three decades of envisaging the Varahi lift irrigation project in Udupi district and that not a drop of water has reached the beneficiary farmers till date.

Not going into the nitty-gritty of the project and the environmental impact of the same, it is loud and clear that the ones in favour of the project are not for the people but looking at the favours they would receive with the advent of this water line reaching the 320 plus km mark from Sakleshpur Taluk to Kolar.

It can only be suspected that large kickbacks have already been received by the ones who matter in taking the decisions to execute the project in all its hurriedness.

Flipping through the pages of this tragic story of diversion of water sources that are actually the feeding streamlets for River Kumaradhara which in its course of traverse, flows into River Nethravathi, the lifeline of the coastal district of Dakshina Kannada, it is rather ironical that the prime characters involved in the conception to the execution of the project are mostly people representatives of the victimised district in question.

It is interesting to note that the project got its initial sanctions when D V Sadananda Gowda (hailing from a village in the foot hills of Western Ghats) was the Chief Minister. Former Chief Minister Veerappa Moily (Originally from Karkala which enjoys the gift of nature's bounty of Western Ghats) won twice the parliamentary constituency of Chikballapur mainly on the promise and agenda of provision of drinking water all the way from Yethinahole. U T Khader (Whose drinking water source is Nethravathi) was the District In-Charge Minister of Kolar and has spoken for Yethinahole project from the podium during Independence Day celebrations. Abhayachandra Jain, Chief Whip Ivan D'Souza are among the staunch supporters of the project. Never will people of the district pardon its own District In-charge Minister who is also the Minister for Environment and Forest B. Ramanath Rai. What more needs to be said.

The BJP which initially took a back seat to protest against the project is now on the fore ground. Congress MLAs like J R Lobo seem to be voiceless and can only do not more than writing a letter of two or raising one off question in the assembly.

The War has begun. It remains to be seen the longitude and the manner it takes. Most importantly, it remains to be seen if at all the people of Kolar will see the droplet of water traversing through the pipelines and open canals into their fields, when will that be.

(The writer is a Former Senior Correspondent of The Times of India and a Social Activist)