Behind the Brutal Murder of an RTI Activist
Mangalore Today News Network
By Prof. Narendra Nayak
Mangaluru, March 25, 2016: The brutal murder of Vinayak Baliga who was an RTI activist and a contractor by profession has shocked the people of Mangaluru. This carried out by what appears to be a professional gang has left his aged parents and unmarried sisters distraught and helpless. He had made many enemies as those who stand for truth and probity in public life do. He had filed several cases against many powerful vested interests, lobbies and religious groups. A bachelor and a devotee of Venkatramana he would start his daily routine with a visit to the temple. Probably what he saw on the road on his way back and forth must have raised his hackles because he had seen gross violations of laws. For example there is a school complex in the area which would cause traffic blockages and the road in the residential locality was made one way at the behest of the owners of this educational complex. Again on the same road is a huge complex of hundreds of flats which should install its own sewage treatment plant but has not done so till date, and a host of such.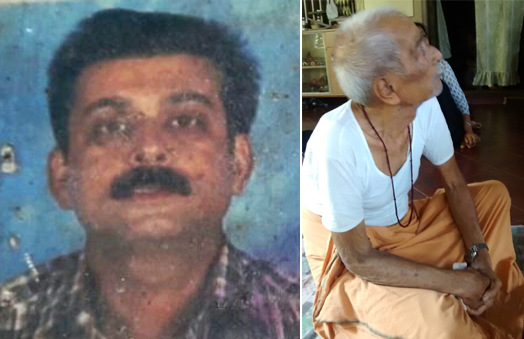 Vinayak Baliga and his father


This apartment complex has sewage leaking from its premises into the storm water drains as on 24/03/2016 at around 11 am as the photo shows. He had filed a number of complaints one of which had come up for hearing on March 24 at the office of the Corporation Commissioner. He had filed a number of complaints and cases against the irregularities at a Temple in Mangaluru. In fact he had made a number of allegations about very serious irregularities in the financial affairs of this Temple belonging to a very influential community. In fact two of his close friends who were co-litigants have refused to speak out about the issue as it looks like they too are in fear of their lives. The fear of the opponents of this activist is so much that people who know the facts have refused to go on record to say what they know about his cases.

It is also mentioned that he had filed a public interest litigation against the Mangalore City Corporation against the violation of building laws by a number of influential builders and others. It was also said that the High Court had directed the City Corporation to investigate and file a report within 30 days. We are waiting for the confirmation of that. One of his friends had informed me that though Baliga had given a copy of that judgment to the press none of them had the courage to publish it or looks like this lobby has suppressed it.

Though Vinayak Baliga was a fearless activist the members of his family were not so. His father who is 85 years old is now bedridden. As it is he was not keeping in good health and this untimely death of his son has totally shaken him up. Vinayak's mother is frail and is hardly in any condition to look after her husband. All his files have been taken by the police. Baliga had never informed his family members about his activities as it would cause them to worry. Naturally, they do not know much about what he was doing. His family members still rue the day when he was unable to take his father to the hospital because of the blockage of the main road by the vehicles of the nearby Sharada School and how the police made him take a diversion which was again blocked due to marriage at a nearby marriage hall. Following this, he had complained to the Commissioner of Police about making a one way road at a residential locality at the behest of the owner of an education complex on it. He had probed further into the affair and found that part of it was a unauthorized construction. It has been experienced by many that even the road in front of the school which is public property is treated like the private property of the school with their watchman regulating the parking there!

Perhaps such things and many more in this city which is the fiefdom of the moral police, the gangsters of various communal outfits, the dals and senas would have rankled this activist like they do for many of us. It was Baliga today, who next is the question before all of us who dare to raise our voices against the injustices of the system.