Bangalore-Mangalore-Cochin Highway Drug-Trafficking
Mangalore Today News Network
By Dr. G. Shreekumar Menon IRS (Rtd), Ph.D. (Narcotics)

Mangaluru, Jan 2, 2023: 'Ecstasy', a synthetic drug is the current craze among youth in Kerala. Ecstasy is the street name for the drug "methylenedioxymethamphetamine," or MDMAwhich alters mood and perception. This current Kerala sensation is bound to have 'pleasure-quakes' affecting Mangalore and Bangalore, due to the large presence of students from Kerala in these cities, which are also major educational hubs.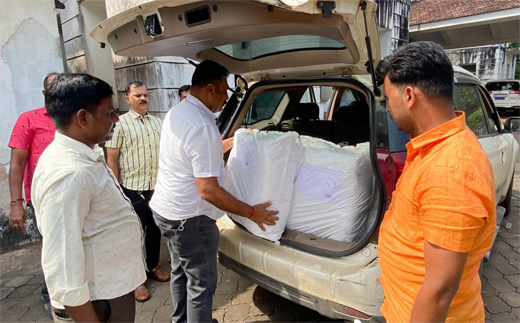 Mangaluru CCB police personnel unloading the seized cannabis (marijuana or ganja) on November 18, 2022


Year 2022, saw a series of arrests of drug peddlers by the Police for peddling ecstasy drugs, especially to the student population. Among the drug peddlers there were students also, who had entered into this ignominious trade. On February 24th, 2022, the Hon'ble High Court of Kerala, had delivered a verdict in the case of Ershad vs State of Kerala, rejecting the bail petition of a student studying B.Com in a Mangalore college. The accused student along with his accomplices were caught with MDMA and ecstasy pills, which they had procured from Bangalore, and had transported to Mangalore and from there to Ernakulam, for purposes of sale and profit. The modus operandi was to supply drugs to persons requiring the same and for this purpose, they would pack the drugs in small quantities as per requirements of the customers. For maintaining secrecy the drugs would be stored at certain places and thereafter the details of the same would be sent to the customers who would make payments over Google pay and other payment platforms. The bail application was rejected.

Transporting ecstasy drug from Bangalore to Mangalore by road is a common occurrence. In September 2022, CEN Police arrested a South Sudan national in Mangalore. Similarly in February 2022, Police apprehended three drug peddlers trying to sell Ecstasy, worth over Rupees twelve lakhs, to students near University College in Konaje. The accused had transported the ecstasy drug consignment from Bangalore.

A shocking revelation by the Police is that in Bangalore nearly 80 per cent of consumers of psychotropic drugs in the city are Keralites. Several Keralites involved in drug trafficking cases are currently serving jail terms in Bangalore. Many of them are below 20 years of age. Kerala police disclosed that the 409.67 gram of MDMA seized by the Thrissur city police in the year 2022 till October was brought from Bengaluru.All the 35 accused nabbed to date have direct or indirect connections with Bangalore.


In November 2022, Police in Bangalore raided a courier agency and recovered a doll stuffed with MDMA tablets worth over Rupees nine lakhs, and arrested two Kerala based drug peddlers, who were targeting Kerala students studying in Bangalore educational institutions.

All the above cases of just the year 2022 indicates a vibrant inter-state drug racket functioning with roots in Bangalore and Mangalore. The Mangalore – Bangalore highway has become a major route for transporting ecstasy drugs to student consumers.

Drug peddlers prefer to use highways instead of airports to avoid the tight security checks. Hence public transportation and private transportation are used for internal movement of drugs. Nowadays every interstate and highway can be used by traffickers to transport illicit drugs to and from distribution centers and market areas throughout the country, and as the highway networks spread across the country, every highway intersection will become an alternative route to drug markets.

Many cities and towns connecting Karnataka and Kerala live under the shadow of illegal consumption of drugs by youngsters.Daily reports of arrests of young boys and girls caught consuming drugs like ecstasy, heroin and cannabis is causing shock and disbelief. The high cost of the drugs being abused is another cause of concern, as parents keep speculating as to what kinds of illegal activities their children are into, to defray the drug costs.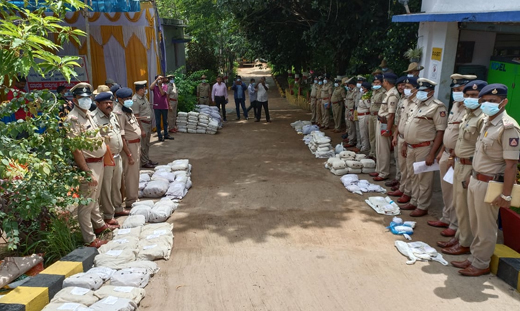 Dakshina Kannada police destroyed 53.128 kg of ganja and 120 gram heroin as part of International Day against Drug Abuse and Illicit Trafficking on June 26, 2022.


Another aspect of consumption of high value illegal drugs is that it undermines parenting. While parents can set rules for conduct in their own homes, the rules are hard to extend to distant educational hubs like Mangalore, Manipal and Bangalore where students are on their own leading a carefree life, in hostels or sharing apartments with classmates.Drug arrests and prosecutions are exceedingly difficult, owing to the absence of complaining victims and witnesses as also long winding legal processes. This emboldens and motivates youngsters to freak out on drugs in closed door private parties.

The ever widening legal judgements about freedom of choice, liberty, right to privacy means decreasing parental control. Instead of pursuing studies in right earnest, students are busy experimenting with artificial euphoria inducing synthetic drugs, live-in relationships, unwanted pregnancies and abortions, thereby ruining their future prospects of leading a peaceful life.

In such circumstances the Police have an intractable, ever growing problem on their hands. They are also wary about street-level narcotics enforcement as it is extremely vulnerable to various forms of corruption. Bribery, false witnesses, faked evidence, and abused human rights will inevitably influence street-level narcotics enforcement, which will be detrimental to the image of the Police force as a whole.This is the reason why many Police officials prefer on tracking and bringing to book high-level traffickers. But this is easier said than done, as Courts demand high degree of proof and evidence.

The time has come to revise laws relating to narcotics offences and make it more stringent.Effective enforcement depends on stringent laws as also visionary interpretation by Courts to protect future generations. Management of educational institutions should also be made fully accountable for the safety of their students, both within the campus and those residing outside campus, whether individually or collectively. Controlling the scourge of narcotics on the young generation needs to be the collective responsibility of parents, educational institutions, Police, and all elected representatives of that area. In the coming 2023, let the nation work in unison to tackle this Frankenstein.


---

Dr. G. Shreekumar Menon IRS (Rtd) Ph.D: Former Director General of National Academy of Customs Indirect Taxes and Narcotics & Multi-Disciplinary School Of Economic Intelligence India; Fellow, James Martin Centre For Non Proliferation Studies, USA; Fellow, Centre for International Trade & Security, University of Georgia, USA; Public Administration, Maxwell School of Public Administration, Syracuse University, U.S.A.; AOTS Scholar, Japan. He can be contacted at shreemenon48@gmail.com