An Agri Scientist and His Glorious Farm in DK
Mangalore Today News Network
By I. J. Saldanha Shet
Mangalore, July 19, 2013: On the main highway, 5 KM from Moodabidri to Karkala, connoisseurs of rare quality fruit and admirers of lovely nature frequently find their way to a famous 'farm' that is a jewel in the crown of local nature, sadly fast being ripped apart. This farm not only has a traceable family history of more than a Century, but it is a reputed cradle of research and reserve of community tradition and agriculture - it is a reality showcasing a unique intellect and history. The personality that shines through this great effort and inspiration is Dr.Livingston Chandramohan (L C) Soans. Now, near 80 yrs, Dr Soans signifies the principles and heritage of his father Alfred and his focused aims and aspirations blended with the cream of scientific education. The deep love, respect and admiration that this brain of 'SOAN's FARM' had for his ascendants (inclusive of the Basel Mission, original visualisers) resulted in this unique venture visible with integrity,honesty, scholarship and truth.


Giving light to Dr Soans views in brief: Standards maintained at his farms are higher than normal and quality fruits (and the exotic) and plant sources are at reasonable price. This model farm gives free hands-on training to people interested in development of modern farms. People from many places interested in farming come to observe, study and implement the methods. They get free demos, assistance, encouragement and more. The investment of considerable time of the Soans' is not wasted it seems. Children from schools visit in groups to study and be motivated in farming as a career option. This enhances the motivation for the GeNext to consider the road to Agriculture that is today less travelled as a professional option.
Often this farm is a launch pad for public awareness which is a vital need to keep our food chain stronger; the Soans' are ever ready to contribute the scarce resource to their fellow humans without discrimination in any way.

Dr L C Soans' father, Alfred Soans ( 1903-1981) is the last of 12 children of Gustav & Shanthi (who were traditional farmers in Pangala Gudde): Alfred studied Agriculture at the Allahabad Agricultural Institute - year 1928; and is instrumental in developing the Basel Mission Farm at Moodbidri. A pioneer horticulturist prominent in commercial cultivation of Pineapple in the region. Married Sushanthamma Joshua d/o Anand Joshua, well known folk of Shirva Manchakallu.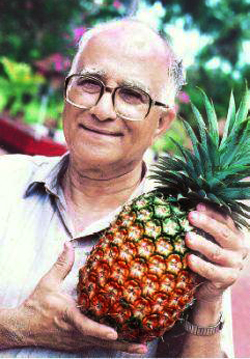 Dr L C Soans born 1934, had his basic schooling at Mission School, Jain High School and College education at St Aloysius College Mangalore and Christian College Madras (an ancient College in Chennai). With a valuable Masters degree from Madras University, he found it a practical to earn a Doctorate in Agro Research from University of Montana U S A, where he did a stint of teaching and rounded his education visiting prime agricultural stations in Europe. Dr Soans even at a ripe age now, when most fall a prey to many ailments, is seen bravely plowing on literally, spending most of his day on the farm guiding, motivating and working side by side with his dedicated workers (who are now rapidly dwindling); he is ably assisted to mange this farm as well as others since 1966, by his younger brother Irwin Soans (an expert fruit Technologist) who apart from his special education has been intensively trained at CFTRI Mysore. Dr Soans' third son Vinod Soans is a Post Graduate in Agriculture, and did a special stint on horticulture in Northern Australia, they are a vital part of the farm now and are the supporting pillars to continue the family traditions. Dr Soans says, "My dear parents Alfred and Santhamma, established the farm with great humane wisdom. I felt an obligation to develop this. Education was my forte, deeply desiring to be independent, agriculture was a base very suitable to me. As a born agriculturist and Botanist, I excelled in working with nature. I felt, it was a better way of serving my Nation and my neighbour than taking up a Government or University job an easy lucrative option for one with my exposure."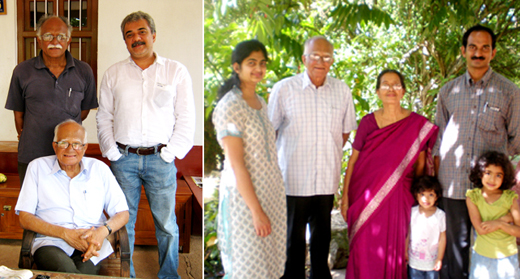 The farm excels in multiple crop combinations like coconut,pepper, and pineapple or mango,pepper and vanilla. Pineapple has been the major produce since Dr Soans' father's time in the early 1930s. Other produce are Cashew,Banana, Arecanut, Nutmeg, cinnamon and more. Ornamental and fruit nursery has been developed to a scientific level along with medicinal plants and herbs. To enhance the value and utility of the venture a canning factory functions which also contributes to better employment and fiscal well being locally. A holiday service for students and others learners gives a golden opportunity to those interested. A major effort is to introduce exotic produce from other parts of the world - e.g:Rambutan, Mangosteen,Durian,Dragon fruit, Langsat and so on. Efforts are made to maintain a Agri Museum - there is a lot more in the systematic pipe line.
Dr Soans' deep involvement in education and social development is vast. He is a trustee of several reputed institutions. He has served as President of the Rotary Club of Moodbidri. He is an adviser to Govt. run agricultural societies. His interest and experimental orientation in the health of his fellow beings and Extrasensory Perception (ESP) and dowsing for under ground water has benefited many local farmers and people. This study has lead him to the use of earth energies and their use in 'healing without drugs' and setting u exclusive structural aids such as: 'Lybrynths' ( fromEurope) 'Health Pyramid'(Egypt) 'Medicine Wheel(USA) and 'Spiral Energies' (like Chkras and mudras) are introduced to tourists and locals for holistic healing, on this Unique 'Soans' farm.A giant bamboo grove within the farm is a haven of peace and tranquility for nature lovers and attracts many locally and globally too.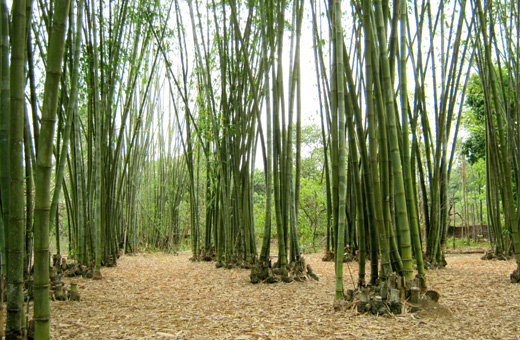 A great potential permanently has existed for agriculture, horticulture, especially Eco friendly horticulture, Eco Tourism and value based farming. Younger generation should be motivated to give peak importance to maintaining greenery, growing more plants and be lovers of the environment. Those who already possess or can afford buying a patch of agricultural land should give importance to Eco- friendly development that can produce fruits and vegetables and so on and strive to better the economy and ecology as well making humans respect nature and give it due value. "Take root downward, bear fruit upward".