A multi-faith temple to fight intolerance?
Mangalore Today News Network
By Bhamy V Shenoy

Mangaluru, Feb 4, 2016: Mangaluru area has the dubious distinction of being the most intolerant place in India in the last decade. By any reasonable criterion no place in India can even come close. This is really surprising when we look at its sociological indicators and achievements.

Our two districts (Mangaluru and Udupi) are some of the few 100% literate districts in India. We are the first to develop the concept of private professional colleges which have already produced world class leaders. A few of these colleges today are able to compete with some of the best managed government colleges. As a result we have the maximum number of professional colleges on a per capita basis attracting students from all over India.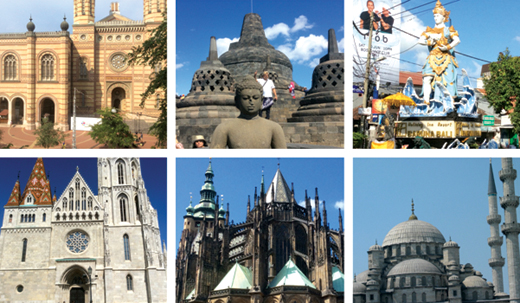 Synagogue, Buddhist temple, Hindu God, Orthodox Church, Catholic Church and Blue Mosque.

Till late 70s, we had the enviable distinction of communal harmony with people of different religions and castes living together peacefully. When I was growing up in Bantwal, I never heard of religious intolerance. Otherwise how can we explain the three successive victories of late Srinivas Mallya as member of parliament despite belonging to the minority konkani community? Unfortunately today, we figure on the national scene not for our achievements but for religious intolerance.

It is time that we start thinking of strategies to overcome this problem. Otherwise our two districts will lose the current economic, social and educational advantages. We have every possibility of achieving the distinction of having every family above the poverty line in our two districts. However if we do not solve the problem of religious intolerance we may end up with maximum percentage of families, who will be below the poverty line as in the Bimaru states.

One strategy to overcome religious intolerance is to start having multi-faith temples in each town of our two districts. This may sound like a far fetched impractical idea. Actually in different parts of the world, this idea in some minor form has already been implemented. What I am suggesting here is far more ambitious and can have far reaching impact.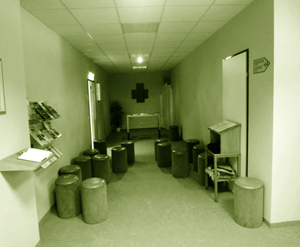 First Multi-faith room in Vienna Airport, 1988


The first known multi-faith space was provided in 1988 in an airport room in Vienna. Since then, airports, hospitals, prisons, universities, etc have created multi-faith worship areas where people from different religions can pray. When the first such room was established it was sensational. However today finding such a multi-faith room is common.

To be totally neutral and not to be seen as biased towards any religion these spaces had drab architecture. These spaces have failed to convey the basic unity of love in all the religions and are not attracting people to spend time there. Thus they have not been successful in bringing people belonging to different religions together. Perhaps that might not have been the objective of such multi-faith places. Today, they have become some kind of required areas. Andrew Crompton, after studying the architecture of different multi-faith structures all over the world concluded that mankind has not succeeded to convey the universal message of all religions and thus the multi-faith temple has remained as an elusive concept. But he may turn out to be wrong as discussed below.


In 2014, Bern, a cosmopolitan city in Switzerland became the first city in the world to have a multi-faith temple in the world. It was built not as a separate building intentionally. It is housed inside the residential and commercial buildings to be a part of the community. It is called as Haus of Religionen (House of Religions) where there is church, Hindu temple, Buddhist centre, Alevi cemevi, and mosque. Baha'i, Jewish and Sikh representatives are also part of this project. Thus this place has been serving the religious needs of eight religions. The person behind this project is Guido Albisetti, a person who does not attend any church but believes in God. The organizers were able to raise $11 million to construct this one of a kind multi-faith structure.
Drawing of House of One in Berlin with floor plans


Bern's House of Religions is followed by Berlin where they are planning to construct a 'House of One' which will include church, mosque and synagogue around a central meeting place. Architecture of the building from outside is neutral and has no resemblance to any of the temples of three religions. The House will be a place for Christians, Jews and Muslims and secularists including atheists to pray. The architecture for the House was conceived by Kuehn Malvezzi, an architecture company in 2012. Organizers hope to raise about $45 million to construct this unique structure only through crowd funding and complete it by 2020. The one I am suggesting for Mangaluru is more or less along these lines. Thus what I am suggesting need not be considered as impractical or outlandish.

Let us not wait for politicians to find solutions to the present 'intolerance' crisis. In fact it is because of their insatiable desire to win election by hook or by crook that we have this crisis today. If only they did not use religion and caste to win election, we would not have had this crisis in the first place. We should always remember how Jinnah ( the most secular congress leader by some of his colleagues) created Pakistan by using the most potent weapon of religion. He was dreaming that his Pakistan will become a secular place where people belonging to all religions can live together peacefully. Today it has become a dysfunctional state. If only they had visionary leaders, Pakistan could have avoided such a crisis today. Let us learn a lesson from them and avoid such a crisis here in our two districts.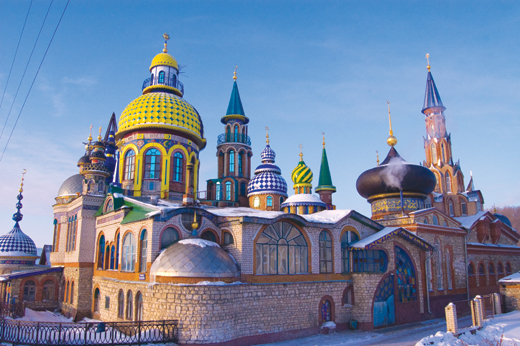 Drawing of Temple of All Religions' in Kazan, Russia


If we can build a multi-faith temple like the one in Bern and Berlin, it will become a holy place for humanity as was envisioned by our saints during the time of Ramayana and Mahabharatha and Greek Philosophers, Socrates and Aristotle. There were no religious concepts then like the ones we have today. The present religious concepts and principles have been interpreted to divide and rule (our colonial masters were experts and now the present political class follow them) rather than conveying the universal message of love. They believed in promoting the concept of oneness with the nature. A multi-faith temple designed imaginatively along the lines of Bern and Berlin incorporating the teachings of Mahatma Gandhi, Ramakrishna, Akbar, Sufi saints, progressive Popes, etc will result in promoting such a unique all embracing concept. It will demolish the walls that have been constructed by those religious fundamentalists who have failed to appreciate the real purpose of the religions preached by the founders of different religions.

Who should take the lead to construct such a multi-faith temple or house? Those institutions or leaders who believe in all religions should come forward. They themselves may practice their own religion. They should have the ability to raise funds to construct an architecturally attractive building. Such a multi-faith temple or house will remain as a symbol of communal harmony not only for our two districts but also for all of India. It is the rich temples, churches, and mosques along with the private colleges who have the ability for such a difficult task. It is also in their interest to build such a temple to bring back the religious harmony. I am sure that if the leaders of these institutions come forward, even ordinary persons will also be interested to support such a noble cause.

Multi-faith temple or house or space sounds like a simple and non controversial concept. However in reality it has not been the case. Multi-faith room of Vienna though got attention when first built, ended up as a non-event despite the fact today we have thousands of such halls over the world. But when House of Religionen was conceived in Bern, some muslim fundamentalists attacked the imam who had agreed to house the mosque there. In Wales some christians were critical of housing a church with prayer rooms of other religions. However today we have the phenomenon of "clash of civilizations" outside India. This has been brought about by groups like Islamic fundamentalists, ISIS. In India, our own political class are using religions and caste to win election. Time has come for humanity to search for strategies to neutralize them. Muti-faith temple is one such idea.

As is often said, even the longest journey has to start with a first step. Similarly to start any thing which will become a monument say like Taj Mahal in India or Hagia Sophia in Istanbul or St, Peters in Rome or Bahi'a temple in Haifa we need some one to lead it. In this case the best person is the deputy commissioner of Mangaluru district. After all he is the one who has the responsibility to maintain communal harmony in the district. Through this article let us request the DC to initiate the project of building a multi-faith temple to send a powerful message to the rest of India that Mangalurians have finally decided to bring down edifice of 'intolerance'.
---
Dr. Bhamy V. Shenoy has been a senior advisor to Center For Energy Economics, at UT, Austin and a board member and was an advisor of the National Oil Company of Georgia. Dr. Shenoy is an Advisor to Pratham Mysore an NGO involved in slum education and Board member of SVS College, Bantwal.
---