A Tribute to Mahathma Gandhi marking his assassination on Jan 30, 1948
Mangalore Today News Network
Jauary 30, 2016: Why was Gandhi killed? Those who killed him claimed that he was the greatest enemy of the Indian nation, and also of Hinduism. They had a particular picture of India, and of Hinduism, in mind and believed Gandhi to be an obstacle in the implementation of that picture.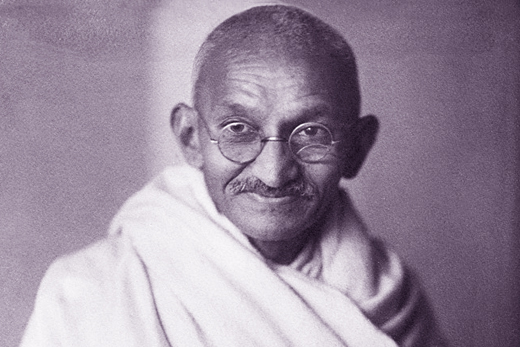 To get the facts straight, Gandhi was killed on January 30, 1948 by Nathuram Godse, directly assisted by Gopal Godse, Narayan Apte and Vishnu Karkare, all of them associated with Hindu Mahasabha. It is possible that more may have been involved in the conspiracy to eliminate him. Killing Gandhi was not a spontaneous, on-the-spot decision. Considerable preparation had gone into it. A bomb was thrown at his prayer meeting on January 20. It was suggested that, given the threat to his life, security at his meetings should be increased. But Gandhi refused to allow it on the ground that it would create inconvenience for common people who regularly attended his prayer meetings. He was completely against security arrangements that would separate him from his own people. Given the lack of these restrictions, it is surprising that such meticulous and comprehensive preparations were needed to eliminate Gandhi. It is quite clear that if somebody really wanted to kill Gandhi, it was not at all difficult to do so.

In retrospect, it seems difficult to believe why anyone would want to kill Gandhi. His life was dedicated to serving others. His activities were not against anyone in particular. For instance, he fought British imperialism, but was always friendly to the British people. He was convinced that the system of imperialism was bad, above all, for the people of England. They needed to be liberated from the evil of imperialism. In a famous appeal, Gandhi called on the British to get off the back of Indian people so that they could all walk together. Even though he maintained total opposition to anti-human ideologies such as racism, fascism, imperialism and - in the Indian context - communalism, he expressed love for the individuals and leaders practicing those ideologies. There was not a trace of any personal hatred or animosity in his speeches and writings. Gandhi truly practised and popularised the Biblical maxim: Hate the evil, not the evil doer. Given these traits, it is difficult to believe that someone, anyone, should want to physically eliminate him.



However, attempts had been made on Gandhi's life even earlier. He was assaulted twice in South Africa, in 1897 and in 1907, but survived miraculously. In India, a hand grenade was thrown at his car in Pune in 1934 in a violent reaction against his campaign to open wells, temples and public roads for lower castes. But the determination by some to eliminate him became much more sustained in the 1940s.

National unity of all the Indian people, cutting across religion, caste, language and region, was a mission with Gandhi. This mission of achieving national unity received a severe setback with the demand for Pakistan in 1940. Muslim League, under Jinnah's leadership, declared that Indian Muslims were not a religious minority, but a nation, and therefore entitled to their own separate nation-state. This extraordinary demand, for which there was no proof in history, was based on the famous two-nation-theory, according to which there was no single nation of Indian people. Rather there were two separate nations - Hindu and Muslim. Jinnah also asserted that there was nothing in common between Muslims and Hindus and that the two could not possibly live together in peace and harmony. Therefore, according to Jinnah, the only solution to the Hindu-Muslim problem was a physical and geographical separation of Hindus and Muslims, and their constitution into separate nation-states. The British government appeared sympathetic to this demand, purely for tactical reasons. Gandhi and other national leaders were quite taken aback by this demand. Gandhi called the demand for Pakistan a "basic untruth", perhaps the strongest word in his dictionary.

Life of Mahatma Gandhi:
Mohandas Karamchand Gandhi, known as 'Mahatma' (meaning 'Great Soul') was born in Porbandar, Gujarat, in North West India, on 2nd October 1869, into a Hindu Modh family. His father was the Chief Minister of Porbandar, and his mother's religious devotion meant that his upbringing was infused with the Jain pacifist teachings of mutual tolerance, non-injury to living beings and vegetarianism. Born into a privileged caste, Gandhi was fortunate to receive a comprehensive education, but proved a mediocre student. In May 1883, aged 13, Gandhi was married to Kasturba Makhanji, a girl also aged 13, through the arrangement of their respective parents, as is customary in India. Following his entry into Samaldas College, at the University of Bombay, she bore him the first of four sons, in 1888. Gandhi was unhappy at college, following his parent's wishes to take the bar, and when he was offered the opportunity of furthering his studies overseas, at University College London, aged 18, he accepted with alacrity, starting there in September 1888.

Determined to adhere to Hindu principles, which included vegetarianism as well as alcohol and sexual abstinence, he found London restrictive initially, but once he had found kindred spirits he flourished, and pursued the philosophical study of religions, including Hinduism, Christianity, Buddhism and others, having professed no particular interest in religion up until then. Following admission to the English Bar, and his return to India, he found work difficult to come by and, in 1893, accepted a year's contract to work for an Indian firm in Natal, South Africa.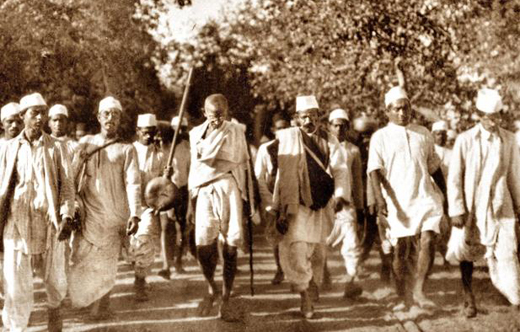 Although not yet enshrined in law, the system of 'apartheid' was very much in evidence in South Africa at the turn of the 20th century. Despite arriving on a year's contract, Gandhi spent the next 21 years living in South Africa, and railed against the injustice of racial segregation. On one occasion he was thrown from a first class train carriage, despite being in possession of a valid ticket. Witnessing the racial bias experienced by his countrymen served as a catalyst for his later activism, and he attempted to fight segregation at all levels. He founded a political movement, known as the Natal Indian Congress, and developed his theoretical belief in non-violent civil protest into a tangible political stance, when he opposed the introduction of registration for all Indians, within South Africa, via non-cooperation with the relevant civic authorities.

On his return to India in 1916, Gandhi developed his practice of non-violent civic disobedience still further, raising awareness of oppressive practices in Bihar, in 1918, which saw the local populace oppressed by their largely British masters. He also encouraged oppressed villagers to improve their own circumstances, leading peaceful strikes and protests. His fame spread, and he became widely referred to as 'Mahatma' or 'Great Soul'.

As his fame spread, so his political influence increased: by 1921 he was leading the Indian National Congress, and reorganising the party's constitution around the principle of 'Swaraj', or complete political independence from the British. He also instigated a boycott of British goods and institutions, and his encouragement of mass civil disobedience led to his arrest, on 10th March 1922, and trial on sedition charges, for which he served 2 years, of a 6-year prison sentence.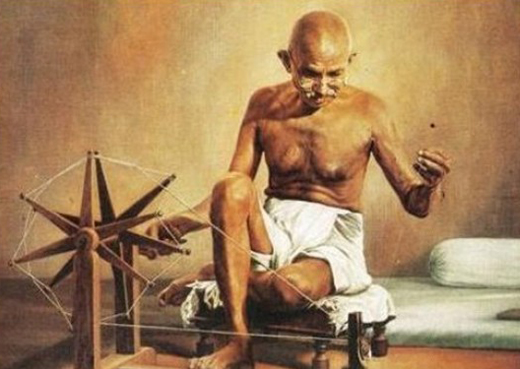 The Indian National Congress began to splinter during his incarceration, and he remained largely out of the public eye following his release from prison in February 1924, returning four years later, in 1928, to campaign for the granting of 'dominion status' to India by the British. When the British introduced a tax on salt in 1930, he famously led a 250-mile march to the sea to collect his own salt. Recognising his political influence nationally, the British authorities were forced to negotiate various settlements with Gandhi over the following years, which resulted in the alleviation of poverty, granted status to the 'untouchables', enshrined rights for women, and led inexorably to Gandhi's goal of 'Swaraj': political independence from Britain.

Gandhi suffered six known assassination attempts during the course of his life. The first attempt came on 25th June 1934, when he was in Pune delivering a speech, together with his wife, Kasturba. Travelling in a motorcade of two cars, they were in the second car, which was delayed by the appearance of a train at a railway level crossing, causing the two vehicles to separate. When the first vehicle arrived at the speech venue, a bomb was thrown at the car, which exploded and injured several people. No investigations were carried out at the time, and no arrests were made, although many attribute the attack to Nathuram Godse, a Hindu fundamentalist implacably opposed to Gandhi's non-violent acceptance and tolerance of all religions, which he felt compromised the supremacy of the Hindu religion. Godse was the person responsible for the eventual assassination of Gandhi in January 1948, 14 years later.

"I have not hurt anybody nor do I consider anybody to be my enemy, I can't understand why there are so many attempts on my life. Yesterday's attempt on my life has failed. I will not die just yet; I aim to live till the age of 125."

Placed under increasing pressure, by his political contemporaries, to accept Partition as the only way to avoid civil war in India, Gandhi reluctantly concurred with its political necessity, and India celebrated its Independence Day on 15th August 1947. Keenly recognising the need for political unity, Gandhi spent the next few months working tirelessly for Hindu-Muslim peace, fearing the build-up of animosity between the two fledgling states, showing remarkable prescience, given the turbulence of their relationship over the following half-century.

His birthday, 2nd October, is celebrated as a National Holiday in India every year.

Compiled by I J Saldanha Shet