5.2 Million Medical errors are happening in India Annually: Dr Girdhar J. Gyani
Mangalore Today News Network
Dr Girdhar J. Gyani, Director General, Association of Healthcare Providers (India), New Delhi, talks to ETHealthworld about the issues and challenges that exist in the current Indian healthcare system.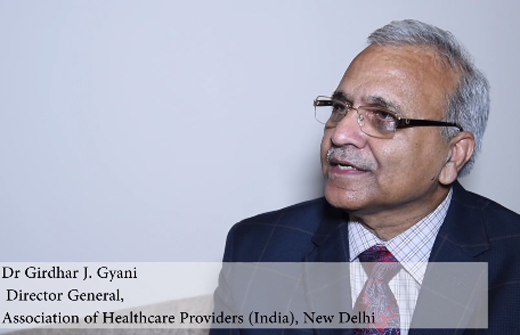 How do you see the healthcare scenario in India from patient safety point of view?

The subject of clinical outcome is very important. Healthcare has not been the priority for India and government as they have more priorities.

Healthcare has still not come to that stage where they invest money. Thanks to the private sector starting from 1980 onwards, now we are able to have 5% investment of GDP in healthcare- 1% from government and 4% from the private healthcare.

A Harvard study by Prof Jha shows that 5.2 million medical errors are happening in India annually. Similarly the British Medical Journal quoted that India like any other developing country is recording a lot of medical errors. The reason behind this is that we have not trained doctors and nurses to measure the clinical outcomes.

Our main focus is to treat patient and that is why we have really not been able to come out with a national index of clinical errors or medical errors. Now the National Accreditation Board for Hospitals which I founded in 2005 is actually collecting data from 350 hospitals from past 3 years.

Once this data is compiled we will be able to have a National Index and the rest of the hospitals in the country can be asked to benchmark and then we can say where we are in terms of other developing or developed countries.

What are the major issues and challenges that we need to focus on?

The issue now is that one rural sector is being dealt only by government because private sector is not in position to go to the rural side.

The shortage of doctors is the major issue and I am talking about the specialists. We have 50,000 MBBS graduates passing every year but we have only 18,000 post graduate seats, so every year these MBBS graduates compete for those 18,000 seats and remaining people keep on working as a junior resident.

Even the community health centre which is run by government has position of for specialists like MD, MS. So the government has to increase the post graduate seats which they are working on.

The other indicator is the Human Development Index in which we come somewhere around 188 world over and this is because HDI is based on education, healthcare and the capacity to earn.

Third and final issue is that hospitals and around 2/3rd medical colleges are in the south and western side of the India where only 1/3rd of the population resides. The 2/3rd population like UP, Madhya Pradesh, Orissa, West Bengal, Kashmir have only 1/3rd medical colleges.

So this is a big mistake we did for example in Tamil Nadu we have roughly 45 medical colleges in each state while in states like Rajasthan, UP and Bihar around 18-22. Here population is 2 times but the medical colleges are half so that is a big issue that we have not been able to take care of.

Why is affordable healthcare still a very distinct target to achieve?

All of us are today are taking about the affordability. Everyone is saying healthcare is very costly and this is because none of us budget for the healthcare.

Patient safety and affordability are linked but patient safety means good technology, good doctors, good medical protocols which we call standard treatment guidelines and these are missing in our healthcare scenario. So we must first focus on patient safety, we must measure hospital acquired infection rate, we must have surveillance on the infection and antibiotics policy and all doctors and nurses should be trained on infection control.

How can PPP model benefit the healthcare industry as a whole?

The primary health centres are mostly not running properly in state like Madhya Pradesh, Bihar, Orissa, West Bengal. Private sector is ready to take over the primary health centre on PPP model, provided you give them the budget.

The interest of private sector is that some patients from primary health centre will be referred back to their own hospitals. So its a win-win situation and that is the second solution to overcome the shortage of healthcare services in to the rural area.
Courtesy: Economictimes.com