íMakara Sankrantií festivities galore
Mangalore Today News Network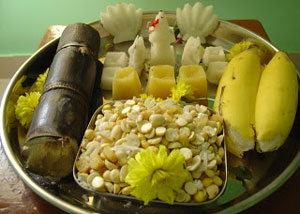 Mangaluru, Jan 14, 2016: The West coast belt is in a celebratory mood due to 'Makara Sankranti'. It is worth to take a look at this annual festival which attaracts a wide cross section of people here. Makara Sankranti is an Indian festival celebrated in almost all parts of the nation in unique and meaningful forms. Basically is a harvest festival.

Makara Sankranti we are told marks the transition of the Sun into the zodiac sign of Makara (Capricorn) on its celestial path. The day is also believed to mark the arrival of spring in India and is a traditional event. Makara Sankranthi is a solar event making one of the few Indian festivals which fall on the same date in the Gregorian calendar every year: 15 January, with some exceptions. It brings with it the happiness of getting new crops for farmers. It also symbolizes the end of the winter solstice which makes the day last longer than night.

Many in India relate this festival with the Winter Solstice, and believe that the sun ends its southward journey (Sanskrit: Dakshinayana) at the Tropic of Capricorn, and starts moving northward (Sanskrit: Uttarayaana) towards theTropic of Cancer, in the month of Pausha on this day in mid-January. Diverse communities have different names for it : It is Makar Sankranti: In Chhattisgarh, Goa, Odisha, Haryana, Bihar, Jharkhand, Andhra Pradesh,Telangana, Karnataka,Kerala, Madhya Pradesh, Maharashtra, Manipur, Rajasthan, Sikkim, Uttar Pradesh, Uttarakhand, Bihar, and West Bengal. Pongal, Uzhavar Thirunal: Tamil Nadu. Uttarayan: Gujarat. Maghi: Haryana, Himachal Pradesh and Punjab. The day before, people of Punjab celebrate Lohri. Bhogali Bihu: Assam. Shishur Saenkraat: Kashmir Valley. Khichdi: Uttar Pradesh and western Bihar. Makara Sankramana: Karnataka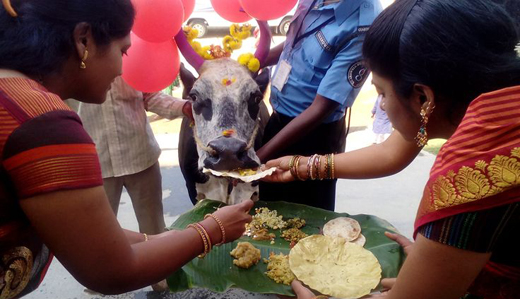 In Karnataka:
This is the Suggi (ಸುಗ್ಗಿ) or harvest festival for farmers of Karnataka. On this auspicious day, girls wear new clothes to visit near and dear ones with a Sankranti offering in a plate and exchange the same with other families. This ritual is called "Ellu Birodhu." Here the plate would normally contain "Ellu" (white sesame seeds) mixed with fried groundnuts, neatly cut dry coconut and fine cut bella (jaggery). The mixture is called "Ellu-Bella" (ಎಳ್ಳು ಬೆಲ್ಲ). The plate contains shaped sugar candy moulds (Sakkare Acchu, ಸಕ್ಕರೆ ಅಚ್ಚು) with a piece of sugarcane. There is a saying in Kannada "ellu bella thindu olle maathadi" (similar to the saying tilgul kha aani god bola in Maharashtra) that translates to 'eat the mixture of sesame seeds and jaggery and speak only good.' This festival signifies the harvest of the season, since sugarcane is predominant in these parts. Ellu Bella, Ellu Unde, bananas, sugarcane, red berries, haldi and kumkum and small gift items useful in everyday lives are often exchanged among women similar to the tradition in Maharashtra.

In some parts of Karnataka, a newly married woman is required to give away bananas for five years to married women (muthaidhe/sumangali) from the first year of her marriage and increase the number of bananas in multiples of five. There is also a tradition of some households giving away red berries "Yalchi Kai" with the above. In north Karnataka, kite flying with community members is a tradition. Drawing rangoli in groups is another popular event among women during Sankranti.

An important ritual is display of cows and bulls in colourful costumes in an open field. Cows are decorated for the occasion and taken on a procession. They are also made to cross a fire. This ritual is common in rural Karnataka and is called "Kichchu Haayisuvudu."

Kerala: Makara Sankranti is celebrated in Kerala at Sabarimala where the Makara Jyothi is visible followed by the Makaravilakku celebrations.