'Drug Courts' are needed for India
Mangalore Today News Network
By Dr G Shreekumar Menon

Mangaluru, April 1, 2021: Youngsters in large numbers are being apprehended by various enforcement agencies for different kinds of drug related offences. Whether the offences are 'small' or 'big', all have to undergo the ordeal of arrest/bail/prosecution proceedings, which can drag on for considerable periods of time, resulting in wastage of their entire youth. The stigma of a drug-case can cause denial of employment or loss of livelihood, marriage and even higher educational opportunities. Beyond the risk of addiction, individuals who use illicit drugs are at greater risk for a host of other health issues and problem behaviours. Consequences of drug abuse include elevated risk of injury, sexually and intravenously transmitted disease and infection, unintended pregnancy, substance-induced mental illness, reduced scholastic and work performance, violence, and other forms of criminal involvement. The net result can be very devastating for youngsters. This is a global phenomenon,of, youngsters ruining their lives because of involvement in drug offences. Many Western countries have devised a unique method to save youngsters who get involved in drug abuse. The question of whether persistent drug use represents a moral failure or a medical affliction has been a longstanding debate across the world. On the one hand, drug use is treated as a crime that must be punished; on the other hand, it is treated as a chronic relapsing disease or behavioural condition that requires ongoing treatment and support. The latter view is the inspiration for setting up Drug Courts, by Western countries.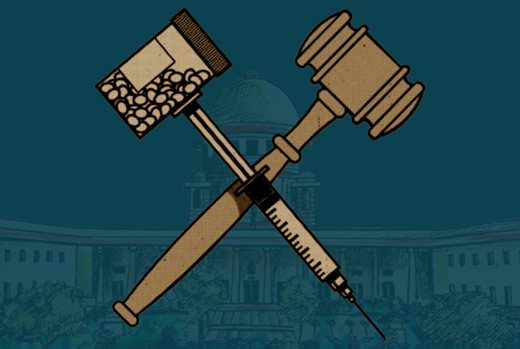 Drug Courts deviate in their approach and handling of cases, the predominant goal which is rehabilitation and not conviction. Drug courts are an innovative concept of problem-solving courts that take a public health approach using a specialized model in which the judiciary, prosecution, defence, law enforcement, mental health, social service, and treatment communities work together to help addicted offenders into long-term recovery. They emphasize a cooperative approach between the prosecutor, defendant and court, and they favour rehabilitation over jail. Successful completion of drug court programs can result in reduced charges or sentences, or dismissal of charges altogether.

Drug courts integrate alcohol and other drug treatment services with justice system case processing. The aim is to stop the abuse of alcohol and other drugs and related criminal activity through a coordinated response to offender's dependent on alcohol and other drugs. These courts are usually managed by a non-adversarial and multidisciplinary team including judges, prosecutors, defence attorneys, social workers and treatment service professionals. Support from stakeholders representing law enforcement, the family and the community is encouraged through participation in hearings.The primary purpose is to use the court's authority to reduce crime by changing defendants' substance abuse behaviour. In exchange for the possibility of dismissed charges or reduced sentences, eligible defendants who agree to participate are diverted to drug court programs in various ways and at various stages in the judicial process. These programs are typically offered to defendants as an alternative to probation or short-term incarceration. It helps participants recover from addiction and prevent future criminal activity while also reducing the burden and costs of repeatedly processing low-level, non-violent offenders through the Nation's courts, jails, and prisons.

The first Drug Court commenced operations in Sydney, Australia as a pilot program.Offenders receive an initial sentence, but the sentence is suspended, and they are to undergo a drug court program. Seeing the success of the program, a similar Drug Court was created in New York City in 1974 in response to the enforcement of the draconian Rockefeller Drug Laws, which overwhelmed the state's criminal justice system with an unrelenting spate of drug cases throughout the 1970s.

The first Drug Court in the United States took shape in Miami-Dade County, Florida, in 1989. Presently, all 50 US states and WashingtonD.C. have drug courts, with a total of more than 3,700 courts as of 2020. About 120,000 people are processed annually in thedrug courts, though an estimated 1.5 million eligible people are currently before the courts. Similar courts have been established in Canada, Australia, the United Kingdom, and elsewhere.

Drug courts depart from the practices and procedures of typical criminal courts. Prosecutors and defence counsels play much-reduced roles. Often lawyers are not even present during regular drug court sessions. Instead, the main courtroom proceedingsare between the judge and client, both of whom speak openly and freely in the drug court setting. Often accompanying the client is a treatment provider who advises the judge and reviews the client's progress in treatment. Court sessions are characterized by expressive and sometimes tearful testimonies about the recovery process, and are often punctuated with applause from those in attendance. Drug Courts represent the birth and evolution of a new judicial trendand isnow essential reference for courses in criminology, the sociology of drugs and deviance, and the philosophy of law and punishment.

At judicial level, Drug Treatment Courts (DTCs) are introduced to divert substance using offenders to drug treatment services. Although DTC's differ greatly with respect to, amongst others, inclusion criteria, procedures, treatment services, and treatment providers some key components can be distinguished: (1) alcohol and drug treatment and rehabilitation services are provided for the offenders (2) a non-adversarial approach and an ongoing judicial interaction is the standard approach (3) frequent alcohol and drug testing are compulsory (4) rewarding or sanctioning according to compliance, (5) monitoring and evaluation of program goals during multiple court hearings, and (6) strong cooperation between drug court, public agencies, and community-based organizations. Thus, Drug courts divert drug-involved offenders with less serious charges into treatment instead of prison.

Ever since they were first established in 1989 in Miami, Florida, drug courts have found political supporters on both the right and the left. Both sides want to cut costs, lower incarceration rates, and offer rehabilitation—and proponents of drug courts claim they do all three. It's unsurprising, then, to find that the drug court model has become wildly popular in the United States, so much so, in fact, that it's even become a part of U.S. foreign policy.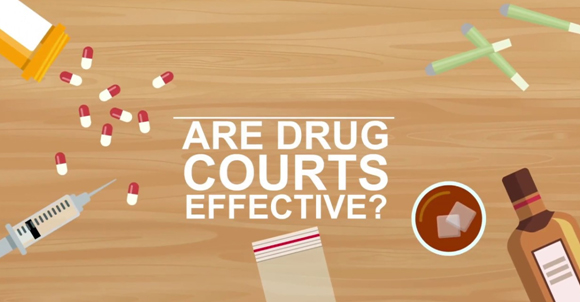 Drug Courts are held up as examples of Therapeutic Jurisprudence,which regards the law as a social force that produces both behaviours and consequences. Central to this normative perspective is the notion that – intentional or not – substantive rules, procedures, have therapeutic or anti-therapeutic effects. Therapeutic jurisprudence focuses on the extent to which law can be applied with a therapeutic emphasis without subordinating other core values of the justice system such as due process. Judge Peggy Fulton Hora and colleagues were the first to propose therapeutic jurisprudence as the drug court movement's jurisprudential foundation. Several scholars have since characterized drug courts as an illustration of therapeutic jurisprudence in action. The legal system acts as a catalyst for change for offenders by helping them understand the patterns of their destructive substance use and related behaviours, holding them responsible for those behaviours, and assisting them with the process of change.This approach is being employedby other "problem-solving" courts, in different parts of the world such as those dealing with domestic violence and mental health courts, where the role of the court has been similarly transformed.

However, drug courts are far from perfect. In fact, despite being one of the most heavily studied elements of the U.S. criminal justice system, the efficacy of drug courts is still a topic of intense debate.

The biggest benefit of Drug courts is that they help offenders recover from addiction and prevent future criminal activity while also reducing the government's burden and costs of repeatedly processing low-level, non-violent offenders through overburdened courts, and crowded jails. Hence,India also needs to set up a few Drug Courts, to save many youngsters who are getting enmeshed in the drug trap.

---

Dr. G. Shreekumar Menon IRS (Rtd) Ph.D: Former Director General of National Academy of Customs Indirect Taxes and Narcotics & Multi-Disciplinary School Of Economic Intelligence India; Fellow, James Martin Centre For Non Proliferation Studies, USA; Fellow, Centre for International Trade & Security, University of Georgia, USA; Public Administration, Maxwell School of Public Administration, Syracuse University, U.S.A.; AOTS Scholar, Japan. He can be contacted at shreemenon48@gmail.com