Mangaluru: "Lucy's" and women power contributing to the nation
Mangalore Today News Network
By I J Saldanha-Shet
Mangaluru, March 7, 2021: On March 6, 2021, 'Lucy's" outwardly another unassuming shop outlet, opposite the gate of the historical Rosario Cathedral on the ancient road to Hoige Bazar, quietly spearheaded by Ms. Cecilia Shresta ( nee' Mascarenhas), held a 'presentation' of their efforts in collaboration with Ms. Sabrina Hougard of 'Soulo Conversations' (a group of women empowering and motivating women); giving the much needed support were Dr.Kalpana Ashfaque Cauvery- women's branch of Lions and Ms Nirmala Pai of Inner Wheel (a branch of Rotary club). The presentation highlighted the work and effort to knit 172 sets of scarves / shawls and cowls from virgin wool for the heroic defence personnel on the freezing borders in the North East facing hostile enemies amidst the severe cold in heights of the Himalayas, to protect the millions of people in India in peace and happiness. Indeed the thought and action of this great effort here in Mangalore, 'unseen and unsung' is something to ponder on at this time when Women empowerment is celebrated on March 8. Indeed it is a contribution to take note, appreciate and emulate in some ways by one and all. 'Nari Shakthi' and 'Atma Nirbhar' echoed all over India comes into play in this yeoman effort in this coastal town of Mangalore, even amidst the many odds.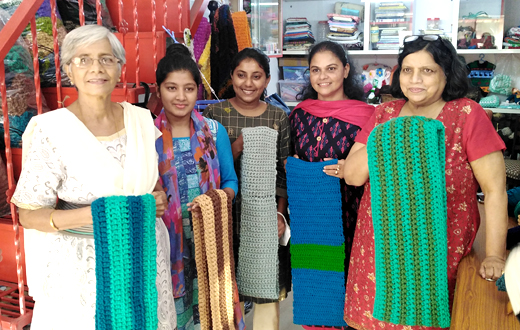 What is "Lucy's":
According to Cecilia Shresta - It all started in a small simple way in 2018 under her thoughtful quiet ideas soon after she returned from the USA and settled down among her ancestral roots in this part of the city. Passers by would generally not notice it - the sign board loudly says "LUCY's - Knitting, Crochet & Quilting - Classes and Sales ," within a couple of years it has really sprung into a multifaceted interest zone for many women students, house wives, social activists and a solace to many even during the times of the Pandemic. Now, woolies are not that one would really want and search for in a humid warm coastal city of this west coast. But, the potential created out of it where a service to the most heroic people of the nation is created is admirable. The fact that gradually many institutions and individuals came in to see and understood the "knit and pearl" concept 's popularity has taken an upward trajectory and promises to be a gradual launching pad for many good ideas and action. It will help people to know and contribute, even in small ways. These first 172 woolen sets will be transported to Bangalore from where the defence will arrange to send it to the right spots on the borders.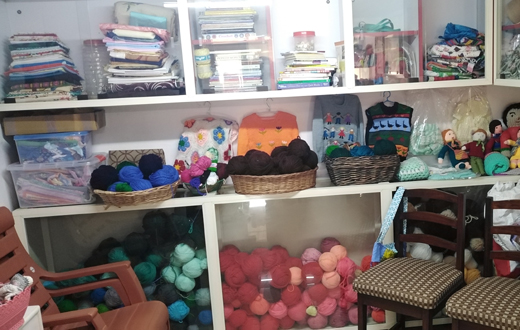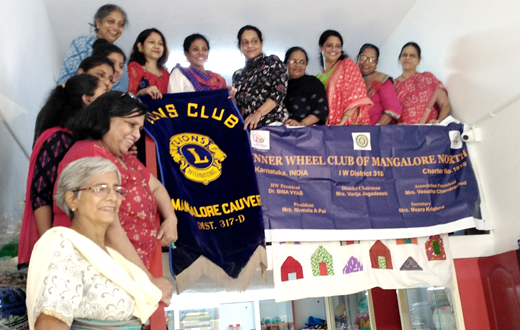 Ms. Sabrina Hougard of 'Soulo Conversations' explained that knitting and needlework may appear to be declining in popularity among the savvy IT NewGen it certainly is alive and even like old times, men play a solid role. This type of concentration on knitting regularly has a very constructive and positive impact on the brain, coordinating the hands and fingers, and patterned eye movements go a long way in mental well being and can prevent and control dementia and alzheimers and so on. elders kept aletert by this activity can improve their cognitive skills and remain in better mental health. On the other side of the coin, this is a very constructive and helpful Occupational Therapy in several cases and challenges.

The name "Lucy's" :
The chief protagonist that lends her dear name is first Cecilia's dear mother "Lucy Mascarenhas" (nee' Pais of M.Pais fame hailing from Urwa) who brought up a large family in Bangalore in times that were difficult. It seems her mainstay and deep interest was in Needle work, Crochet and Knitting to a very large extent. Lucy never shied away from passing on her ideas and skills not only to her children, but to many youngsters she took care of in the 1950s and 60s. She is a well known personality in the Konkani Catholic Community in Bangalore and Mangalore. This LUCY"s popularity will need pages to record here, so let us see it some time soon.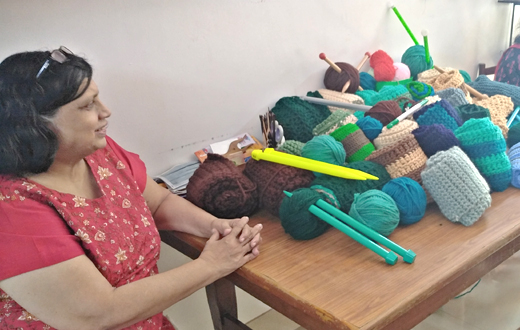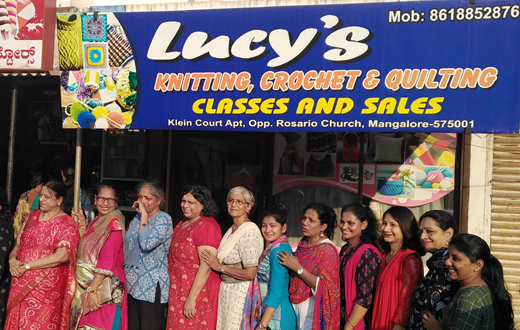 The second "Lucy" is Cecilia's husband Dr. Harold (Harry) Shresta P.hD's grand mother - Lucy Sreshta (1892-1960), the founder of Ladies Club now existing on the western slopes of Lighthouse Hill, Hampankatta, a renowned institution with unmatched service to mangalore the region and its people.

Lucy Sreshta , daughter of a prominent Govt official of the British times in Mangalore, hailing from a well known Saldanha Prabhu family with known roots. She was carefully nurtured and developed into a polished socialite who travelled far and wide with her husband Maurice Sreshta (1872-1952), who changed his surname from Pinto to Sreshta. He was elected vice chairman of the town municipality (1929) and later Member of the Legislative Council, Madras Presidency (1932). Ms Lucy, spent some time in London, England and was often referred to as "London Lucy". In founding the Ladies Club, she had a unique vision for Mangalore, her great love, like many of that era. Her ancestral home is the old classic (original name - Ingledon) manor house 'Roshni Nilaya' that the family gifted away, in 1960. They also had a farm in Manjeshwar and that was her great interest too, she was devoted to the cattle and farm till the end.

Indeed it is noteworthy that Mangalore is contributing in several spheres to the national effort and women here are positively to the fore. This expose is one example but there are many many more be sure. Let us be happy for this and seek ways and means to help people and our great country - INDIA.
Write Comment
|

E-Mail
|

Facebook
|
Twitter
|

Print