Joyful Christmas is here again
mangaloretoday.com
By I J Saldanha Shet
Mangalore, Dec 24, 2014: CHRISTIANITY was in the soil of the Indian sub-continent, even before it was in Europe. A few years after the death of JESUS THE CHRIST, His apostle Thomas, better known as 'Doubting Thomas' came to India and found the first Christians in what is now called Kerala and Tamil Nadu. However, the Portuguese missionaries are said to be the ones who sharpened and widened Christianity in Konkan and Canara where Mangalore is located. Mangalore and its Konkani Catholics have a special identity world wide and can be found in all the Nations of the world.
No records that Jesus Christ was actually born on 25th December exist . The Romans celebrated the 'Winter solstice' soon after 21st December, calling it "Natalia Invinci' (Invincible Birth). About the same time too was the ancient Jewish festival of light 'Chamukkah' which the early Church was pre-disposed to link with. Primarily Christian Church only celebrated Easter, Pentecost and Epiphany. Christmas was added in 320 AD by Pope Julius I. It highlighted the celebration of the Birth of Christ to illuminate and animate human life, and became the present day CHRISTMAS!!!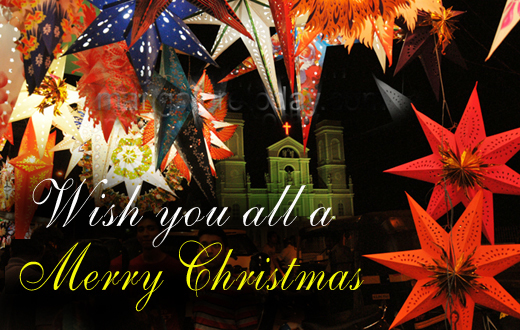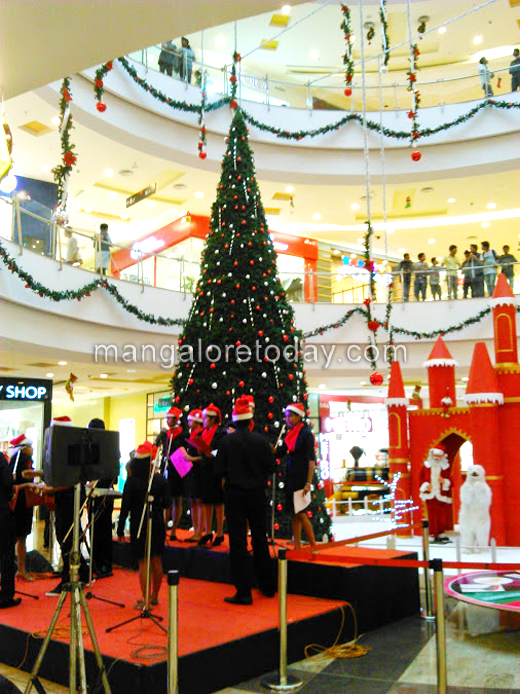 CHRISTIANITY IN SOUTH INDIA:

The Portuguese commander Albuquerque came with missionaries to Cochin in 1510-AD following Vascodagama's visit in 1498: the later Christians were followers of Latin dispensation. Good number of Konkanis / Saraswats, had migrated to the present Kanara. A fair number of the descendants of these Konkanis form the present Konkani Christian communities of Karnataka and beyond, now spread globally gaining on love for the local.

In January 1568, at the ancient Tuluva Port of Mangalore or Kudla, a few of the Konkanis accompanied the Portuguese traders from Goa to assist them in the spice industry. Gradually the earlier settled Konkanis too joined these into Christianity and branched out. This is the establishment of Konkani Christians in Kanara. Later between 1784 and 1799, this group suffered fifteen years of captivity at the hands of Tipu Sultan; it took some time for this group of industrious, intelligent people of integrity to bounce back. They were admirably supported by the local Tuluvas in tribute to their exemplary skills and contributions that bonded for harmony.

CHRISTMAS IN KARNATKA:

Within Karnataka the Christian mosaic is unique–main origins are Kanadiga, Konkani, Tamil, Malayali. This has set a rainbow of celebrations that welcome the new and respect the old; secular Bharat is vibrant. Common out-looks of modern mass mentality has brought in some common styles. Colonialism of the eras past, has added certain nostalgia that defines a certain shape to Christmas. A look at general traditions is captivating.
Karnataka main stream…. Malnad Shimoga, Bhadravathi and like areas dotted with born Kannada Christians, follow Christmas customs….. marking the 'Christu Jayanthi' Celebrations with social customs, delicacies, and ingrained habits identifying with their non-Christian fellow citizens, some with vegetarian delicacies and traditional local sweets and fashions. Tamil Christian settlers have original specialties. Those rooted in the Western Ghat areas by choice or convenience perhaps followed the Konkani majority.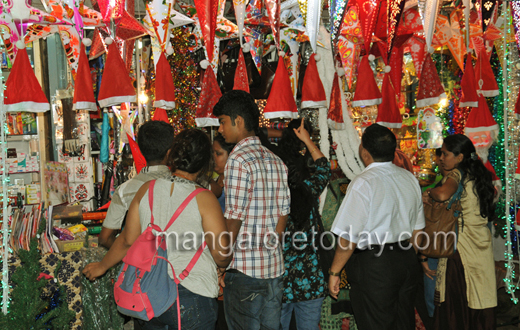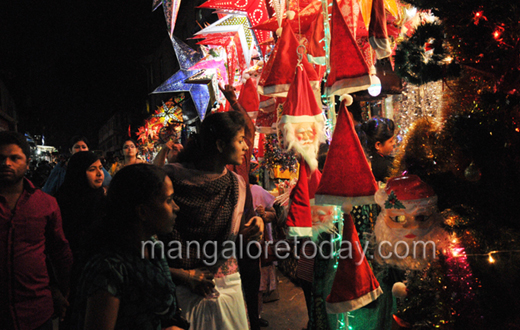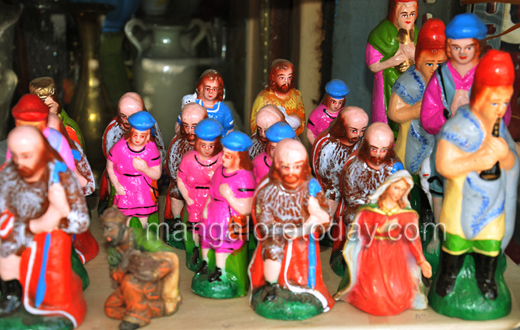 MANGALOREAN CHRISTMAS:

Konkani Catholics, hailing from Karnataka, are spread around the globe infinitely; their label for this season is 'Nathalache Festh' or Feast of the Nativity, steeped in nostalgia and sentiment. For many a long journey home is welcome. The thought of green coconut or Areca palm dotted gardens of joy along shores of the Arabian Sea and its water ways in a land called Kanara, from Karwar to Kasaragod and beyond in the hills is a miracle. Heart thumping for a special time with Mai & Aab (Grandma & Grandpa) the elders and relatives of all possible degrees. Children (now fewer), gleefully making plans for 'Nektr' (star) or 'Guddeep' (lantern) with bamboo or coconut sticks and coloured tissue, and decorations to match.

The big attraction-the elaborate 'CRIB' (Gardanache Gotto) with the young and old pitching in. A nice prominent spot, in the once sprawling garden it was a big affair-imaginatively hyped to heights of imagination,-Babe Christ's Bethlehem! The hills far on the desert horizon, green fields and palms, Sheep and Shepard, winding red roads with small streams, wooden bridges dotted with travelers, cattle and people, tiny homes and bigger inns…….the infinity of imagination without boarders. Not to miss the active fountains water falls strategically placed 'cowshed' with angels Joseph with Mary and tiny loved Babe Jesus in the manger a happy sight that unforgettably warms the hearts of beholders. Carols sung in Konkani,English and so on. Adoration to the heights!

This season is also peak of the Catholic Wedding season, Wedding venues and arrangements have to be booked more than a year in advance perhaps. Santa Claus, Christmas trees and new stylish clothes are still a big part of Christmas at several levels. Delicacies and food play a major role too. Wise knowing elders selecting the unique menu, the ingredients and making preparations for the season. The extended family lending hands to mix cake dough, knead and shape the 'Kuswar' - kalkals /kiddio, gulio (jaw breakers) rose cookies, coconut sweets, nevrio, guava cheese, tukdio, ginger/grape wine ….and much more! In the past made at home by loving hands, shared with family, relatives, neighbors and all alike was pride of the season.

Today Christmas is X'mas, and comes off the shelves of supermarkets and malls all year round. Weddings, get-togethers, visits, plays,picnics and fun-filled joint family activities are recalled by the now aged and aging. High density commercialization, development and transformed mind-sets of GenNext, has compelled the festive spirits to take newer forms and shapes. The spiritual part is only superficial - what matters more is the mall,the shopping, the partying and freaking out with booze and more. The nicer 'Good will' from the heart towards neighbour is pushed to the bottom. Greetings posted are rare with mobiles and Email and so on! The old rapidly vanishing, the face of Kanara and Greater Mangalore is radically on the path to change and globalization.

Rudyard Kipling thought, "East is East and West is West, and never the twain shall meet". Thought and behaviour in the new world is beyond imagination. There is an unstopabble beautiful duality and the comfort it could bring to the future is only controlled by the Supreme! So, let it not be a time for passing good will, hope that the NEW YEAR 2014 won't just be lucky for some but lucky for all, with special goodness for all ! How are customs and legends passing on to future.... …….? How will new replace old….? What will Karavali be in the New Years to come! Come what may A WISH THAT THE NEW YEAR 2014 BE REALLY HAPPY FOR ALL!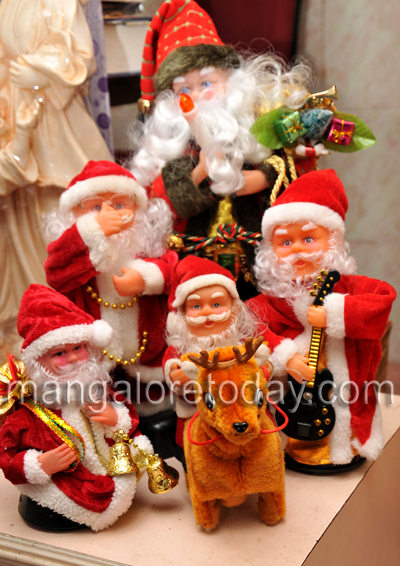 We wish you a Merry Christmas
and a Happy New Year.

Write Comment
|

E-Mail
|

Facebook
|
Twitter
|

Print