Failure to utilise UGD in Sullia irks DC
Mangalore Today News Network
Mangaluru, Dec 25, 2014: Deputy Commissioner A B Ibrahim expressed displeasure over failure to utilise UGD connections in Sullia Town Panchayat limits. The work on the UGD was completed five years ago. However, the authorities have not yet given connections from the houses to the drainage.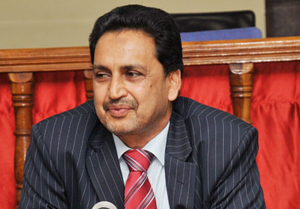 Chairing a review meeting here on Wednesday, the DC took Sullia Town Panchayat Chief Officer to task. The DC directed Pollution Control Board officer to submit a report on the release of sewage water to river and failure of the TP in scientific disposal of sewage, after spot verification.

The DC said "I had convened meetings thrice and directed to initiate measures to provide connections from the houses to the drainage. Basic facilities developed by spending crores of rupees, have been left unutilised.

If the authorities fail to initiate measures on the use of UGD facilities within 15 days, then I will take measures to file criminal case against the TP based on the report of the Pollution Board officer," he warned.

The DC also expressed displeasure at the failure of ULBs in earmarking land for parks and graveyards. He directed District Urban Development Cell Project Director Takat Rao to look into the issue.

"The concept of Swaccha Bharath Abhiyan is not complete if the local bodies initiate the cleanliness drive once. It should be a continuous process," he said.
Garbage collection

MCC in-charge Commissioner Gokuldas Nayak said that Mumbai-based company will take over solid waste management in the city from January. Two package system of solid waste management will be introduced in the MCC limits to maintain cleanliness.
"Garbage will be collected from 1.15 lakh buildings.

The company has purchased 55 tippers and 10 compactors for the purpose. An action plan has been prepared for the movement of vehicles to collect garbage.

The contractor will also purchase machines to sweep the streets, clean the dividers, cut the vegetation and other sanitation work.

The new package will costs Rs 18 crore to the MCC. The households need not pay for the garbage collection, said MCC Environment Engineer Madhu.

The DC said that the MCC should initiate measures to create awareness on two package system for the collection and disposal of garbage in the city limits. Pamphlets containing information on the new system should be distributed.

The MCC should deploy supervising officers to each ward to monitor the work. He directed the MCC officials to obtain temporary registration for garbage collection vehicles so that the new system could be brought into effect from January itself.

The DC also directed the officials to accelerate the work on vented dam at Thumbe.
Observing that online updation of utilisation of funds for the development works has been carried out by a few TPs and CMCs, he directed the urban local bodies to utilise the funds and furnish details to the finance department or else the department will withdraw funds for the next year.
Courtesy: DHNS
Write Comment
|

E-Mail
|

Facebook
|
Twitter
|

Print