Satyendar Jain on oxygen support after he collapsed in Tihar jail washroom
Mangalore Today News Network
New Delhi, May 25, 2023: Former Delhi Health Minister Satyendar Jain was on Thursday put on oxygen support after he was admitted to LNJP Hospital in Delhi.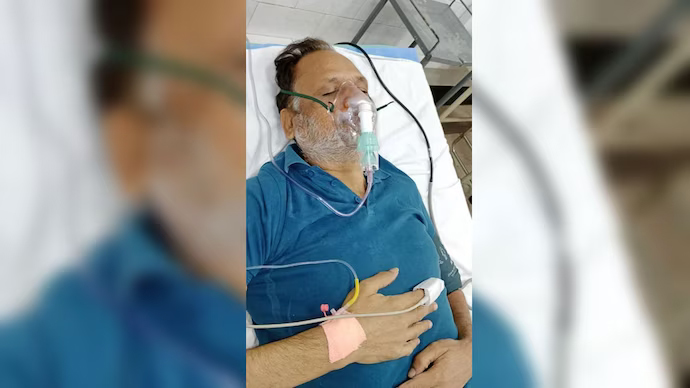 Jain, who had collapsed inside the washroom of the Tihar jail today morning, was initially admitted to Deen Dayal Upadhyay Hospital. He was later shifted to LNJP Hospital.

This was the second time in the past week that the former Delhi health minister was taken to the hospital, following health complaints.

According to the DG, Tihar jail, Satyendar Jail, who is lodged at cell number 7 on the prison premises, fell down inside the washroom at nearly 6 am on Thursday.

He was rushed to a hospital, where he will undergo several medical tests, he said.

The DG also said Satyendar Jain is due to undergo a spinal surgery.

Another official at the Tihar jail said Jain was kept under observation after he complained of weakness.

His vitals were found to be normal, the official said, adding that the former health minister also complained of pain in his back, left leg and shoulder.

Earlier, sources with AAP had said Jain has lost nearly 35 kgs weight since he was arrested in a corruption case last year.

JAIN WAS EXAMINED AT HOSPITAL LAST WEEK

On Monday (May 22), Jain was examined at Delhi's Safdarjung Hospital for a spine problem. The development came after he was initially taken to Deen Dayal Upadhyaya Hospital on Saturday, but wanted a second opinion on his health.

"Jain visited the neurosurgery OPD in the morning and after being examined by the doctors there, he left. He was accompanied by police," a spokesperson of the Safdarjung Hospital told PTI.

Delhi Chief Minister Arvind Kejriwal had also shared a photo on Twitter that purportedly showed an emaciated and frail-looking Jain sitting in a chair at the hospital and two police personnel standing there.

"I pray to god for his better health. The people of Delhi are watching the arrogance and atrocities of the BJP. Even god will not forgive these oppressors. In this struggle, the people are with us and god is by our side. We are followers of Bhagat Singh and our fight against oppression, injustice and dictatorship will continue," he tweeted in Hindi.
Courtesy: India Today