Priest kills 30-year-old lover, dumps body near temple in Hyderabad
Mangalore Today News Network
Hyderabad, June 10, 2023: A married priest, identified as Ayyagari Sai Krishna, was booked on charges of killing a woman and dumping her body in a drainage behind the Registrar's office in Telangana's Saroornagar.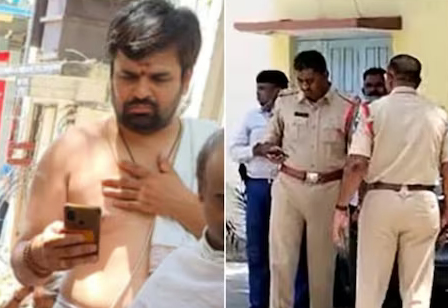 The incident came to light after Sai Krishna himself filed a missing complaint, claiming that he had dropped the victim, Kuruganti Apsara, at the Shamshabad bus stand as she was planning to travel to Bhadrachalam. He further stated that she had not been responding to any calls since then and had been missing since May 3.

In his complaint, the man claimed the woman in question was his niece.

However, as the investigation progressed, the police grew suspicious of Sai Krishna's account after CCTVs and other technical data were searched.
Subsequently, during questioning, Sai Krishna confessed to the crime, revealing that he had killed Apsara.

According to the police, Sai Krishna was already married and had two children. However, he had been involved in an extramarital affair with Apsara.

According to Sai Krishna's confession, Apsara had been pressuring him to marry her.

Therefore, Sai Krishna resorted to murdering her.

According to the police, the accused killed Apsara in Shamshabad and then packed her body in a plastic cover before transporting it to Saroornagar. He threw the body into a manhole behind the MRO Office, close to the temple where he served as the priest.

A case was registered against Sai Krishna and further investigations into the case were underway.

Courtesy: India Today