Every time a girl child is born, this village in Rajasthan plants 111 saplings; here's why
Mangalore Today News Network / News18
October 17, 2023: We come across news every single day about women being raped, girls being harassed or tortured, female infanticides and several other incidents. However, the village of Piplantri, which is tucked away in the Rajsamand region of southern Rajasthan, is a leading example in promoting the rights of girls and reviving the environment at the same time. The people of Piplantri plant 111 saplings for every female born, and the community looks after them to ensure they grow and provide fruit when the little girls get older. Yes, you read that right.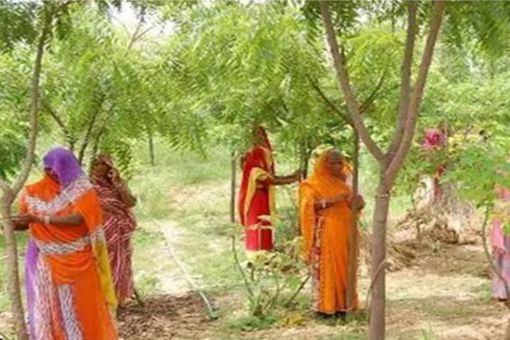 Piplantri village has adopted a custom that helps the locals as well as the environment, in a nation that still prefers the birth of sons. With each new girl born, 111 saplings are planted in this endearing community – which is an attempt to protect both the environment and female children.

The rest of the world, including India, should be inspired by this excellent example of eco-feminism.

Piplantri: A Village In Rajasthan And The Idea Behind Planting Saplings

Piplantri is a hamlet in the Indian state of Rajasthan, situated in the Rajsamand district. Every time a girl child is born, the people of Piplantri plant 111 saplings, and the community makes sure these trees live and bear fruit as the girls grow older. After a female child is born, the villagers pool their combined contributions of Rs 21,000, take Rs 10,000 from the parents, and place it in a fixed deposit that can be withdrawn when the child turns 20 in order to secure her financial stability.

Furthermore, the villagers force the parents of the girl child to sign an affidavit prohibiting them from marrying her off before she reaches the legal marriageable age in order to ensure that she obtains an appropriate education.

This effort was initiated by a former sarpanch (village head), Shyam Sundar Paliwal, in remembrance of his daughter Kiran, who passed away years ago. Currently, the Piplantri community has become an oasis thanks to the 2006 project. Also, the economy of the village has benefited from the project as well.

The hamlet has surrounded the fruit-bearing trees with more than 2.5 million Aloe vera plants to ward against pests. The people gradually discovered that there were several methods for processing and selling aloe vera. As a result, the community now manufactures and sells goods made from aloe, including juice and gel.

This has been a long-standing practice in this community for fifteen years, which has contributed to the growth in greenery.
Write Comment
|

E-Mail
|

Facebook
|
Twitter
|

Print