Cat's sensational belly dance is the best thing on Internet today, Watch
Mangalore Today News Network / News18
September 08, 2023: Belly dance, known for its graceful movements, has long been perfectly nailed by humans, especially women. But what if we told you that animals have also taken centre stage in this dance form? A video gaining popularity on social media features an astonishing performance by a cat, effortlessly executing the intricate movements of belly dance with adorable perfection. Don't believe us? See it for yourself. The video was shared on Instagram by the page Cat Worid, with the caption, "Shake that booty."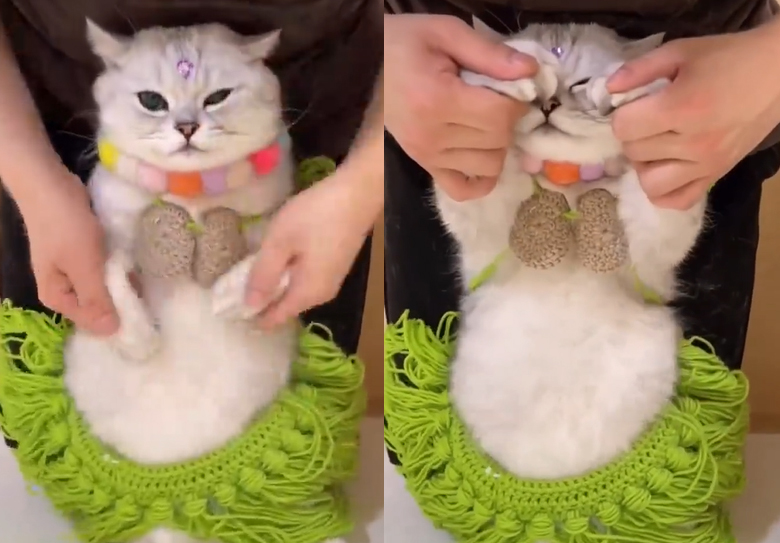 In the video, a white cat steals the spotlight, dressed in a charming crocheted green skirt, complemented by a striped brown and green top. Adding to its ensemble, the feline adorns a multi-coloured necklace and a regal purple stone on its head. As the rhythmic beats of music set the tone, the cat gracefully engages in belly dancing, flawlessly synchronised with the assistance of its human companion. The result is an irresistibly adorable performance that attracted social media viewers.
The video has garnered an impressive 12.4 million views. Internet users were enamoured by the charming cat's dance moves and expressed their admiration in the comments section. Many showered the feline performer with laughter emojis.

An individual said, "Le the cat - let me sleep." While another wrote, "I'm sure the owner probably takes good care of and loves the cat. Dressing him up once is not necessarily abuse, people do the same to their kids. Also, it seems the cat thinks he's getting a massage, otherwise, he'd run away. (Cats do what they want."

"Eeep is so good at belly dancing," wrote a user.

In another video, a dog's dance in the rain caught the internet's attention. The footage captures the dog's boundless enthusiasm and unbridled happiness during the rain. As raindrops cascade down and the path transforms into a miniature river, the dog leaps and twirls with sheer delight, showcasing its profound love for the rain. With every exuberant jump, the dog's paws playfully splash through the water, creating a delightful spectacle that's guaranteed to bring a smile to your face.

Shared on June 3, the video has garnered 39.9k views. The video struck a chord among users. Witnessing the dog's happiness, many of them shared their reactions in the comments section.
Write Comment
|

E-Mail
|

Facebook
|
Twitter
|

Print