Hangyo Ice Creams Pvt. Ltd gets Business Excellence Award-2022-23
Mangalore Today News Network
Mangaluru, May 18, 2022: Coastal Karnataka's pride, Hangyo Ice Cream Pvt. Ltd. gets Business Excellence Award-2022-23 in Premium Range Ice Creams for their 'YO' brand series. Manjunath SS. VP Sales received the award from actress Diya Mirza at the award function held at Four Seasons Hotel, Bengaluru.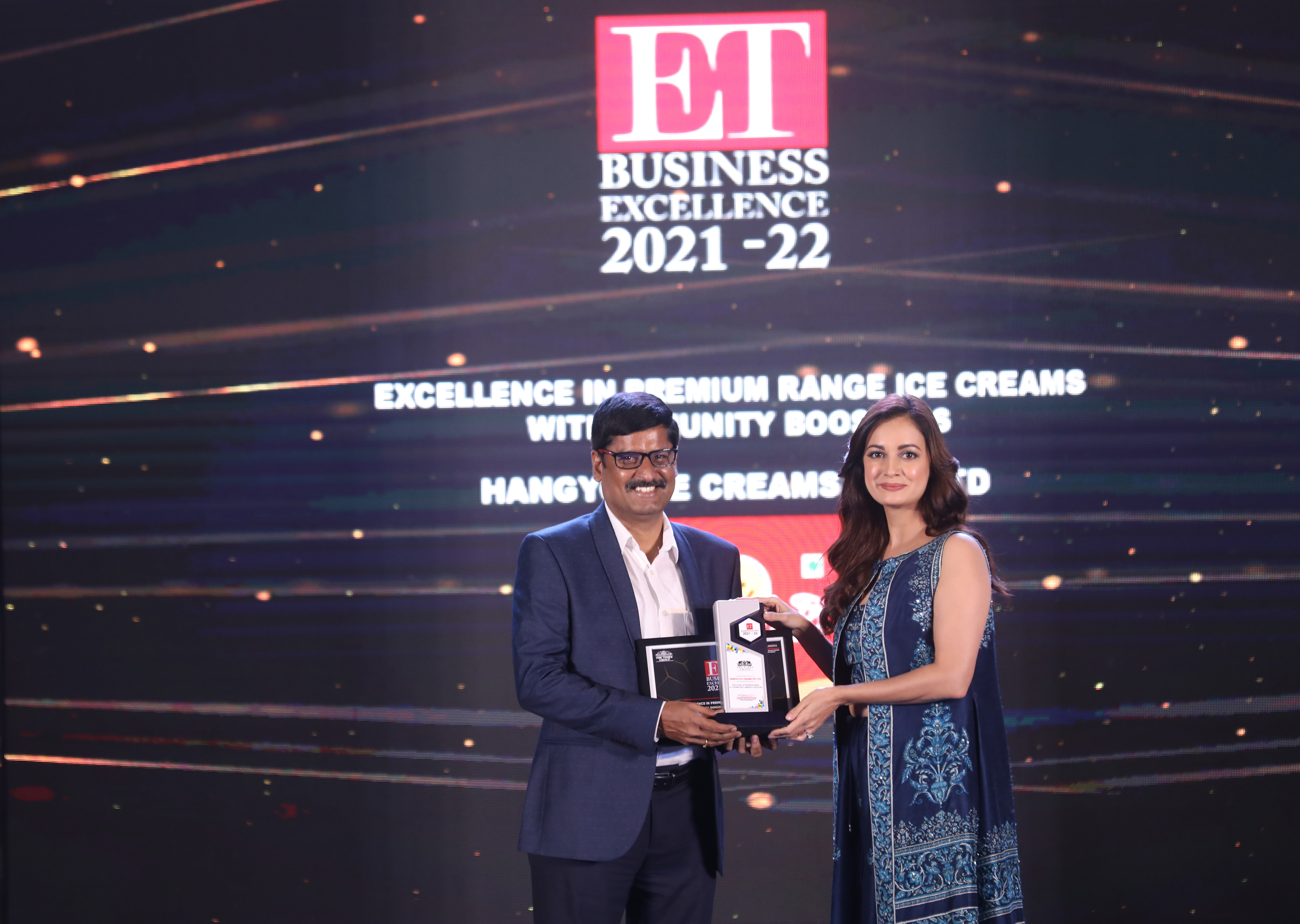 Hangyo launched The Super-Premium 'YO' brand Ice creams in Mumbai in March 2020 which are now on the top of every gourmet's dessert list!. Made from milk and cream, the YO range is fortified with nutrients like Omega-3, 6 and 9 with 14% fat while ensuring great taste and quality in premium packs. The super-premium brand of Hangyo 'YO' has seven stellar flavours- Brownie Fudge, Choco-Hazelnut (a unique combination of premium chocolate and the crunchy Hazelnut -this combination is one among the firsts), Shahi Meva Malai (creamy and so milky that you can taste the freshness), Almond Rocks (nutty and crunchy), Rose Petals (highly aromatic and sprinkled with enchanting rose), Saffron Carnival (true strands of saffron), Caramel Crunch (soft Ice Cream with blasts of crunchy caramel).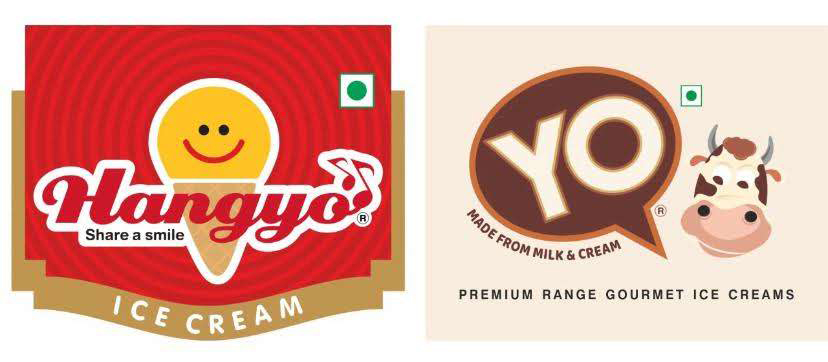 A quiet revolution of innovation and in Ice cream making had been happening since 1997 when the first 'softee' ice cream vending machine arrived on Karnataka's coastal city of Mangaluru. The outward-looking brains of Mr. Dinesh R Pai and Mr.Pradeep G Pai , Promoters of Hangyo Ice Cream and their team, the odyssey of innovation has gone overdrive to reach new destinations. Adjectives will not adequately describe the growth trajectory of Hangyo Ice creams. In a total number of products, the Hangyo has surged ahead of many MNC brands, in terms of consumer reach and satisfaction, it has no parallel.

Backed by a legacy of over 25 years, Hangyo Ice Cream has firmly established its position in South India's ice cream industry. The brand takes pride in being one of the few players in the business to offer pure milk-based ice cream.

Diversifying from dairy, which was group's core business area, Hangyo launched their first facility to manufacture ice cream in 2003, in the coastal town of Udupi in Karnataka. They have 2 state-of-the-art ISO: 22000-2018 certified manufacturing plants in Heroor, Udupi Taluka and Kirwatti, Yellapur Taluka in Karnataka, with a production capacity of 70,000 litres per day. Hangyo enjoys presence across the states of Karnataka, Goa, Kerala, Maharashtra, Andhra Pradesh, Tamil Nadu , Telangana and Gujarat. The brand is supported by a network of over 350 channel partners and 16,000 retailers across 8 states. Backed by strong manufacturing and distribution, Hangyo seeks to penetrate further across South India and emerge a national brand in the next 5 years.

Hangyo has earned the loyalty and patronage of their clientele by ensuring uncompromised Services, Good quality and competitive pricing. The brand upholds the quality of their products by ensuring handpicked ingredients from the best sources. All products are 100% vegetarian and come with a shelf life from 6 months to a year.

Today, Hangyo offers an extensive range of over 60 flavours across 160 SKUs (Stock Keeping Units). The in-house R&D team innovates constantly, and takes pride in introducing around 3 new flavours every quarter! The ice creams are tested through market influencers and well-wishers ahead of launch.

Over and above the classic flavours like Vanilla, Chocolate, Strawberry and Butterscotch, the brand is renowned for its ice creams with real fruit pulp, dry fruits, nuts and more. Hangyo has earned rave reviews for their fresh Chiku, Pink Guava, Sitaphal , Alphonso Mango and Anjir ice creams.

The ice cream brand has recently launched the interesting flavours of Kalkatta Paan Kulfi, Rose Kulfi, and Blue Jelly Cotton Candy. For the health conscious, they offer Vanilla, Coffee and Kesar Almond sugar-free ice creams, with no compromise on taste.

Research on flavour, product improvement, branding is an ongoing affair at Hangyo. Two of its products will go down in the history of the Ice cream industry as the first Vegan Ice Cream. Coconut and Choconut are the products that are the results of high-quality scientific inputs with the collaboration of Central Plantation Crop Research Institute.

In a market ridden with competition from heavy weights, Hangyo has successfully managed to carve a niche for itself and establish its position as a leading ice cream brand of South India. The 19 year journey of Hangyo has been marked by several key milestones including winning numerous prestigious awards namely The Udyog Bharati Award in 2003, The Indus Entrepreneurs Award (Hubli Chapter) in 2014, SME Excellence Award by KCMBOA in 2015, Fastest Growing Brands Award by WCRC Mumbai in 2016, 6 National Awards by Dupont Nutrition & Health and Indian Dairy Association in 2017, Business Excellence Award by IBC in 2019 and Outstanding Contribution Award for Developing Coastal Karnataka as an Ice Cream Goblet of India in 2020. The brand will soar to reach greater heights as it continues to tantalise taste buds.

Write Comment
|

E-Mail
|

Facebook
|
Twitter
|

Print