AICU - All India Catholic Union Panaji / Mangaluru- Awards announced
Mangalore Today News Network
Mangaluru, Sep 22, 2022: AICU is honoring two unique social activists, apart from an Everester, a national gold-medalist Karnataka athlete, an eminent Jurist, the apex body of Catholic Bishops, and two of its own past National Presidents at its AGM in Goa on 1 October.

A simple rickshaw driver who created a unique shelter home for the destitute takes pride of place in a galaxy of women and men found worthy of recognition by the 103-year-old All India Catholic Union. The AICU is in Goa for its first physical meeting after the Covid pandemic.

The awardees are Snehalaya Shanti Dham founder Mr. Joseph Crasta; gold medalist high jumper Flavisha Velisha Monteiro and Arunachal Pradesh's Tagit Sorang Abraham who has summitted Everest multiple times win special awards for their outstanding feats. Others awarded by the Union are social activist Ms. Corrine Antoinette Rasquinha, and the noted jurist Mr Justice John Michael D'Cunha.

While the Catholic Bishops Conferences of India has been cited for a special award for its stewardship of the church in India, the AICU has honoured for their lifetime services to the Union and the church two of its past National Presidents, Dr Maria Emelia Menezes, the eminent educationist and industrialist, and eminent writer and human rights activist.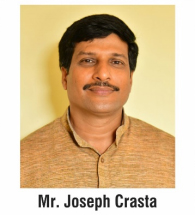 Joseph Crasta's is a journey rarely seen. On 26th August, 2009, the birthday of St. Teresa of Calcutta, Crasta, a poor rickshaw driver with a family to look after, started a shelter for the homeless under the banner of "Snehalaya". In just 13 years, with his share of ancestral property and help from friends, he has seen Snehalaya now boast of separate Psycho-social Rehabilitation Centers for men and women, 'Snehalaya Shanti Dham', a home for the aged, and 'Snehalaya Mannat', which provides daily midday meals to over 700 caretakers of patients and runs a free ambulance emergency service.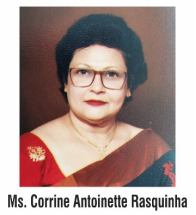 AICU Community Award winner Corrine Antoinette Rasquinha too has taken a leaf out of the Saint of Kolkata in caring for maggot invested sick, also rescuing since 1992. She started with her own funds, and in time had a home for disadvantaged and single parent children. Over 160 young people have benefited from her work.


For Justice John Michael D' Çunha, many of the cases brought before him have been of high profile politicians. His honesty and integrity, specially while sitting as judge of the special court to deal with over 216 criminal cases against MPs and MLAs from Karnataka, are part of contemporary history. Prominent among the cases before him as Judge of Karnataka High Court was of Sadhvi Uma Bharati, the then Chief Minister of Madhya Pradesh in 2004, which ultimately led to her resignation as CM and the judgment in the disproportionate of assets case against the then Chief Minister of Tamil Nadu Ms. J. Jayalalitha in 2014.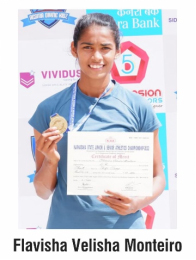 Young National gold medalist high jumper Flavisha Monteiro has sports in her genes, but her career was honed under coaches Balakrishhna and Harshini Kumari. The daughter of Felix Monteiro ad Flavia D'Souza, Flavisha is studying law at the SDM Law College, Mangaluru. She first participated in the National Junior Athletics Championship 2016 held at Coimbatore, Tamil Nadu.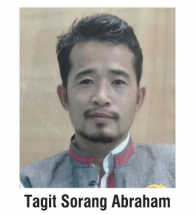 For Tagit Sorang Abraham, the only double mountaineer from the state of Arunachal, basic mountaineering training in 2013 from National Institute of Mountaineering and Allied Sports soon led to his first expedition to Mt. Kungto in 2017, Mt. Chiumo base exploration in 2018, Pre-Mt. Everest Expedition in 2018 at a height of 6120 meters, and Mt. Kang Yaste in 2019 at a height 6250 meters. He joined the First Indian Joint IMF & NIMAS Winter Bailey trial trekking expedition in 2021 and summited Everest South Expedition at a height of 8848.86 meters on 31st May 2021.

AICU's lifetime achievement awards go to two national presidents, Dr Maria Emelia Menezes, 2000-2004, and Dr John Dayal, 2004-2008.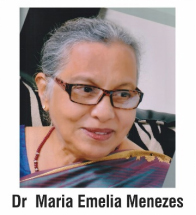 Dr Menezes is a prominent Industrialist in Goa and is a prominent name in the India pharma sector. She is also a respected educationist and philanthropist. She broke the glass ceiling in the then 80 year old All India Catholic Union becoming its first woman president elected in the two yearly ejections in 2000 AD. She encouraged deep internal administrative reforms and fund generation in the Catholic Union, making it near self sufficient in its work. Her leadership of AICU's participation in the relief work of the Gujarat Earthquake and the Tsunami are specially remembered.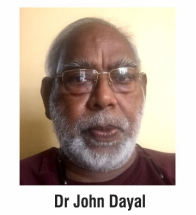 Dr John Dayal, who worked with Dr Menezes as her national vice presidrnt, was elected head of the AICU in 2004.

A member of the National Integration council and a well-known senior journalist of the country, Dr Dayal is equally well known for his work in human rights and civil liberties spanning five decades.
Write Comment
|

E-Mail
|

Facebook
|
Twitter
|

Print