'Leaders change, but leadership continues': Malini Hebbar
Mangalore Today News Network
Infosys Toastmasters & Inspiron Toastmasters Joint Installation Ceremony Held

Mangaluru, July 11, 2019: The Joint Installation Ceremony of Infosys Toastmasters Mangalore SEZ and Inspiron Toastmasters was held on 6th July at The School of Social Work, Roshni Nilaya at 4 p.m.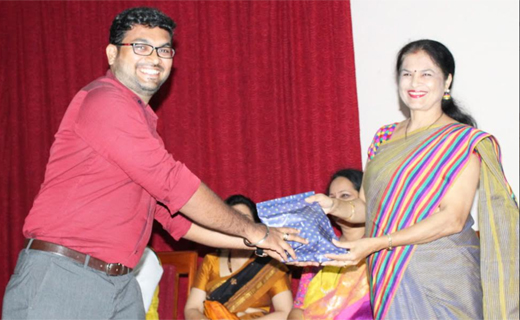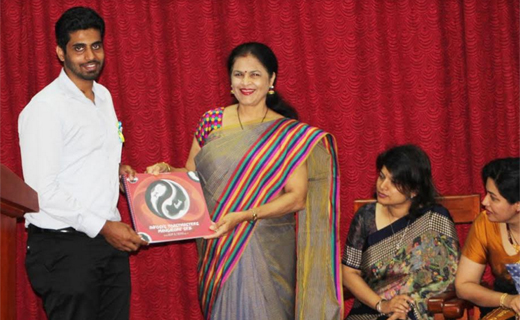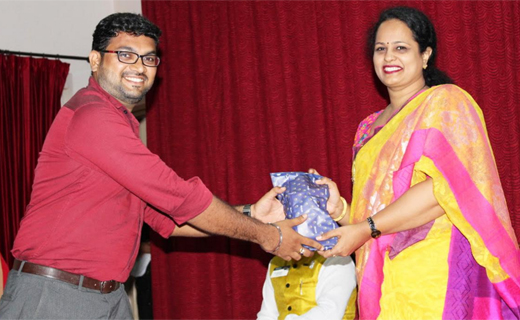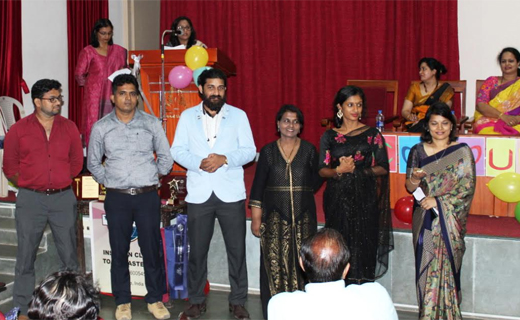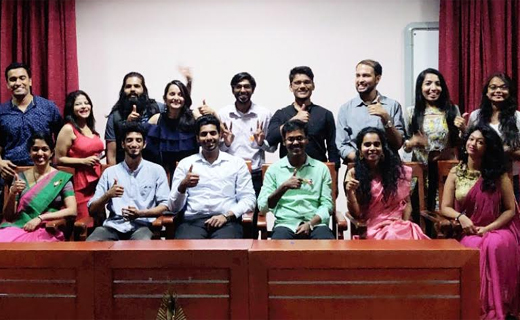 Dr. Malini Hebbar, a Professor of English at St. Agnes College and a senior Toastmaster, was the Chief Guest. Savitha Salian, District Administration Manager, Shivani Baliga, Division Director and Area Directors Dr Sukanya Rao and Vidya Shenoy were the guests of honour.

The function commenced with icebreaker by Kavya and Devika from Infosys Toastmasters. The MCs - Daryl and Fiona - took over and introduced the theme to the gathering – 'Colours of Life'. Shahab and Roel from Inspiron Toastmasters led the prayer. Sharin from Infosys Toastmasters rendered the welcome address. Chief Guest was introduced by Jeevan from Inspiron Toastmasters while Deeksha from Infosys Toastmasters introduced the guests of honour. Karan, from Inspiron Toastmasters gave a brief introduction on 'Toastmasters International' to the students of Roshni Nilaya.

This was followed by the Secretary's report, presented by Ekta and Nisha from Infosys and Zeena from Inspiron. It included a colourful glimpse of the meetings and activities conducted during the course of the vibrant term. Outgoing Presidents –Deepika from Infosys and Amith from Inspiron delivered their farewell addresses, thanking their team for their support and co-operation.

It was then time for the most important part of the evening – the oath taking ceremony, which was administered gracefully by the Area Directors Dr Sukanya Rao and Vidya Shenoy.


Office Bearers:

Infosys Toastmasters

Rajath (President), Aashish (Vice President – Education), Deeksha (Vice President – Membership), Daryl (Vice President - Public Relations), Ramar (Secretary), Pujith (Treasurer), Anand (Sergeant At Arms) and Deepika (Immediate Past President).

Inspiron Toastmasters

Ashritha (President), Fiona (Vice President – Education), Zeena (Vice President – Membership), Jeevan (Vice President - Public Relations), Yash (Secretary), Sharath (Treasurer), Chethan (Sergeant At Arms) and Amith (Immediate Past President)

The new team of office bearers of both clubs were installed and cheers of best wishes resonated throughout the hall. Dr Sukanya, area director of area F3, handed over certificates to the outgoing office bearers of Infosys Toastmasters. The newly installed Presidents –Rajath and Ashritha delivered their acceptance speeches.

Chief Guest Malini Hebbar delivered the keynote address and with her good sense of humour, charmed the audience. She stressed on the importance of 'collaboration' in Toastmasters and wished the two Presidents and their teams a successful term ahead. "Leaders change, but leadership continues," she said.

Area Director Amith, Club Mentor of Inspiron Mamta, President of Mangalore Toastmasters Kavitha, Immediate Past President of Mangalore Toastmasters Sapna, President of Proact Toastmasters Reshma and Samina from Winners Club felicitated the new teams.

Srinivas proposed the vote of thanks, following which Malini Hebbar launched the April – June Newsletter of Infosys Toastmasters, titled 'YIN YANG'.
Write Comment
|

E-Mail
|

Facebook
|
Twitter
|

Print