Screening wars: BBC documentary on PM Modi vs Kashmir Files at Hyderabad University
Mangalore Today News Network
Hyderabad, Jan 27, 2023: In a cinematic showdown at the University of Hyderabad, the Students Federation of India (SFI) organised a screening of the BBC documentary on PM Modi on Thursday, while the RSS-affiliated ABVP showed the controversial film The Kashmir Files on campus.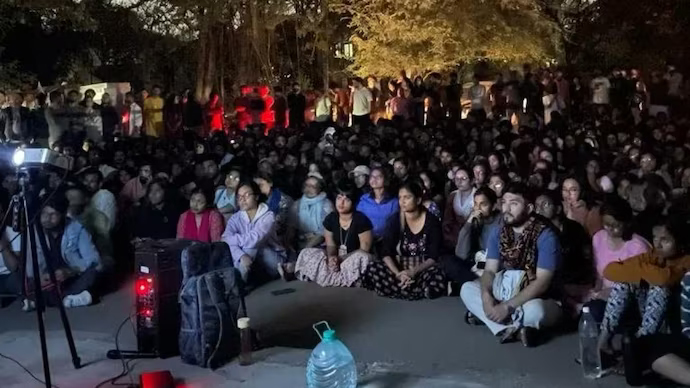 The screening of the documentary India: The Modi Question at the varsity on the occasion of Republic Day was successful, with over 400 students turning up to see the controversial two-part series produced by the BBC, the SFI said.

This comes days after another students' collective screened the documentary on campus without prior notice or permission, prompting the University authorities to seek a report. The ABVP had raised an outcry over the screening and claimed to have lodged a police complaint.
"More than 400 students turned up for the screening organised by SFI, rejecting the false propaganda and the attempts of ABVP to create unrest and the administration to disrupt the screening of the documentary. SFI-HCU salutes the student community who have stood for freedom of expression and campus democracy," SFI HCU said in a social media post.

Countering it, the students of ABVP HCU organised the screening of The Kashmir Files, on the university campus on the same day.

Although the University registrar claimed there was no untoward incident during the screenings and the campus was peaceful, the ABVP alleged that their functionaries were manhandled by security officials on campus.

"The University Administration tried to stop the screening of the movie "The Kashmir Files". When ABVP Karyakartas were bringing the projector from the main gate, University Security manhandled our Karyakartas. There was another attempt by the administration to seize our projector," ABVP HCU claimed in a social media post.

The government had last week directed social media platforms Twitter and YouTube to block links to the BBC documentary, which claims it investigated certain aspects relating to the 2002 Gujarat riots when PM Modi was the chief minister of the state.

The Ministry of External Affairs has trashed the documentary as a "propaganda piece" that lacks objectivity and reflects a colonial mindset. However, opposition parties have slammed the government's move to block access to the documentary as censorship.

In defiance of the government directive, student bodies and youth wings of opposition parties announced their intention to hold screenings of the documentary at college campuses in various states.
Courtesy: India Today