Rahul Gandhi's press conference: 10 Key points
Mangalore Today News Network
New Delhi, Mar 25, 2023: Congress leader and former Lok Sabha MP Rahul Gandhi today held a press conference in New Delhi a day after he was disqualified from Parliament following his conviction in a defamation case.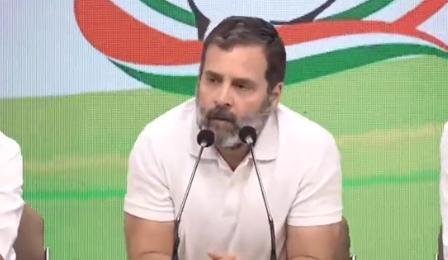 Addressing the press conference, Rahul Gandhi said that he is not afraid of going to jail and will continue to raise the Adani issue. Reacting on the BJP leader's comment that had Rahul Gandhi apologized, this situation would not have happened, the Congress leader said that he is Gandhi, not Savarkar and Gandhi doesn't offer apologies.

The former Congress president also said that he would write to the people of the Wayanad constituency to allay their apprehensions.

Here are 10 key points from Rahul Gandhi's press conference:

* The whole game of disqualification, allegations by ministers aimed at distracting people from Adani issue: Rahul Gandhi
* I am not scared of anyone. I am here to defend the democratic voice of the people of India. Will continue to do that: Rahul Gandhi
* I have always talked about brotherhood, but this is not about OBCs: Cong leader Rahul Gandhi on BJP's charge that he insulted OBCs: Rahul Gandhi
* Attacks being made on democracy in India, examples of it keep manifesting from time to time: Rahul Gandhi
* Ministers lied about me that I called for foreign intervention, I did not do so: Rahul Gandhi at his first presser after LS disqualification
* I will keep asking questions about the Adani issue, they cannot scare me by disqualification or putting me in jail. I won't back down: Rahul Gandhi.
* The moot question remains who invested Rs 20,000 Cr in Adani shell firms. Will keep asking the question: Rahul Gandhi.
* I thank all opposition parties for extending support to me, all of us will work together: Rahul Gandhi.
* Even if they permanently disqualify me, I will keep doing my job: Rahul Gandhi.
* The opposition will benefit the most from govt's panic reaction: Congress leader Rahul Gandhi on his disqualification from Lok Sabha.

The senior leader further said that he will continue doing his work and that it does "not matter if I am inside the Parliament or not. I will keep fighting for the country".
Courtesy: Zee News