Hindu boy thrashed for hanging out with Muslim girl in Chikkaballapura
Mangalore Today News Network
Chikkaballapura, May 26, 2023: Once again, moral policing has manifested itself in Karnataka, revealing its unpleasant presence. A group of individuals resorted to harassment when they witnessed a boy and a girl, belonging to different faiths, sharing a meal at a restaurant in Chikkaballapura. This incident occurred on Wednesday and was captured on camera, subsequently becoming a viral video.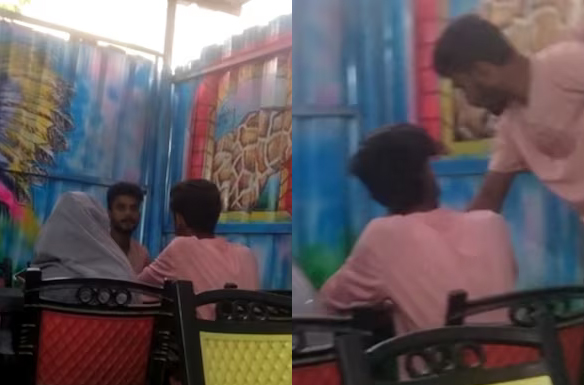 The Hindu boy, whose identity remains undisclosed, was peacefully enjoying a meal with his Muslim classmate when a group of Muslim youths entered the premises. Intrusively, they began interrogating the girl about her choice of companion.

In the video, these individuals can be seen admonishing the girl, claiming that it was inappropriate for her to be seen in public with someone from a different religious background.

Although not captured in the footage, it is alleged that the boy was subjected to physical aggression by these self-proclaimed vigilantes.

However, the girl refused to be intimidated and confronted the group. She vehemently criticized them for interfering in her personal life and staunchly defended her right to choose her own companions, irrespective of their religious beliefs.

Moved by the incident, the girl lodged a complaint at the nearest police station. Swift action was taken by the authorities, and on Friday morning, a First Information Report (FIR) was registered, initiating a thorough investigation into the matter.

This occurrence comes shortly after Karnataka Chief Minister Siddaramaiah vowed to eradicate moral policing in the state. He urged police officials to ensure that there is no discrimination based on religious grounds, stating, "From this point forward, there will be no moral policing; we are determined to bring it to an end."