Woman swims with alligator, leaves Internet scared, Video goes viral
Mangalore Today News Network / News18
May 13, 2023: Crocodiles are deemed to be one of the most dangerous predators of aquatic life. They are capable of attacking you in the blink of an eye. Despite such dangers, some people don't fear to go near alligators or crocodiles. While a certain section of people is trained to deal with wild beasts, it is always advisable to do it with proper guidance. Recently, a video of a woman swimming alongside a dreaded alligator left social media users horrified.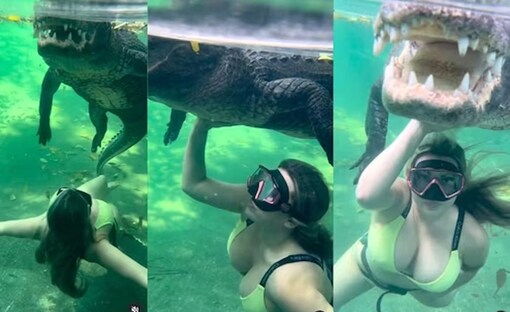 The viral video was dropped on Instagram on March 8 by a user named Christopher Gillette, who claims to conduct underwater gator tours. The terrifying clip shows a bikini-clad woman swimming under the waters while a huge alligator wades its way to the top. The woman appears to be fearless as she swims gracefully in the same water as the alligator.
The video further captures the woman, doing a backstroke underneath the alligator. But, the woman was yet to stun the netizens further. So long she was just swimming close to the alligator, whereas, in the last few minutes, she touched the dangerous reptile from below.

As per the caption of the post, the name of the alligator is Casper and the woman with the reptile is Gabby, who is trained to handle alligators.

"Happy International Women's Day! Here is Gabby swimming with Casper to celebrate! Gabby has been handling alligators for years and we have a great time rescuing nuisance gators together!! This video is from last weekend when she was helping me with my Casper tours!" read the caption of the video.

The video quickly grabbed the attention of the internet and many users posted a flurry of remarks in the comment section. While one user noted, "I thought men were the ones who died younger," another quipped, "I wanna do this." A third user found the video to be awesome as they wrote, "Ok she's a badass!!!!! Wow, this is terrifying but awesome lol y'all AMAZE me."

So far, the terrifying video has collected over 20.9 million views on Instagram.

Write Comment
|

E-Mail
|

Facebook
|
Twitter
|

Print